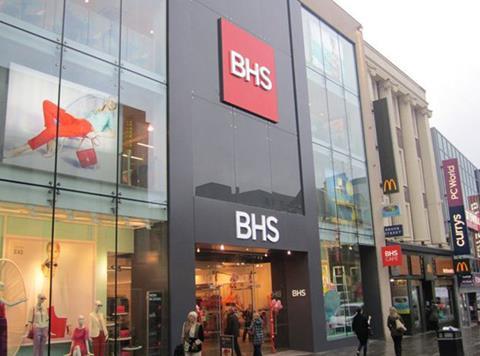 The major retail business news this morning is the accusation that Sir Philip Green's Arcadia Group knew that the buyer of BHS "had a history of bankruptcy" before the sale of the retailer.
Paul Budge, the finance director of Arcadia, admitted that the company was aware that Chappell had been declared bankrupt at least once and was "cautious" about the sale, MPs heard on Monday (The Guardian).
Anthony Gutman, co-head of UK investment banking at Goldman Sachs, told a joint hearing of the work and pensions and business, innovation and skills committees that he had provided unpaid "informal observations" to Arcadia before the sale of BHS (The Times £). The meeting took place three months before a consortium led by racing driver and ex-bankrupt Dominic Chappell bought the retailer for £1 (The Financial Times £). The Telegraph calls the news an "astonishing revelation".
Alistair Osborne in The Times (£) writes: "Here's a puzzler: what's the difference between "advice", "informal advice" and "preliminary observations"? Quite a bit if you're Anthony Gutman, the senior Goldman Sachs banker helping out MPs with their inquiry into the BHS fiasco. But maybe not so much if you're Sir Philip Green."
While The Telegraph's Ashley Armstrong has a piece entitled: "BHS farrago proves that even with advisers you can still be clueless". The Guardian's Nils Pratley says "Sir Philip Green should have listened to advice from Goldman Sachs over Retail Acquisitions – the MPs certainly took note".
Elsewhere, John Lewis is putting new recruits on probation for the first time in its 152 year history following the introduction of the National Living Wage. Starters are at both John Lewis and Waitrose will be forced to pass a three month trial before they can qualify as a 'partner' and become eligible for an annual bonus. Junior employees who fail the test are either given another month to prove themselves or are fired. (The Daily Mail)
The chairman of Stock Spirits has been defeated in an acrimonious battle with a rebel shareholder after investors backed the activist's campaign to shake-up the board of the struggling vodka-maker (The Telegraph). However, Stock Spirits said it was "entirely possible" that the two new non-execs would have to be asked to leave board meetings if commercially sensitive information, such as pricing, was discussed (The Financial Times £).
Stock Spirits chairman David Maloney attacked activist investor Luis Amaral after the AGM, comparing him to the Republican US presidential candidate. He said: "It has been like fighting against Donald Trump. There has been lots of populist rhetoric but no policies." (The Daily Mail)
The price of food and drink may have fallen faster than official estimates, according to the government body charged with collecting the data. A project set up by the ONS to "scrape" price data from the websites of Tesco, Sainsbury's and Waitrose found that between June 2014 and February 2016 food fell in price by 4.5%, while drinks were down 6.8% over the same period. (The Guardian)
British goat milk supplier Delamere Dairy has achieved unexpected success in Asia, after becoming the first company to gain permission to export its wares into China and finding an untapped market of lactose-intolerant but dairy-curious customers. (The Telegraph)
The Venezuelan bottler of Coca-Cola has halted production of the sugar-sweetened beverage due to a lack of sugar. Venezuela is in the midst of a deep recession, and spontaneous demonstrations and looting have become more common amid worsening food shortages, frequent power cuts and the world's highest inflation. (The Guardian)