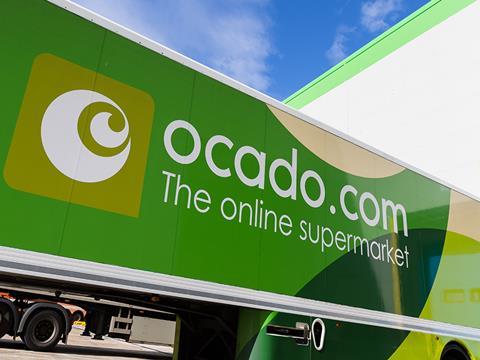 Grocery company Ocado suffered its heaviest one-day loss ever as more than £575 million was wiped off its market value (Daily Mail). Ocado was under fire as nervous investors fled highly-valued growth stocks in favour of safe haven value plays (The Times £). Shares in the online grocery retailer closed down 83¼p, or 9.7 per cent, at 772¾p amid a long list of geopolitical headwinds. The FTSE 100 company, which reached nearly £11.50 in July and rose 126% cent in the first three quarters, more than any other FTSE 350 stock, has been caught in the crossfire of wider market volatility.
Earnings at Iceland slumped by £4.6 million after distribution costs increased (Daily Mail). Profits at the frozen food retailer fell to £27.5 million in the 24 weeks to September despite a 4 per cent jump in sales. Iceland opened 12 supermarkets during the period, taking the number of stores in the UK to 949.
McDonald's is working on plans to end the use of plastic lids in its UK outlets, but a global seaweed shortage is constraining the rollout of other green initiatives such as biodegradable sauce sachets (Telegraph). The fast food giant has a global target to be 100pc recyclable by 2020. In Britain, it is aiming to replace the 650m plastic straws it uses each year across its 1,400 restaurants with paper ones by March 2019, and could make a similar move to eradicate plastic lids.
McDonald's is accelerating a plan to upgrade US restaurants after the fast food group's performance in its domestic market lagged sales growth in other countries including the UK, Australia and France (Financial Times £). The world's largest hamburger chain said it was deploying $2.5bn in capital expenditure this year — almost two-thirds of it in the US, a market that executives described on Tuesday as "very competitive" (The Times £, Daily Mail).
Whitbread, the leisure group behind Premier Inn, reported a modest rise in profits in the first half of the year and said it would focus on expanding its hotel business after agreeing to sell its coffee chain Costa to Coca-Cola (Financial Times £). The FTSE 100 group said underlying profit before tax — which strips out the impact of the Costa business — rose 2.5 per cent to £270m compared to last year, while revenue rose 2.6 per cent to £1.1bn (The Times £).
"Whitbread's shareholders will soon be pure hoteliers, albeit somewhat richer ones. Today's half-year results may, therefore, show them how hospitable — and how profitable — the future will be. Judging by the recent past, though, they may miss their morning coffee," writes Matthew Vincent for the Financial Times £.
The parent company of Patisserie Valerie appears to have issued twice as many share options to two of its directors as it disclosed to investors in its most recent annual accounts, prompting concerns about the governance of the troubled café chain (The Times £). An adviser to leading shareholders in Patisserie Holdings has warned that company announcements show that twice as many share options were cashed in by the two executives this year as were disclosed as options granted to them in the company's accounts. Major investors in Patisserie Valerie are piling pressure on boss Luke Johnson to hand over control of an internal probe into a £40 million black hole in its accounts (Daily Mail).
Tom Jago, who has died aged 93, helped form British drinking tastes as the creative force behind brands such as Baileys Irish Cream, Malibu and Le Piat d'Or (Telegraph).
The concentration of takeaways has risen by more than a third in the past eight years, increasing concerns about rising obesity levels (The Times £). Using data from the Office for National Statistics, the BBC calculated that in 2010 there were 47 outlets per 100,000 people. This year there are more than 61 per 100,000 people.
Asos has poached Britvic's head of finance after not having anyone in charge of the division permanently for a year (Daily Mail).
Amazon has opened its first British fashion store, in the form of a central London pop-up where the retailer is seeking shoppers' views on its clothing ranges, prices and store experience (The Guardian). The Baker Street pop-up is the first of its kind in Europe.
Wobbles in the retail sector including at House of Fraser and insolvent fashion seller Coast has forced shopping centre developer Intu to further trim its growth forecasts and write down the value of its estate (Telegraph).