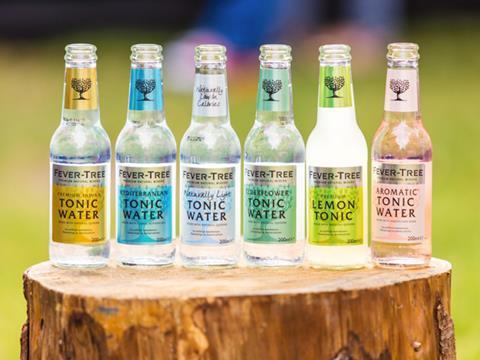 Fever-Tree, the British maker of premium tonic waters catering to a growing taste for speciality gins, said its 2018 sales had run ahead of management expectations (Financial Times £). The fast-expanding group, whose shares have been on a rollercoaster ride as investors debated whether its stock market valuation had risen too high, said in a trading update on Thursday that it was set to report full-year revenue of roughly £236m, representing a 39% increase on 2017 (Daily Mail). US revenue swelled by a fifth, bolstered by a exclusive deal with Southern Glazer's Wine and Spirits, North America's largest wine and spirits distribution company (Telegraph £). The company did not comment on profits, although analysts raised their forecasts for underlying earnings by about 6% to £77.5 million, up 32% year-on-year (The Times £).
"Fever-Tree must hope changing trend do not cap growth," writes Matthew Vincent in the Financial Times' Lombard column. "Numis analysts were confident that Fever-Tree could exploit a "substantial growth opportunity in the US", having brought its American operation in house and signed a deal with the continent's largest wines and spirits distributor, Southern Glazer's. But that still leaves Fever-Tree with challenges."
HM Revenue & Customs raised concerns with Patisserie Valerie's parent company that some of its invoices and cheques had been forged more than two years before the café chain revealed an alleged fraud that led to its collapse, The Times (£) reports. The tax authority sent letters to Patisserie Holdings in 2016 questioning the authenticity of documents submitted as part of its tax return. The correspondence between HMRC and the company raises more questions about why the gap in the accounts was not revealed before October 2018
Patisserie Valerie is in talks with UK tax authorities about securing a rebate on corporation tax paid by the collapsed bakery chain over the past five years on potentially non-existent profits (Financial Times £). The group, which went into administration on Tuesday, has paid HM Revenue & Customs £16m in corporation tax over the past five years. But it is likely to have paid too much because the profits it reported over at least the past three years were overstated, according to two people briefed on the company's financial affairs.
Fresh questions were raised on Thursday over ex-Patisserie Valerie chairman Luke Johnson's relationship with accountancy giant KPMG, which is advising another one of his businesses (Standard).
The Government has set out new proposals to toughen food labelling laws and protect the two million food allergy suffers across the country (Telegraph £). The Department for Environment, Food and Rural Affairs has launched a consultation into food labelling laws focusing on overhauling the labelling of pre-prepared foods such as sandwiches and salads which are made, packaged and sold in the same stores. Natasha Ednan-Laperouse died in July 2016 after eating a Pret a Manger baguette containing sesame seeds, to which she was severely allergic (The Times £). Natasha's parents have campaigned for all ingredients to be included on labels to inform Britain's two million food allergy sufferers, and this is one of four options in the government consultation published by Michael Gove, the environment secretary.
UK household spending reached its highest level since the pre-crisis peak last year, despite the squeeze on real incomes that followed sterling's Brexit-induced depreciation (Financial Times £). Figures released on Thursday by the Office for National Statistics showed average weekly spending — adjusted for inflation — rose from £568.70 to £572.60 in the financial year ending March 2018. This was the highest weekly spend since 2005.
The head of Starbucks' overseas businesses has said the coffee shop chain retains a "firm belief" in China despite data this week that showed its economy was growing at its slowest pace in almost three decades (Financial Times £). New drinks helped to attract more customers to Starbucks cafés in America and China during the last quarter, helping the company to beat Wall Street's forecasts and send its shares slightly higher last night (The Times £).
An online sales tax to help high street shops has in effect been ruled out by the Treasury because it would fall foul of EU rules. The Times (£) reports that Mel Stride, financial secretary to the Treasury, has written to Nicky Morgan, chairwoman of the Treasury select committee, to say there was a "high risk" that any such tax would breach the bloc's state aid rules.
Fewer people going to the movies has taken its toll on the owner of fast casual chains including Frankie & Benny's and Chiquito. The Restaurant Group blamed weaker cinema attendance in December for fewer customers at some of its venues on retail parks (Telegraph £, The Times £, Daily Mail).
"The City is not happy about Rakesh Kapoor's departure from Reckitt Benckiser," writes Louisa Clarence-Smith in The Times (£) market report. "The consumer goods group's shares have fallen by more than 6% since the surprise announcement that he would leave by the end of the year."
Olam, one of the world's largest food traders, is to exit sugar and three other commodities as it looks to streamline its business and focus on more attractive markets (Financial Times £).
The pressure on retail landlords was laid bare yesterday as the shopping centre owner Capital & Regional said the value of its properties outside London fell by more than 10% in the second half of 2018 (The Times £).
A second big investor in RPC Group has protested against the £3.3 billion takeover of the British plastic packaging business by Apollo Global Management, the American private equity firm (The Times £).