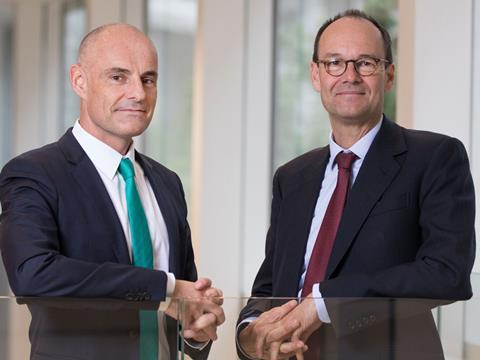 Sainsbury's and Asda have said they would dispose of between 125 and 150 stores in order to help secure regulatory approval for their proposed combination, documents filed with the Competition and Markets Authority showed (Financial Times £). They said that the proposal, which is around half the number of disposals that the CMA has called for in its provisional finding, was based on "a more credible finding of substantial lessening of competition". Sainsbury's and Asda have accused the competition watchdog of issuing a "prohibition in all but name" and said its proposals to overcome concerns about their £12bn tie-up were "impossible to implement" (Telegraph £). Analysts believe the tie-up between the UK's second and third-largest supermarket chains is doomed after the CMA warned last month that the deal threatened to push up prices and reduce the choice and quality of products on sale (The Guardian). The offer was criticised by the GMB union, which said the plan was a "desperate and disrespectful" attempt to get the merger through that puts people's jobs in jeopardy (The Times £).
The Competition & Markets Authority's review of the proposed £14bn merger between Sainsbury's and Asda was flawed and should not be used as a basis for blocking it, a group of economists has said. The CMA was too reliant on use of the so-called Guppi measure, which attempts to quantify the incentive for companies to raise prices, according to economists from the consultancy AlixPartners (The Sunday Times £).
Petrol stations have attacked a "cynical" pledge by Sainsbury's boss Mike Coupe to cap fuel profits in his last-ditch effort to revive a £12bn merger with Asda (Telegraph £). The Petrol Retailers Association (PRA), which represents 3,500 fuel outlets, said the proposal would "put thousands of independent petrol retailers out of business and decimate consumer choice across the UK, particularly in rural areas".
Marks & Spencer is sizing up ambitious growth targets that could see the company double the amount of food it sells and propel it into the ranks of Britain's biggest supermarkets (Daily Mail). The surge would capitalise on the firm's new home delivery deal with Ocado and its plan to offer a full range of food in more stores to attract additional family shoppers. City sources said the newly pencilled targets could see M&S's food sales soar to £12bn over the next five years. That is larger than the company's total sales at present, which include food, clothing and international sales.
Tesco has apologised after blaming a decision to pull some British products from its Irish stores on uncertainty surrounding the UK's departure from the European Union (The Times £). Britain's largest supermarket chain, which has more than 6,800 stores and 440,000 staff around the world and has 151 branches in Ireland, was accused of using Brexit as an excuse last night after it said it had failed to "properly explain" why it is taking a supplier's goods off shelves next month.
Tesco is launching a trial to remove a selection of plastic-wrapped fruit and vegetable to cut down on packaging waste (The Guardian). Britain's biggest retailer said it would run the month-long pilot from Monday at two of its Extra stores, in Watford and Swindon, removing plastic packaging from 45 foods where loose alternatives are available. The items include apples, onions, mushrooms, peppers, bananas and avocados.
Britain has pledged not to impose trade tariffs on imports of halloumi cheese from Cyprus in the event that the UK withdraws from Europe with no deal (The Times £). Britons import 12,000 tonnes of the rubbery cheese from Cyprus every year, representing almost three quarters of the island's halloumi production.
The maker of Ryvita crackers has become the first company to be named and shamed by the Government's small business tsar over late payments (Daily Mail). Paul Uppal, the Small Business Commissioner, has rebuked Jordans & Ryvita for being slow to pay Magellan Design.
The battle to produce a perfect vegan burger – which looks like, tastes like and has the texture of real meat – is hotting up with the launch of a Quorn quarter-pounder (Daily Mail). Quorn, which put the filling in the successful Greggs vegan sausage roll, is launching a thick-cut burger for the barbecue that includes beetroot to add colour and succulence.
TSG Consumer Partners, the US private equity group that has backed craft beer maker BrewDog, plans to invest about $1bn in Europe as it hunts for rapidly growing upstart brands that are challenging consumer goods giants (Financial Times £). To drive the European expansion, the San Francisco-based group also said it was opening a London office and has hired Beth Pickens, an investment banker formerly with William Blair & Co who has extensive consumer sector experience.
Amazon would be forced to put human cashiers in its unmanned stores under a controversial proposal by San Francisco officials (The Sunday Times £). One of the city's supervisors, Vallie Brown, said Amazon Go stores, which use sophisticated machine vision technology to detect what shoppers take and charge their credit cards after they walk out, would be covered by a ban on stores that do not accept cash.
Big retailers must back customers' wishes and phase out microplastics, campaigners say as petition is launched to ban the sale of glitter (The Guardian).
Supermarket shelves will still be stocked with bananas and rum from the Caribbean after Brexit, ministers said on Friday night, after they signed Britain's latest trade deal (The Times £).
Hopes are high for mixer drinks maker Fever-Tree ahead of annual results this week. Analysts expect sales to jump 39% to £236.3m and underlying earnings to rise 32% to £77.4m (The Sunday Times £).
The tobacco industry was shocked last week when San Francisco proposed a ban on the sale of all electronic cigarette products. It is anxiously watching to see if other cities and regulators follow (The Times £). E-cigarettes are a burgeoning industry for tobacco companies as they are considered to be less harmful than smoking. They are even recommended by Public Health England for adult smokers, with claims that "vaping" is 95% safer.
Eating onions, garlic and leeks can have a dramatic effect on the risk of bowel cancer, a study suggests (The Times £).
Upmarket cafe chain Le Pain Quotidien is ending its controversial practice of pocketing some of the service charge left by customers for its staff (Daily Mail). Currently, all bills have a 12.5% service charge added as standard – but 40p in every £1 of this is kept by the company.
US fund that sits on the board of the fast-food giant behind Burger King is building a stake in Domino's Pizza as the chain hopes to break the deadlock in a spat with franchisees (Telegraph £).
"Sandwich maker Greencore looks past its sell-by date," writes Sam Chambers in The Sunday Times (£). "With little clarity on our future trading relationship with the EU, many bosses are trying to hedge exposure to any fallout by looking for less volatile markets. Greencore has done the opposite."
Shaquille O'Neal, the retired NBA basketball player, is joining the board of pizza chain Papa John's International (Financial Times £).