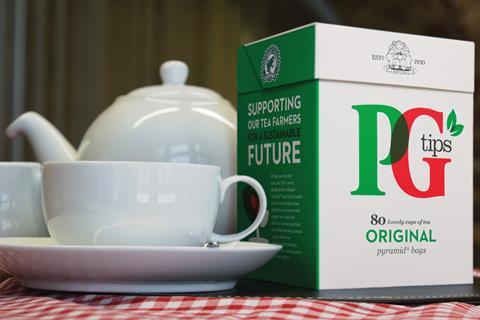 Unilever is considering selling its traditions tea business, including PG Tips and Lipton, as sales of black tea bags dropped amid changing consumer tastes. The fmcg giant is said to have been discussing the possible sale in City meetings (The Telegraph).
Marks & Spencer has hired Tesco executive Richard Price, currently head of Tesco's F&F clothing, as managing director of its struggling clothing and home business as it continues to push ahead with the divisions' turnaround after a series of disappointing performances. The news comes as previous home & clothing boss Jill McDonald, who was ousted in the summer due to availability issues, was last week named CEO of Costa Coffee (The Financial Times £, The Telegraph).
Price had already worked at M&S as head of menswear having left the company in 2012 as he "felt it was drifting in the wrong direction". He now believes he has a chance of making it "special again" (Sky News).
A new report by the EU's food safety adviser found that million of chickens destined for supermarkets are being electrically stunned in slaughterhouses in a way that "causes pain and fear" despite calls to switch to more "humane" killing methods. KFC, Nandos, Tesco and Marks & Spencer are among the businesses selling chickens who have been slaughtered with electric shock baths (The Times £).
Soaring pork prices in China, sparked by this year's African suine fever outbreak, left the cost of living in the country soar 3% past the government target in over a decade. Around 40% of Chinese pigs have been lost resulting in a massive shortage and soaring pork prices, with the government forced to dig into its frozen meat reserves (The Guardian).
Warehouses in Canada are filling up with unsold marijuana after producers overestimated cannabis demand following last year's legalisation. At the end of August, cannabis inventories rose to 400 tonnes, enough to cover two-and-a-half years of demand, according to government data, leading to a slump in cannabis prices (The Financial Times £).
Meanwhile, The Times argues that calls to legalise cannabis in the UK, amid growing support from the population, is a "fools crusade" as the argument for it being a soft drug causing no harm do not stand when applied to the higher levels of THC in modern cannabis (The Times £).
In another opinion piece, The Times says UK farmers should be encouraged to grow hemp rather than blocked by the Home Office's policies as demand for the legal CDB products has soared. Currently, the Home Office forbids the use of the hemp flower, which contains most of the CBD, leaving it to be destroyed despite not having high-enough THC levels to cause anyone to get high (The Times £).
Smaller UK retailers are fuelling the way to a cashless society as they have increasingly stopping to accept notes and coins amid fear of theft and struggles to find a local bank branch to deposit them (The Times £).
The Chinese owner of Pizza Express, Hony Capital, is planning to increase its ownership of the struggling high street chain with an agreement to buy an additional £80m of its bonds at a discount. In October, the PE firm annunced it would buy £80m of Pizza Express' £200m unsecured bonds (The Financial Times £).