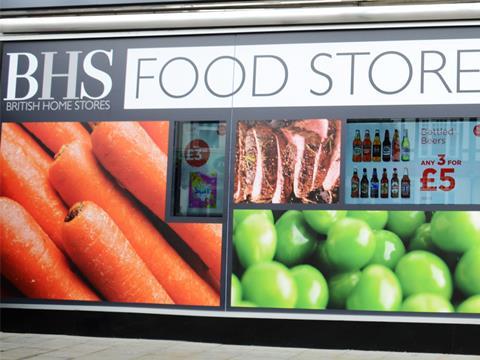 The papers are completely dominated by the spectacular crash at BHS with every possible angle examined.
The Financial Times writes the mood was bleak inside BHS's London head office yesterday, matching the unseasonably cold weather: "the sort of morning that bricks-and-mortar retailers dread as it convinces consumers to stay indoors". The Guardian has a timeline outlining how Britain fell out of love with BHS.

The Mail notes that Sports Direct's Mike Ashley is circling and looking to pick over the bones of the store estate. The Telegraph details how last-ditch talks failed to save the high street retailer. The collapse has now sparked a pensions probe, with the UK pensions regulator investigating events around the demise of BHS (The Financial Times). The pensions watchdog will look at whether Sir Philip Green and the owners of BHS had attempted to avoid plugging a hole in its retirement fund of more than £200m (The Times).
The Times says vulture funds and rival retailers are already circling BHS with administrator Duff & Phelps already receiving about 30 "expressions of interest" from possible buyers. The paper also looks at how BHS went from being a high street wonder to being left high and dry and compares the situation to the collapse of Woolworths in 2008. The Times in a separate article says its "Woolies all over again as discounters eye up a bargain". Experts have suggested that the discount chain effect that took hold after Woolworths' demise may be repeated.
BHS paid more than £25m to its owners in 13 months before administration, The Guardian claims. MPs have also called for inquiry into collapse, with ex-owner Philip Green's handling of retailer labelled as "unacceptable face of capitalism". The Independent puts the figure higher. It writes that the owners have been "accused of sucking £30m in cash" out of the company in a single year of ownership. "It had previously been known that Retail Acquisitions, led by Dominic Chappell, had taken £8.2m in loans from BHS. But sources today said a host of management charges, legal fees, interest payments, salaries and wages over the past 12 months meant the true level of cash extraction was considerably higher."
The Guardian examines how Sir Philip Green's family made millions as value of BHS plummeted. Nils Pratley writes in his Guardian column that Sir Philip Green must sort out the BHS pension mess. The Guardian editorial view on the collapse is "BHS: murder on the high street". "It's too easy to dismiss the collapsing retailer as out of date. In truth it has been bled dry by some very modern British business practices." The Financial Times' Lombard column has a different tone with the headline "BHS and the demonisation of Philip Green". The paper writes that at the level of tabloid outrage, "Big Phil" is bang to rights for pensions dumping. "However, the real story is more nuanced."
James Quinn in The Telegraph writes that BHS's chequered history gives rise to questions for owners to answer. An opinion piece in The Guardian calls BHS a victim of shareholder greed. "Big corporations are seen as the private fiefdoms of investors. We need to protect workers and taxpayers."
The Telegraph looks at the hidden victims of BHS' £1.3bn collapse: its 1,200 creditors, ranging from store-fitters to a ribbon-makers and a lighting manufacturers. "Company administrations are always grim but the demise of one of the country's best-known chains will reverberate far and wide."
Finally, the culpability of Dominic Chappell, who bought BHS for £1 last year with his Retail Acquisitions consortium, is examined. The Times headline runs: "'Buffoon' drove struggling retailer into ground". It goes on to say "twice bankrupt former racing driver Dominic Chappell lacked the skills to save BHS". The Guardian also focuses on Chappell and the takeover that "alarmed" retail watchers. The paper writes that the career path that led Dominic Chappell to take over of one of the best known names on the British high street was "unconventional". "The 49-year-old racing driver-turned-entrepreneur had no experience of retailing before leading the consortium that bought BHS from Sir Philip Green for £1 last year."