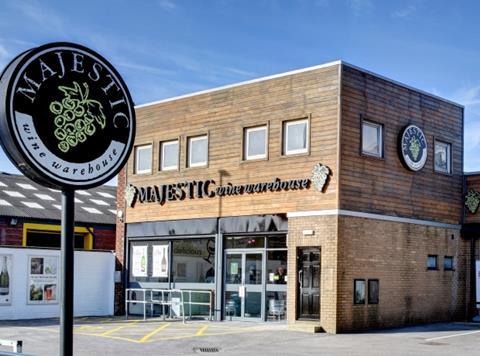 UK retailer Majestic Wines has said it plans to close stores, sell assets and focus on the online Naked Wines business that it bought four years ago (Financial Times £). The cash raised from selling Majestic and its 200 stores will be invested in Naked, the online-only business bought for £70m four years ago (Telegraph £). Rowan Gormley, chief executive, said if no buyer emerged for the Majestic business, it would be run down and unprofitable stores would be shut (Daily Mail). Faced with a declining high street, Majestic set out plans to focus all its efforts on Naked, increasing annual investment by £6m to £26m (The Guardian). The Times (£) reports that Majestic has already received inquiries from potential buyers for at least part of the retail business, although a failure to find a purchaser for the estate is likely to mean asset sales, store closures and job losses.
"There's been little so far to drink at Majestic," writes Alistair Osborne in The Times (£). "It was only a year ago that Rowan Gormley was telling investors at the capital markets day that the 'early indications' from a previous plan 'show the same returns are achievable in Majestic retail as in Naked Wines'."
"Rowan Gormley is not afraid to change things," writes Dominic Walsh, also in The Times (£). "True to form, with the three-year plan all but completed, it was all change again from Gormley yesterday, although the scale of the change — exiting retail to focus on online — caught even seasoned sector watchers on the hop, with Wayne Brown, at Liberum, the investment bank, calling, it 'a drastic and unexpected change in strategy'."
A watchdog has called for "major changes" at Co-op after finding the UK supermarket group treated suppliers unfairly in relation to product delistings and charges (Financial Times £). The Groceries Code Adjudicator, which oversees the relationship between big supermarket groups and their suppliers, on Monday released the findings of a year-long investigation, ruling that Co-op had breached the Groceries Supply Code of Practice by failing to provide reasonable notice to suppliers when it delisted products and introduced new charges. The Co-operative Group has avoided a fine from the grocery regulator despite being found guilty of "widespread" failings in how it treated its suppliers (The Times £). Christine Tacon said that the Co-op's actions were "not malicious" and that it had repaid suppliers, which had been charged fees unfairly.
Ocado, the British online grocery service, will partner with Australian supermarket chain Coles in the latest deal to provide its logistics technology to retailers across the world (Financial Times £). Coles will spend up to A$150m ($107m) to build automated warehouses and gain access to Ocado's technology platform for grocery delivery. As part of the deal, two warehouses will be built and maintained by Ocado in Sydney and Melbourne, with Coles adopting the technology across Australia by the end of 2023.
Lawyers for the US Commodity Futures Trading Commission have agreed to settle a high-profile futures manipulation case against the food companies Mondelez International and Kraft Heinz, less than four months after the regulator suffered a bruising loss in another case (Financial Times £).
McDonald's is spending about $300m to buy an artificial intelligence company in the fast-food chain's latest technology investment (Financial Times £). In a rare move for the burger group, which has for years avoided acquisitions, McDonald's announced a deal on Monday to buy Dynamic Yield, a machine learning specialist founded seven years ago.
French fraud investigators say they have uncovered a €6m (£5m) scam in which Italian kiwis were passed off as more expensive French-grown fruit (The Guardian).
"Could 'alcosynth' provide all the joy of booze – without the dangers?" writes Amy Fleming in The Guardian. "Scientist David Nutt memorably said alcohol is more dangerous than crack. Now, he is trying to invent a healthy synthetic alternative, and the race is on to get it to market."