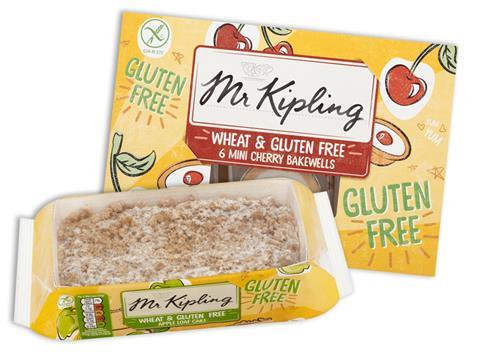 Premier Foods is looking to offload Mr Kipling in a move that could pave the way for a break-up, according to The Sunday Telegraph. It says a strategic review was launched in February, amid pressure from activist investors Paulson and Oasis, who own more than 20% of the shares, and have called for an acceleration of restructuring efforts. The Times (£), reporting the story on Bank Holiday Monday, said the sale was one of several options under consideration. The report said no firm buyer was thought to have been lined up and Premier might yet decide to retain the cakes brand.
US investment giant Fortress has joined the race for Majestic Wine's bricks-and-mortar-estate, Sky News reported on Bank Holiday Monday. It said Fortress was vying with rivals, including OpCapita in the £100m purchasing opportunity. Fortress is thought to have hired Royal Bank of Canada to advise it.
The Co-operative Group has raised £300m from a "sustainability bond" issue in a first for a retailer, (The Times £). It will use some of the money raised to help cover the cost of sourcing more Fairtrade products and getting them onto its shelves. (The Mail) says future bonds could raise money for the mutual's academies trust.
Glass Lewis and Institutional Shareholder Services are recommending votes against Walmart's remuneration plans, citing a "pay and performance disconnect" among executives (The Financial Times £). The owner of Asda also faces calls to shake up its boardroom composition and approach to workplace sexual harassment at the annual meeting next week. Presidential candidate Bernie Sanders, who has put Walmart at the centre of his campaign to strengthen worker rights, is expected to gate-crash the meeting with a view to demanding that employees are represented on the board. The Guardian says Sanders is expected to attack the multi-billionaire Walton family, which own Walmart, for paying its full-time workers an average of just $14.26 per hour (£11.25) while handing the chief executive, Doug McMillon, a $23.6m pay package.
Quorn Foods' profit and sales growth is poised to benefit this year from the popularity of vegan sausage rolls and mycoprotein-based chicken nuggets, (The Financial Times £). The Monde Nissin-owned group expects sales to jump 45-50% in the US this year. The Daily Mail reports that the business said customers were turning to its products because of concern for the environment. It reported sales last year of £220m and profits of £27m.
Vegans scent victory in a retreat from meat, as more businesses are sinking their teeth into a market forecast to soar over the next decade, reports The Times (£).
The Confederation of British Industry (CBI) has lined up Cobra beer founder Lord Bilimoria as its next president (Sky News, The Times £). He is expected to be named the employers' group's vice-president this week which would put him in line to take over from Tesco chairman John Allan when his two-year term as CBI president ends in the summer of 2020.
Ocado co-founder Jonathan Faiman has upset his former colleagues by tying up with Waitrose to create warehouses fun by robots, The Sunday Times (£) reported this weekend. The newspaper says he has had a chequered CV since parting ways with Ocado nine years ago. Faiman believes there is "a fabulous opportunity – not to build another Ocado but actually to build something quite different". The writer says Sir Charlie Mayfield, chairman of Waitrose parent John Lewis, had better hope Faiman is right.
Archie Norman, chairman of Marks & Spencer has vowed to shatter the "corporate vanity" among the retailer's middle management as part of an extensive review reported in the latest annual report that attacks middle management for impeding successive attempts to turn the business around, (The Daily Mail). The arrival of Julian Richer as adviser to chief executive Steve Rowe and to work with employees for three days a month is viewed as a key part of attempts to change the culture.
Advisory groups ISS and Glass Lewis are calling on AG Barr investors to vote Robin Barry, the 81-year-old former chairman, off the board where he has been a director for 55 years, at the AGM on Friday (The Daily Mail).
Primrose Kitchen has secured a cast of high-profile investors who have taken a majority stake in the "posh" cereal maker, reports The Sunday Times (£). They are Andy Cosslette, chairman of Kingfisher, adventurer Sir David Hempleman-Adams, and Quintessentially founder Ben Eliot.
Two US entrepreneurs, Max Kreijn and Nick Brackenbury, have developed an online system they say can help small traders in town and village centres fight back against US-owned ecommerce giants and help channel up to £9bn in sales back to the high street.. They have agreed an online search deal with Google which will show online consumers products and deals in nearby shopping assets.
The aftermath of Jamie Oliver's travails continued to attract comment into the weekend with The Times (£) remarking on how within minutes of his restaurant group collapsing into administration the celebrity chef was being pilloried online. Oliver spurned a multimillion-pound deal to rescue his restaurant empire from a specialist turnaround fund after he was asked to write off his loans to it, according to The Telegraph. The Guardian runs the rule over other Italian dining chains, including Carluccio's. Apprentices from Oliver's Fifteen project told The Observer on Sunday they would always back their mentor.
The Confederation of British Industry (CBI) has warned jobs are being lost in the retail sector at the fastest pace since the financial crisis, (The Times £). It found business investment intentions are at record lows.
Amazon plans to pit staff against each other in what it says will be a "fun" competition to see who can work faster in a pilot scheme at its Tilbury, Essex, and Warrington, Cheshire depots, (The Times £). Players can win "swag bucks", an internal currency.
Sir Terry Leahy, former chief executive of Tesco is investing a seven-figure sum in the LMA, a Liverpool performing arts college, in return for a 20% stake in the business alongside Merseyside-based entrepreneur and former food retail analyst Bill Currie. (The Telegraph)
The food delivery industry is looking bloated, says Lex, in The Financial Times (£).The lesson from the ride-hailing industry is that well-funded companies with money to burn will struggle to eliminate one another, it says.
Vaping has gone viral around the world, the The Financial Times (£) reported on Bank Holiday Monday. The "pretty" device lures, then comes the addiction, noting that about half of Juul's Twitter followers are younger than 17. Now US lawmakers are pushing to increase the age to buy tobacco and ecigs to 21.
At least eight suitors are preparing second-round bids to buy a majority stake in Metro AG's Chinese operations, reports Reuters, which could see the business valued at $1.5-$2bn.
DIY yoghurt is all the rage, The Observer reported this weekend, with John Lewis and Lakeland both reporting a rise in the sales of yoghurt-making product. EasiYou says demand is up 26% in the past year.
UK shopping centres owned by private equity group have breached the terms after their loans which it is thought will probably trigger a series of asset sales that will crystallise price falls in secondary retail properties. (The Financial Times £).
American demand for strong beer has given British brewers renewed hope they can revive their exports to the world's largest economy. (The Times £)
McDonald's claims to have zero tolerance for sexual harassment, but it is not doing enough to protect its workers, reports The Guardian.