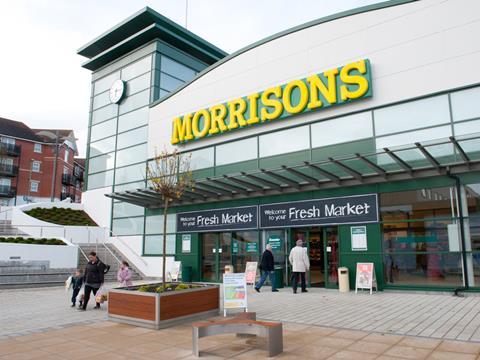 Morrisons led the grocery pack in terms of sales over the past 12 weeks, spurred by demand for warm-weather items, Kantar World Panel reported, the Financial Times (£). The Bradford-based supermarket group's sales climbed 2.9% year on year, holding onto a 10.5% market share. Sales at Asda climbed 2.8%. Tesco's sales rose 2.2% and Sainsbury's 1% but both suffered falls in market share. The Daily Mail says supermarkets raked in £145m on the Friday before the royal wedding and the FA Cup final. The Guardian quotes Jefferies retail analyst James Grzinic who said the German discounters continued to show signs of fatigue. The Times (£) adds that Barclay card reported a rise in spending in British grocery stores of 10 per cent over the early May bank holiday, compared with the same long weekend last year.
The Daily Telegraph includes separate data from Nielsen showing the grocery market grew 5% over the past four weeks. Ice cream sales were particularly strong – up 41% and alcohol sales rose 12%. Marks & Spencer was among the worst performing
B&M is planning a further push into southern England by snapping up outlets from struggling competitors and pouring £100m into a new distribution centre, The Daily Telegraph. Simon Arora, chief executive, said he was keen to buy sites left by Sainsbury's and Asda if the pair's merger went ahead, The Daily Mail. The group's chances of escaping problems facing rival discounters, some of which are struggling for survival, are good, says the Lex column in the Financial Times (£), which comments on the retailer after Wednesday's full-year results which saw profits climb a quarter. It notes that B&M's growth prospects depend less on same-store sales increasing than its scope to open new shops. Instead of sharing the sector's woes, B&M should benefit from them. Less competition and cut-price real estate could be a boon, Lex says.
Group revenues climbed 22.4 per cent to £3bn, with profit before tax up 25.4 per cent to £229.3m in the year ending March 31, Financial Times (£). B&M opened 39 new stores in the UK during the year and a further 45 outlets are planned this year. It is continuing to introduce Heron's frozen and chilled foods into its B&M stores, reports The Times (£).
Critics will seize on new Institute for Fiscal Studies (IFS) research showing about half the TV advertisements for food and drink children see promote products high in fat, salt or sugar or fast food restaurants to further their claims that existing restrictions are insufficient, the Financial Times (£) and The Guardian report.
The health and social care committee of MPs published a report yesterday endorsing calls for an embargo on junk food advertising until 9pm, and called for a ban on "brand-generated characters or licensed TV and film characters" used to promote products high in salt, sugar and fat.
The GFK barometer measured consumer confidence at -7 for in May, up from -9 in April but still in the zero or negative territory it has been mired in since February 2016, The Times (£), Sky News. Reuters adds that Lloyds Bank's index of business confidence was up by three points at 35 percent in May, its highest level of 2018.
Ocado has been catapulted into the blue-chip index in a reshuffle of the FTSE 100, the Financial Times (£), Sky News and the BBC. Marks & Spencer narrowly avoided relegation. The changes take effect from 18 June,
Cenkos Securities has quit as joint broker of Stobart Group with immediate effect, claiming the civil war inside the company has made its role impossible, The Times (£).
New GST rules that target international retailers from July will mean that Amazon will no longer ship overseas goods to Australian customers. The rules will prevent Australians from buying from the Amazon US store or any international Amazon stores, The Guardian.
An opinion piece in The Guardian written by Centre for Cities chief executive Andrew Carter, says "Britain's high streets can thrive again – if we look past shops". It says it is time to "reimagine" city centres as places where people live, learn and relax.
Belgium "sheds a chocolate tear" as another historic chocolatier has been sold to a foreign firm – this time in the form of Galler by the Qatari royal family, reports The Guardian.
Bloomberg reports port producers have just released their best vintage in years in an article headlined "Why you should be excited about port wine".
Britain is to ban drones from flying above 400ft and within 1km of airport boundaries to reduce the possibility of damage to windows and engines of planes, Reuters.