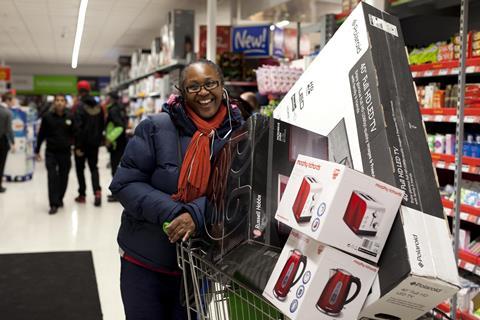 "Black Friday sale failure so hard to swallow" is the headline in The Times (£) this morning on the disappointing in-store sales figures for Black Friday.
It was staged amid a blizzard of price cuts and blanket advertising, but all those stores that had pinned their hopes on a Black Friday shopping bonanza have been left asking themselves: "Was it worth the effort?" The British Retail Consortium said yesterday that mass discounts meant to entice customers into parting with their increasingly limited cash had led to "meagre" sales growth last month (The Times £).
Black Friday, the sales event that has become a focus of the pre-Christmas shopping season, was not enough to lift the gloom hanging over the British high street this year (The Financial Times £). High street retailers are struggling to turn their fortunes around as Britain's cautious shoppers pour more of their carefully budgeted funds into online purchases (The Telegraph). Black Friday failed to deliver a much-needed uplift for the high street last month as non-food retailers such as fashion stores struggled, new figures show (Sky News).
Palmer & Harvey's pension deficit more than doubled over the past 10 years to £80m, as shareholders and some directors took about £70m in dividends from the heavily indebted and loss-making convenience store supplier. (The Guardian)
Local shop chain McColl's said it has a contingency plan in place to avoid a supply shortage after supplier Palmer & Harvey went bust last week as it reported annual revenues of over £1bn. McColl's said it was in talks with suppliers to try minimising the impact of the collapse of Britain's biggest delivery wholesaler so that its 700 newsagents and convenience stores would not face shortage of products. (The Daily Mail)
Starbucks is making a super-sized bet on China, where it is opening the world's biggest outlet as part of efforts to maintain its upscale reputation in an increasingly important market. (The Financial Times £)
The chief executive of Tesco Bank has been lined up to chair a financial services technology company. Benny Higgins will join the board at Kyckr, which has offices in the Republic of Ireland but is listed on the Australian Securities Exchange (The Times £). Departing Tesco Bank boss Benny Higgins is joining the board of a financial technology company as he moves on from mainstream banking (The Daily Mail).
The prospect of tax reform has flipped the script on Wall Street, with battered retail stocks rising to the top and sky-high tech shares coming back down to earth as investors parse the legislation's prospective winners and losers. (The Financial Times £)