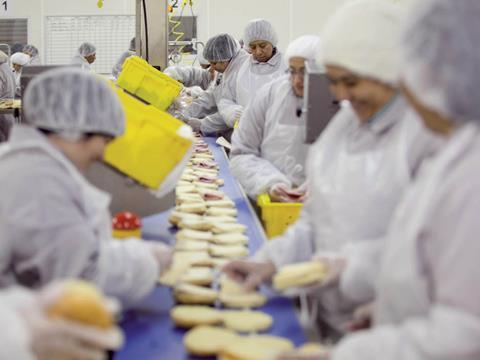 The boss of Greencore has warned Britons could face fewer sandwich options in the event of a chaotic withdrawal from the European Union as the catering company begins stockpiling ingredients such as frozen prawns (Telegraph). Patrick Coveney, chief executive, said that the main concern was "the availability of fresh produce" if there was a "no-deal" Brexit and problems at the border.
Unilever's incoming chief executive Alan Jope has said he will keep the targets for sales growth and profit margin improvement set by his predecessor, removing a key area of investor concern ahead of a leadership change (Financial Times £). Mr Jope relayed the message at an investor day held by Unilever in Mumbai on Tuesday.
Household leftovers could soon be used to make environmentally-friendly food packaging under a new Government scheme to help clean up the scourge of single-use plastics (Telegraph). Ministers will spend £60 million to help fund start-ups working on new 'bioplastic' alternatives which can be made from food scraps, wood chippings or waste sugar beet.
Black Friday failed to deliver a big enough boost to lift the beleaguered high street last month as like-for-like retail sales fell 0.5%, according to industry figures (Sky News). The report from the British Retail Consortium (BRC) and KPMG said weak consumer demand - compounded by Brexit uncertainty - meant stores face a "nerve-wracking run-up to Christmas".
Pret a Manger is removing the word 'natural' from its logo and packs following pressure from 'real bread' campaigners (Daily Mail). It has also promised to give more information about its ingredients following the death of teenager Natasha Ednan-Laperouse.
"Supermarket chains have been pressed to join start-ups in helping farmers step up a level," writes Sarah Murray for the Financial Times £. One way countries can address the problem of low pricing is by establishing price-support mechanisms. "It's not easy as supermarkets say they work in a competitive price environment," says Tim Gore, head of policy, advocacy and research at Oxfam International's GROW Campaign. "But our sense is that there's a lot more than can do without requiring increases in retail prices."
"How edible seaweed could combat plastic pollution of seas", writes Joshua Jacobs in a feature for The Financial Times £. "Skipping Rocks Lab's first edible packaging project was a seaweed pod filled with filtered water, which they sold to running events. The runners gulped them as an alternative to drinking from plastic bottles. This summer they launched sauce sachets made from the seaweed material, which are on trial at 10 London takeaways with the delivery service Just Eat. They have also taken ginger and fruit juice shots to Selfridges, the department store, and sold the product at UK music festivals as edible alcohol shots, including espresso martini and tequila sunrise."
Winemakers are looking to technologies ancient and modern to shrink their environmental footprint (Financial Times £). Some in the business are reaching back to pre-industrial practices — from horse-drawn ploughs and sailboats to naturally cool cellars rather than air-conditioned warehouses — to make their vintages more environmentally friendly.
Spending at department stores fell for the 13th consecutive month in November, data has shown, as John Lewis revealed a rapid reversal in sales after the Black Friday bonanza (The Guardian). Barclaycard users' spending at department stores across the UK slumped 7.1% year on year during the month, according to the credit and debit card provider's latest monthly data, marking the sector out as one of the hardest-hit.