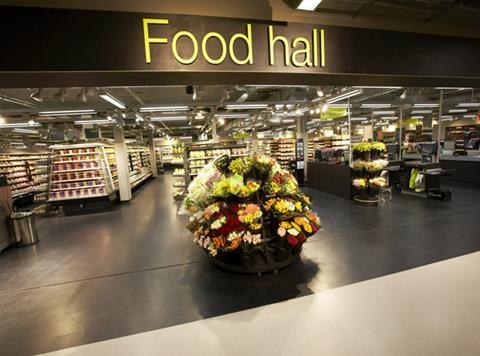 Marks & Spencer explored a radical plan to split into two separate businesses before concluding that the move would not generate value for shareholders (The Sunday Times £). The high street bellwether's board is said to have believed that a separation of the food and clothing businesses was feasible, but then decided that the struggling general merchandise division would not attract investors as a standalone entity. Chief executive Steve Rowe, an M&S lifer, began examining a possible break-up with the board after being promoted to the top job in 2016.
"Turnaround wizard Archie Norman will need to call on all his magical powers to restore Marks & Spencer," writes Sam Chambers in the Sunday Times (£). "M&S is still feeling the heat as winter approaches", writes Shane Hickey in The Observer. "As it prepares to update the markets, the struggling high street chain needs to show that its costly restructuring is working."
Marks & Spencer is expected to report another fall in food and clothing sales this week but will tell the City its restructuring plan is still on track (The Times £). The high street chain is forecast to register a 2% fall in like-for-like sales in its food division, with clothing and homeware sales down 1.2%.
Patisserie Valerie boss Luke Johnson remains on the board of dozens of companies – many of them loss-making – despite a promise to rein in his other interests and concentrate on saving the stricken coffee and cake chain (Telegraph). According to Companies House, Mr Johnson has 30 current directorships. This is after shedding just three positions since Patisserie Valerie revealed a £40m hole in its finances and "significant, potentially fraudulent accounting irregularities", three weeks ago. The chair of Patisserie Valerie, Luke Johnson, has waived his salary and pledged to give up some of his other jobs as he battles to turn around the cake shop after an accounting scandal (The Guardian).
The October edition of Sainsbury's Magazine offered a front-page photo of a "golden Persian curry", tagged as "the dinner party dish you HAVE to try". But the magazine's fusion adventure has now backfired (The Guardian). Its editors stand accused of "lazy, casual racism" because, according to Iranian readers, chefs and fans of Persian cookery, the ingredients bear little or no relation to the region's authentic cuisine.
Pubs boss Tim Martin has suffered a slapdown from City advisory firms that are urging JD Wetherspoon shareholders to reject several motions at the company's AGM next week (Daily Mail). Investor adviser Pirc has said Martin should not be re-elected as chairman because, as founder and a 32% shareholder, he is not 'independent' enough for the job.
The Restaurant Group's blockbuster takeover of Wagamama's is under threat as concerns mount over the logic of the deal (Telegraph). Shares in the London-listed owner of Frankie & Benny's and Garfunkel's plunged last week after the £560m purchase of the popular noodle chain was unveiled.
The owner of Café Rouge has called in a restructuring adviser in an attempt to strong-arm landlords into cutting rents (The Sunday Times £, Daily Mail). Despite having closed more than 40 restaurants over the past two years, Casual Dining Group said it faced a "tough operating environment" and needed to reduce costs further.
The Korean owner of sushi chain Wasabi is racing to find a new investor as the dining sector comes under increasing pressure (The Sunday Times £). Dung Hyun Kim, a former market trader who founded Wasabi in 2003, has hired the professional services firm PwC to seek a cash injection
Pioneering fair trade retailer Traidcraft, which had warned it was facing closure, has launched a turnaround plan that involves targeting younger ethical consumers (The Guardian).
The tobacco giant behind brands such as Lambert & Butler will seek to show investors this week that its portfolio of vaping products is winning over ex-smokers (The Sunday Times £). Imperial Brands has already said it hopes to make a profit from so-called "next generation products" (NGPs) by next year, as sales of traditional tobacco products continue to decline.
China's Kweichow Moutai, the world's top liquor company by market capitalisation, has fallen victim to concerns about slowing Chinese consumption after lower than expected revenue growth led to a sell-off which cut its valuation by $10bn in a day (Financial Times £).
The self-styled "Del Boy" behind bargain homeware chain The Range has pocketed £86m less than he did in 2017, as he puts his company's stock market debut on ice amid a "crap" market (Telegraph).
The creeping takeover of struggling high streets by Sports Direct tycoon Mike Ashley has come at a cost of 6,000 jobs and more than £1bn in unpaid bills (The Telegraph). An analysis of Mr Ashley's raids on distressed retailers and pre-packaged deals with administrators shows how he has capitalised on Britain's insolvency laws to build his empire.