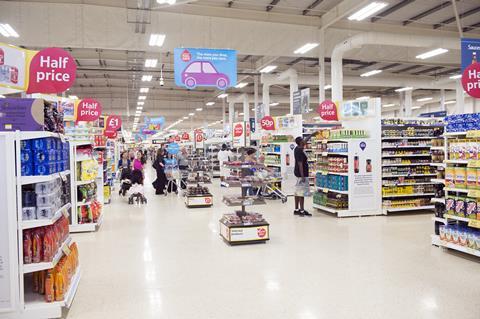 Tesco has demanded "offensive" discounts from suppliers in a move expected to spark a price war, writes The Times following up The Grocer's exclusive story. Britain's biggest grocer has given suppliers until Friday to accept discounts of up to 50%, which will be partly funded by scrapping promotions (The Times £). Several suppliers told The Grocer that they faced pressure from the supermarket to lower their prices. Some raised concerns over the timescale of the demands, as well as a lack of clarity over how the change in promotions would work in practice (The BBC). Britain's grocers are gearing up for a massive price war amidst fears unemployment could rise above four million (The Daily Mail)
The chairman of Marks & Spencer has admitted there will be "very limited" scope for its customers to be able to shop with Ocado when its joint venture launches in September because of capacity constraints. (The Times £)
Pret A Manger's 8,000 UK staff will learn if their jobs are safe or not this week as the fast food chain weighs up how many of its stores it can keep open, amid reports as many as one in ten outlets could close. (The Times £)
The discount chain Poundstretcher is close to shutting down nearly half its stores in six weeks' time, with the likely loss of 2,000 jobs, after landlords and other creditors approved a rescue restructuring on Friday. (The Guardian)
High street retailers have axed more than 24,000 jobs this year, according to industry data, with experts warning this may only be "the tip of the iceberg". (The Telegraph)
The Treasury is considering ways of making it easier for businesses to access coronavirus support loans - ahead of expected measures from the Chancellor designed to create "jobs, jobs, jobs" in an effort to kick-start the economy (The Telegraph)
Radical plans to give all adults £500 and children £250 in vouchers to spend in sectors of the economy worst hit by the Covid-19 crisis are being considered by the Treasury. (The Guardian)
Gluten-free noodle firm Mr Lee's Noodles to sell £5m stake in deal that could value the business at £30m. City sources said Mr Lee's Noodles has hired advisers from Bluebox Corporate Finance to sell a £5million holding to fund expansion. (The Daily Mail)
The KKR-owned spreads business Upfield is seeking to tap into growing demand for eco-friendly "plant-based" foods as it overhauls brands such as Flora and I Can't Believe It's Not Butter to combat sliding sales of margarine. (The Financial Times £)
Land Securities plans to resume dividend payments this year, despite retailers and office tenants withholding £44 million of this quarter's rent (The Times £). Landsec, the property group behind the Trinity Leeds shopping centre and Bluewater in Kent, said struggling retailers paid less than a third of the rent due last month (The Guardian).
The chief executive of Intu Properties, Britain's biggest shopping centre owner, has left the company a week after it crashed into insolvency proceedings (Sky News). The head of Intu has stepped down, a week after the shopping centre group entered administration following the collapse of last-ditch negotiations with its lenders (The Financial Times £).
The crisis in hospitality will cost the economy £73bn this year, experts warned as battered pubs and restaurants prepare to reopen on Saturday. A combination of lost tourism, weak consumer spending and operating constraints due to social distancing mean that more than half of the industry's £133bn annual sales are set to be wiped out in 2020. (The Telegraph)
Fears are rising over the future of thousands of high street jobs as restaurant businesses including Byron, Prezzo and Azzurri Group, the owner of Ask and Zizzi, rush to find rescue deals (The Times £). The casual dining group behind the Ask Italian and Zizzi chains may be put through a pre-pack administration to facilitate a sale of the business to an American investment firm (The Times £).
A number of supermarkets have removed some coconut water and oil from their shelves after it emerged the products were made with fruit picked by monkeys. (The BBC)
The UK's 750 small breweries have been grappling with the uneven effects of the lockdown. Many ceased operations and furloughed employees immediately, only to start bringing some staff back to fulfil online orders as demand for home delivery increased. (The Times £)
Fears for the survival of Oxford Street as stores limited to less than 100 shoppers. Retail experts have voiced concerns over footfall numbers and the viability of some of Britain's most iconic stores. (The Telegraph)
Norway's Grieg Seafood has issued bonds worth NKr1bn ($105m) with an unusual condition: that the proceeds do not find their way to Cargill, the US grains trader that has been accused of failing to protect rainforests in the Amazon. (The Financial Times £)