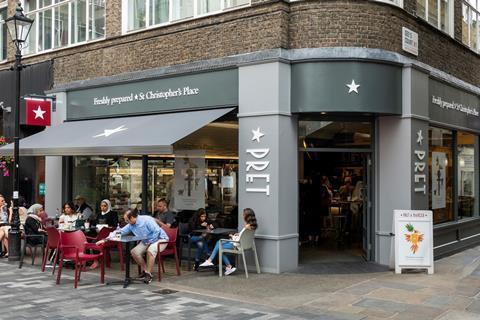 Pret A Manger has announced it is mulling cutting 30 of its stores and cut around 1,000 jobs as volumes remain at around a quarter of pre-coronavirus sales. Unless sales return at 50% to 60% of normal volumes, the chain which is spending £20m a month to keep stores open and staff on payroll will have to reduce its estate (The Financial Times £, The Times £). Pret has faced "significant operating" challenges since the pandemic started (The Telegraph). The chain had reopened 399 of its 410 stores but said sales remained around 74% of normal levels as it missed out of workers going into the office (The Guardian). CEO Pano Christou said saving jobs was the chain's priority but they could not "defy gravity" (Sky News).
High street spending doubled on Saturday as consumers rushed to return to their favourite pub and restaurants despite the hurdles of social distancing. An analysis of 3m consumers suggested that spending was 100% higher than the previous weekend, though still below pre-coronavirus levels at around 86% (The Guardian).
However, The Times argues that the so billed "Super Saturday" was not as super as previously thought as more than half of England's pubs opted not to open their doors (The Times £).
Uber has announced it will acquire US-based delivery service Postmates for about $2.7bn, after losing out to Just Eat in the race to buy Grubhub last month (The Times £). Considered the fourth-largest player in the US market, Postmates will provide Uber with a bigger presence in key markets such as Los Angeles, Miami and Phoenix — but will do little to boost its competitiveness against leader DoorDash in cities such as New York, Chicago and San Francisco (The Financial Times £).
As part of his plan towards recovery, Chancellor Rishi Sunak is set to announce a £3bn package of green investment to decarbonise public buildings and cut emissions from badly insulated homes. Sunak is scheduled to make the announcement on Wednesday when he will say that the extra money for decarbonising houses, schools, hospitals, prisons and military bases will help the UK meet its target of being a carbon net zero economy by 2050 (The Guardian). The plan will include vouchers of £5,000 to homeowners for energy-saving home improvements and over £1bn to decarbonise public buildings (BBC, Sky News).
American hedge fund Elliot Advisers has expressed interest in buying Bella Italia, Las Iguanas and Café Rouge owner Casual Dining Group, which appointed administrators last week after struggling to recover from lockdown losses. Elliot is understood to have made a bid for the whole group, while other funds are mulling buying just parts of the business (Sky News). Aurelius Group, which almost bought Jamie's Italian, is bidding for the Café Rouge and Bella brands, while turnaround specialists Endless and Trispan are bidding for Las Iguanas (The Times).