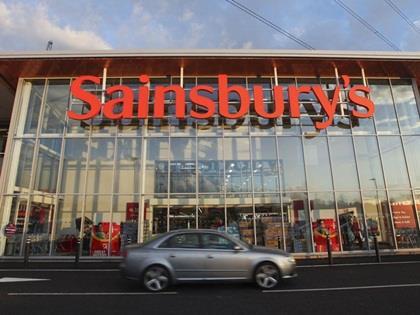 Sainsbury's pension deficit has ballooned to more than £1bn, according to analysts ahead of its half-year results this week.
The supermarket group, which releases first-half results on Wednesday, is expected to report that its deficit has widened to between £900 million and £1.3 billion from £389 million in March. The deficit is likely to have grown because of the lower returns than previously forecast that funds are getting on their investments. (The Times £)
Sainsbury's has injected £250million into the pension scheme since last year but has come under further pressure with its acquisition of Argos in February. (The Daily Mail)
Birds Eye has joined the battle with Britain's supermarkets by threatening to raise the price of products such as fish fingers, chicken nuggets and peas by as much as 12%. The frozen food brand is blaming the crash in the pound for a series of price increases that it plans to push through next month. (The Times £)
Leicester-based Walkers, which is owned by PepsiCo, is also understood to be seeking price rises of between 5% and 10%, taking a 32g bag of crisps from 50p to 55p (The Guardian). Walkers has come under attack from consumer groups that argue the changes could not be justified as the savoury snack is made from British-grown potatoes and produced in the UK (The Financial Times £).
The Times (£) comments: "As with Marmitegate, no doubt many observers will try to argue that Birds Eye is pulling a fast one. Are its fish not landed in British ports? Are its peas not grown on British shores? Up to a point, I'm sure that's true, but many other overheads are priced in dollars, fuel being the obvious one."
The price of a basket of 20 Unilever products, including Hellman's mayonnaise, Carte D'Or ice cream and Comfort fabric conditioner has risen by an average of 5.7% across the UK's major supermarkets since the Brexit vote, as the pound's post-referendum struggles feed through to shop shelves. (The Guardian)
Tesco Bank has frozen the bank cards of some customers after its chief executive confirmed the service had fallen victim to an online hacking attack (Sky News). "We can reassure customers that any financial loss as a result of this activity will be resolved fully by Tesco Bank," said the bank's chief executive Benny Higgins. (The BBC)
The supermarket space race can be declared well and truly over as fresh figures reveal that plans to build new stores have ground to a halt. The "Big Four" supermarkets have shelved plans for new stores as they grapple with a change in shopping habits and an uncertain post-Brexit climate. (The Telegraph)
The new boss of Marks & Spencer is to axe dozens of UK stores and stop selling clothing in others in a radical shake-up of its high street presence aimed at persuading the City that he can revive the fortunes of Britain's best-known retailer. He is set to tell the City next week that some M&S stores will reallocate space from clothing to food. (Sky News)
The closures in France are expected to include M&S's store on the Champs-Élysées. International expansion was a key part of Bolland's legacy. (The Times £)
Marks & Spencer is set to announce this week that profits are down by a fifth. Clothing and home sales – measured at stores open for at least a year – are expected to have declined by as much as 5 per cent. (The Daily Mail)
Primark owner Associated British Foods is expected to deliver a small rise in annual profits this week despite the discount fashion chain's growth at older UK stores running out of steam. ABF is expected to post a 2% increase in pre-tax profits to £1.05bn, compared with £1.03bn a year earlier. (The Telegraph)
MPs have accused Morrisons of axing staff benefits to fund the £40million cost of preparing for the new minimum wage. The supermarket has watered down longstanding pay arrangements, abolishing paid breaks and the Sunday rate. (The Daily Mail)
Accepting cash payments costs British business more than £9 billion a year in thefts, human error when giving change and trips to the bank. Sage Pay, which provides shops with card-reading terminals and systems, found that more than 56% of small businesses spent up to an hour or more a week counting and transporting cash. (The Times £)
Three-quarters of UK firms say they have yet to feel any financial effect – positive or negative – from the vote to leave the EU. But 16% of all businesses, equivalent to 283,000 firms, said the vote had already had a negative financial impact on them, compared with just 5% (85,000) who said it had had a positive effect. (The Daily Mail)
Sir Philip Green is locked in a tug-of-war with administrators to BHS over a £35m charge held by his Arcadia Group empire over the collapsed department store. FRP Advisory, one of two firms picking through the ruins of BHS, is understood to be investigating whether that £35m can be distributed to all creditors of the company, including its retirement scheme, which is being bailed out by the Pension Protection Fund. (The Times £)