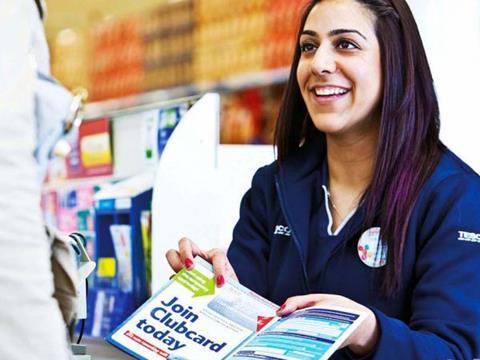 Tesco is working on a new loyalty scheme in the mould of Amazon Prime, which would give its tens of millions of shoppers greater incentives to sign up to the company's bank and mobile phone services. (The Sunday Times £)
Tesco looks set to face questions on issues from job cuts to its contentious plea bargain with the Serious Fraud Office when Britain's biggest grocer reports its annual results on Wednesday (The Times £). Tesco is poised to unveil its biggest profits since Dave Lewis was parachuted in to rescue Britain's biggest 
retailer five years ago (The Telegraph). This week Dave Lewis will be back in the spotlight when he reveals Tesco's results for last year, which will confirm that the UK's biggest grocery chain has staged a strong recovery under his stewardship (The Daily Mail).
The executive who oversaw Weetabix's £1.4bn sale to America's Post Holdings has been approached about the top job at Premier Foods. According to Sky News, Giles Turrell is one of several people who have been identified as a potential successor to Gavin Darby, who left Premier Foods in January. (Sky News)
Co-operative Group plans thousands of new stores after food sales showed their fastest growth in seven years (The Times £). The Co-op is targeting younger customers by opening shops on festival sites and university campuses as it looks to build on its best performance in seven years (The Daily Mail). The boss of the Co-op hailed a deal to supply the Nisa convenience store chain last year for delivering a dramatic boost to its food business (The Telegraph). The Co-operative reported its fastest food sales growth in seven years, bolstered by its acquisition of the Nisa wholesale business (The Financial Times £).
Listed UK retailers are as fashionable among investors as steam trains and telegraph machines, writes The FT. The Co-op has at least two advantages over them. First, it focuses on convenience stores, rather than big supermarkets as shoppers pay for proximity. Second, the bank crisis has triggered an overhaul of governance and strategy shifts are under way. (The Financial Times £)
Domino's Pizza has been too confrontational with its biggest franchisees, says one of its major investors. The spat started last year when powerful franchisees claimed they were not receiving a big enough slice of the delivery firm's profits – leading to them threatening to halt new store openings. (The Daily Mail)
The FT looks at why Domino's pizzas in the UK are so "supremely expensive" compared to its operations in the US and Australia and why are the shares of its UK listed entity so comparatively cheap? (The Financial Times £)
Walgreens boss must find right prescription for critical condition, writes The Times (£). The chain's profits have been hit by cost-cutting in the US health system.
Russian supermarket chain Lenta has been pitched into a bidding war after larger rival Magnit said it had proposed a buyout of the retailer to challenge a takeover deal struck by steel tycoon Alexei Mordashov. (The Financial Times £)
Former Spice Girl Emma Bunton has raised £420,000 for her ethical baby business in just a week. Bunton raised the money with her business partner Christopher Money to help expand Kit & Kin, which sells eco-friendly nappies, wipes, skincare products and organic baby grows. (The Daily Mail)