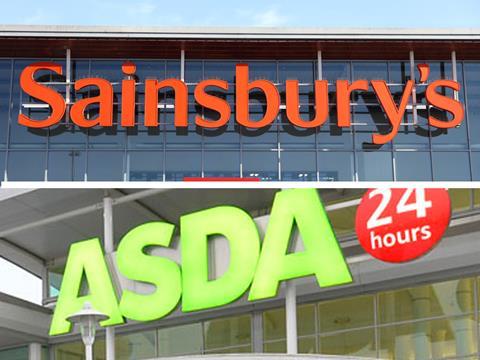 Up to 2,500 jobs in supply chains could be jeopardised by Asda and Sainsbury's proposed merger, the New Economics Foundation has warned, reports The Independent.
Mike Coupe, chief executive of Sainsbury's, told The Mail on Sunday, in what is billed as an exclusive interview, that the deal was unlikely to involve major job cuts. He said he would claw back some savings from big manufacturers who could afford it if the merger is allowed through. He would also continue with Sainsbury's policy of buying British whenever possible. A separate commentary in The Mail on Sunday remarks that Coupe's every move from her on in will come under scrutiny, and if he gets it wrong, that judgement will be swift and merciless.
Food campaigners, environmentalists and farmers' leaders are claiming the proposed deal, and the accompanying promise to further drive down prices, will put more pressure on producers, many of which may be forced to cut corners on environmental safeguards and shelve green initiatives, reports The Guardian.
The Financial Times (£) asks what is next for UK supermarkets after the Sainsbury's proposed tie-up with Asda. The article looks at the positives and negatives of each of the grocery chains.
The Times (£) says the enlarged group and Tesco would have more than 60% of the UK grocery market if the Asda and Sainsbury's deal is completed – a level of concentration that alarmed politicians, consumer groups, suppliers and unions says would not be tolerated in other countries. But the newspaper says, that is not true. New Zealand is dominated by two operators which have a combined share of more than 90% and Australia's grocery market is dominated by Coles and Woolworths which have a combined share of almost 69%.
The Guardian reports that Torquay, Paignton, Lancaster, Brighton and Kirkcaldy could become Sainsbury's "monopoly" towns if its planned merger with Asda goes ahead.
The John Lewis Partnerships has vehemently denied claims that Amazon approached its senior executives last year in a bid to buy Waitrose, The Daily Telegraph. It says a report in The Sunday Times (£) this weekend suggested that one of Amazon's directors had made contact with a John Lewis director over a potential tie-up, but that the board "shut down" any talks. The Daily Mail and The Guardian are among the newspapers that say Amazon executive Ajay Kavan made the unwelcome approach.
Nestlé is buying the perpetual right to distribute Starbucks' packaged coffee around the world for $7.2bn, Financial Times (£). Nestlé's distribution expertise makes it an attractive partner for Starbucks, but the Financial Times (£) says Nestlé's global position in coffee has come under threat from JAB Holdings. Nestlé is small in the US and it is focused on soluble, or instant, coffee and capsules for coffee machines but is weak in packaged roast and ground coffee. The Times (£) says the deal gives Nestlé a stronger foothold in America and enables it to compete better with JAB. The Daily Telegraph says that for Starbucks, the deal will increase its global presence. The Daily Mail says the deal is worth £1.5bn of annual sales to Nestlé.
Walmart will this week announced a deal worth nearly $15bn to take a majority stake in India's largest online retailer, Flipkart, says the Financial Times (£). It is expected to buy about three-quarters of the shares at a valuation of just under $20bn. Both companies declined to comment.
The hottest early May bank holiday on record saw retailers pack the shelves with ice-cream and barbecue food, The Guardian. Asda reported sales of paddling pools up almost 50%, Waitrose said it stocked stores for a 200% increase in bank holiday Monday barbecue meat sales and a 50% increase in orders of rosé wine compared with the same time last year. Sainsbury's predicted a 600% increase in ice-cream sales compared with the previous weekend, a 280% boost to potato salad and 300% increase in gin sales. Springboard forecast a 3-4% boost to footfall this bank holiday compared with last year's.
Sainsbury's has ditched its £10m Waste Less, Save More scheme to halve food waste in Swadlincote, south Derbyshire, after a year-long trial failed, reports The Guardian.
International Flavors & Fragrances (IFF) has bought Israeli rival Frutarom Industries for $7.1bn (£5.2bn), the Financial Times (£). The newspaper says the deal will help IFF gain new smaller health-conscious brands. The deal feeds into the trend for cleaner labels.
Tyson Foods is the latest in the list of US companies struggling with rising cost pressures, reports the Financial Times (£). It reported fiscal second-quarter sales of $9.8bn – up 7.6% year on year, but below analysts' forecast of $9.9bn.
Unilever has launched a project to help SMEs in Kenya sell its products, using big data to unlock their previously extremely restricted access to credit and, in doing so, expand its own sales, the Financial Times (£).
Cardboard box packaging business DS Smith is making hay out of anti-plastic sentiment triggered by Blue Planet II by pitching itself to FMCG giants as the company that can help them eradicate plastic packaging, reports The Times (£).
Deliveroo is offering free accident insurance to all its takeaway bikers, reports The Daily Telegraph.
Portugal's port houses are facing a battle to win over 21st century drinkers, reports The Daily Telegraph. Euromonitor says sales volumes have fallen almost 10% between 2011 and 2016. The newspaper says, however, the Portuguese port houses are refusing to go down without a fight, inspired by the recent success of gin and scotch whisky. They are creating new varieties and attracting tourists to their vineyards and cellars in a bid to appeal to a younger fan base.
The Daily Telegraph reports how Richard Walker The Food Warehouse managing director, and Iceland's director for sustainability, has been at the forefront of driving sustainability initiatives in the retail industry. It notes that it is under his management that Iceland became the first major retailer globally to go "plastic-free" on its own label products, and the first British supermarket to pledge a crackdown on palm oil. Walker says British shoppers are "crying out for change".
Retailers are in their worst shape for nearly five years, according to a KPMG/Ipsos Retail Think Tank report. The health of the retail industry dropped by one point to 79 during the first quarter, hitting its lowest level since 2013, The Daily Telegraph.
The Guardian's The long read focuses on the chicken nugget which it says is "the most telling symbol of the modern era". It makes the astute observation that chickens don't turn into nuggets by themselves. Capitalism is what happens when power and money combine to turn the natural world into a profit-making machine, it says.
A British cheese boom is under way, reports The Guardian, driven by changing tastes in Asia and soaring demand UK-made mozzarella, cottage cheese and stilton as well as traditional cheddar.
The soaring price of vanilla has sent a chill down the spine of UK ice-cream makers, says the BBC. It says that At around $600 per kilo the sweet ingredient costs more than silver.
The BBC asks whether UK supermarkets vary prices by area and concludes that if you look at Britain's biggest supermarkets, they do all basically operate national grocery pricing with a few exceptions. It makes the point, however, that our biggest supermarkets have already set themselves up to be able to cater nationally to different income groups. Tesco already effectively competes with itself on price through its value and finest ranges, for example.