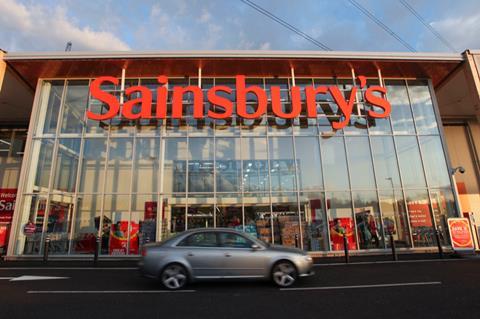 Sainsbury's CEO Mike Coupe warned that political uncertainty over Brexit was holding back spending as the supermarket's interim profits were almost wiped out by closure costs. Sainsbury's pre-tax profits dropped to £9m from £107m a year ago, due to £229m of exceptional costs booked as the result of a store closing programme (The Financial Times £).
Sainsbury's sales were also down, falling 0.2% to £16.8bn, despite price cuts on over 1,000 lines. The supermarket however, reported a better performance in the second quarter than the first (Sky News). Food sales fell 0.1% while clothing and general merchandise were down 1.2% and 2.5% respectively (BBC).
Sainsbury's deteriorating performance follows what the Times described as a "dramatic" year for the retailer after its £10bn merger plans with rival Asda were halted by the Competition and Markets Authority in April (The Times).
Meanwhile, Coupe also called for a radical overhaul of planning rules, urging the new government to reform restrictions which make it difficult to switch what empty stores can be used for (The Telegraph).
Experts have said supermarkets are plotting a Christmas price war to compete against discounters, with shoppers likely to benefit from competition among the Big 4 during the festive period. Sainsbury's has cut prices on parsnips, sprouts and potatoes, Morrisons said it had reduced prices on 2,000 products, while Tesco said it would price-match more than 400 products to the closest competitor (Daily Mail).
Days after reporting a mixed financial performance, Marks & Spencer has launched its Christmas ad, an all-dancing performance featuring a "shoulder-roll" move the retailer hopes will become a hit on the dance floors (The Guardian).
Tate & Lyle has reported a forecast-beating interim profit rise, driven by growth at its speciality ingredients business. Sales increased 2% to £1.5bn and adjusted operating profits rose 3% to £183m. However, guidance remained unchanged due to "market challenges" in the US (The Financial Times £).
French supermarket group Casino has secured €1.8bn of funding from high-yield bonds and loans as well as entering a €2bn credit line from ita banks. the new deal comes after the retailer was left "frozen out" of credit markets as its parent company filed for bankruptcy protection (The Financial Times £).
Heineken has ditched plastic rings and shrink wrap from its multipack cans swapping them for eco-friendly cardboard toppers. The Dutch beer giant invested £22m in new technology and production facilities in the UK to roll-out the changes, which will apply to Heineken, Foster's and Kronenbourg 1664 from April 2020 and to the rest of its brands by the end of 2021 (The Guardian).
Hotel Chocolat founders, CEO Angus Thirlwell and development director Peter Harris, sold shares in the chocolate retailer yesterday, each scoring £5m after selling 2.4m shares at 420p (The Times).
Investors in pub chain JD Wetherspoon have been urged to reject the company's annual report after it failed to gain shareholder approval over pro-Brexit spending. The chain spent £95k on pro-Leave beermats, posters and booklets during the 2016 referendum campaign, with shareholder group Pirc claiming such expense required clearance with investors (BBC).