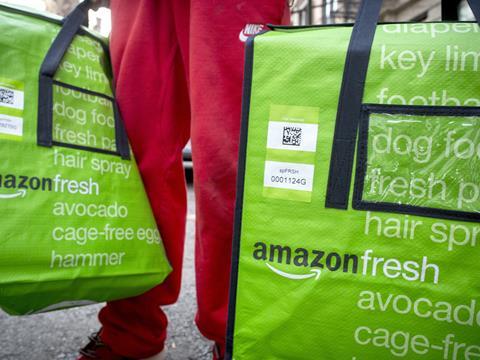 "Amazon Fresh launches assault on UK supermarkets" is the headline in The Telegraph this morning on the news that Amazon is launching grocery deliver in 69 post codes across London. The Telegraph writes Amazon is to make its "highly anticipated" entrance into the UK grocery market in a move which "threatens to damage yet further Britain's already under-pressure big four supermarkets". The Guardian writes: "UK supermarkets are already under pressure from the rise of the internet and increasing competition from discounters such as Aldi and Lidl. Amazon's widely expected expansion into fresh food will ratchet up concerns about the major chains' future." Read The Grocer's story on the launch here.
Elsewhere, the papers this morning are dominated by the extraordinary parliamentary proceedings around the collapse of BHS. The latest revelations in the scarcely believable affair were accusations from BHS' former boss Darren Topp that Dominic Chappell threatened to kill him (The Telegraph, The Guardian, The Independent) and more allegations over the conduct of Chappell and Sir Philip Green in the collapse, with the former accusing the latter of blocking a rescue deal (The Telegraph, The Times £, The Financial Times £).
A damning Lombard column in the FT calls the former BHS bosses Walter Mitty characters, writing: "The more the likes of Mr Chappell and Mr Topp rip into one another, the lower their collective stock falls". (The Financial Times £)
Allaistair Osborne In The Times (£) writes that "Mudslinging is a dirty business", while The Telegraph's James Quinn says: "Forget Dominic Chappell - it is Sir Philip Green who has a lot of explaining to do over the collapse of BHS". The Daily Mail's Alex Brummer says: "As the net closes in on the BHS sharks we must not forget the real victims of this squalid affair", while The Guardian looks at the six key questions facing Sir Philip Green.
Away from BHS, Sainsbury's sales slip but beat expectations according to The Financial Times (£), while The Daily Telegraph and The Guardian focus on CEO Mike Coupe's warning that the 'challenging' market persists for the grocers. The Times (£) concentrates on Sainsbury's become the UK's biggest seller of vinyl records. The Daily Mail writes: "Sainsbury's says bog off to bogof: Supermarket scraps multi-buy offers in favour of lower prices".
Tesco, the UK's largest supermarket chain, is to sell off its interests in Turkey and its Giraffe UK restaurant business, as the retailer continues to dispose of non-core assets. (The Financial Times £)
WH Smith's high street stores resumed lacklustre trading after their first positive Christmas period "for donkey's years". (The Telegraph)
Coca-Cola HBC shares frothing up as analysts describe its expansion plans as 'ambitious but credible' (The Daily Mail)
Tesco Mobile is offering customers a discount on their bills if they are willing to view an advertisement on their phones, as the company looks to find new ways to help marketers avoid ad-blocking software. (The Financial Times £)
A Swedish court has ordered chocolate maker Mars to stop selling M&Ms in the Scandinavian country over a trademark dispute. (The Telegraph)