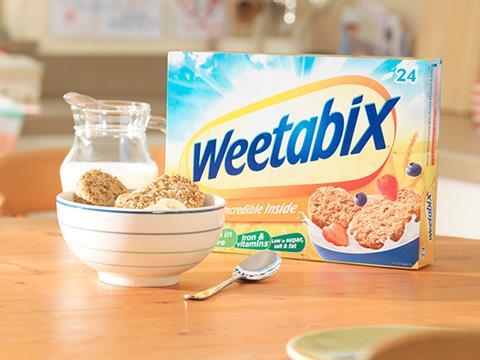 The runners and riders are lining up for the potential auction of Weetabix, with a host of names linked to a £1.5bn buyout of the cereal maker over the weekend.
Weetabix may have struggled for growth during its past five years of Chinese ownership, but there is no shortage of suitors seeking to swallow the £1.5bn breakfast cereal maker, writes The Times (£). Rivals include Cereal Partners Worldwide, a joint venture between Nestlé and General Mills, as well as PepsiCo, the owner of Quaker Oats, and Pladis, the Turkish group behind United Biscuits. Barilla, an Italian family business, is also tipped. (The Times £)
The Sunday Times (£) tipped the world's biggest pasta maker as plotting a £1.5bn bid for Weetabix. Barilla, a 140-year-old Italian family business run by three billionaire brothers, is talking to City advisers about taking over the British breakfast cereal. It notes that both Bright Foods and Baring Private Equity are expected to sell their stakes as part of the current process. (The Times £)
The Telegraph highlights Cheerios maker Nestle and Lucky Charms owner General Mills, who are both understood to have expressed an interest through their existing Cereal Partners Worldwide joint venture. Bankers say that it is unlikely that Kellogg's, the world's biggest cereal maker, would be able to get around competition issues to participate. (The Telegraph)
The Weetabix group, which is also behind Alpen and Ready Brek cereals, could be the subject of a bidding war which analysts say could value the business at £2bn. (The Daily Mail)
Premier Foods could face an "unmitigated disaster" if it fails to extend its lucrative licensing deal with Cadbury's parent Mondelez, City insiders have warned. Its long-standing licence to manufacture Cadbury-branded produce, which include Mini Rolls, expires in June after being extended in 2012. (The Telegraph)
Fox's Biscuits could be snapped up by a mystery buyer, following confirmation that it is the target of a £350m takeover approach (The BBC). The billionaire owner of Fox's Biscuits has been approached by a mystery bidder who wants to take the Party Rings-maker off his hands (The Daily Mail). Sources believe that it is the Ontario Teacher's Pension Fund, the owner of Burton's Biscuits, as the two firms were in discussions last year about a deal (The Telegraph).
"Should Persil Paul stick to selling washing powder?" asks The Times (£). It writes: "The chief executive of Unilever has scored top marks for bolstering the consumer giant's credentials for sustainability. But should the Dutchman be more worried about its flagging sales?" (The Times £)
Meanwhile, The founder of Playbrush, a gadget that 'makes a game' out of using a toothbrush, has signed a deal with consumer goods giant Unilever and will launch a co-branded version for the French market this year. (The Daily Mail)
Heineken faces a publican rebellion following its £400m takeover of Punch Taverns over plans to fill the 1,900 new pubs with its own beer and cider brands. A shareholder vote is due to take place in less than three weeks sparking an urgent appeal by Punch publicans to officials within Government and the regulator. (The Telegraph)
Landlords at hundreds of pubs that could soon be snapped up by the beer giant Heineken have warned they will lose business to rivals if the deal goes through. In a letter to the government's pubs watchdog, publicans said the £400m offer by the Dutch brewer — and a partner — to buy Punch Taverns would mean their current choice of nearly 800 beers and ciders falling to 30. (The Times £)
Whitbread might not be too good at telling pigs from cows, but it does have pedigree when it comes to filling hotel rooms and selling coffee, writes The Times (£). While the slump in sterling has pushed up many of its costs, from coffee beans to burger buns, it has also made Britain a cheaper place to come on holiday, as well as encouraging more Brits to holiday in the UK. (The Times £)
Consumer spending is expected to fall this year as increasing import costs and rising inflation squeeze households' disposable incomes. (The Telegraph)
Sainsbury's chairman David Tyler was sanctioned by the supermarket's board after using the company's staff and suppliers to help revamp his country bolthole. The board sent Tyler, a City grandee who has led Sainsbury's since late 2009, a warning letter after an internal investigation concluded there had been "material breaches" of three company policies which it viewed as an "extremely serious matter". (The Guardian)
The billionaire owners of retail brands such as Fortnum & Mason, Heal's and Primark gave millions of pounds to good causes last year thanks to record dividend payouts. Wittington Investments, an investment arm of the Weston family, paid out £109m according to its latest accounts, with another payment of £47m coming after the end of the financial year. (The Daily Mail)
Britain's farmers are urging the government to avoid allowing cheaper food imports under post-Brexit trade deals. Domestic producers will struggle to compete with countries where animal welfare and environmental standards are lower, said Nick von Westenholz, head of Brexit and trade policy at the National Farmers Union. (The Times £)
Spanish farmers hope the worst of the courgette crisis is over. The recent cold snap forces up some vegetable prices by more than double in past week alone, which has provided solace for some Murcia farmers, tragedy for others. (The Guardian)
British shoppers are to become the subject of an experiment aimed at making them eat their greens. In a bold move to rebalance the contents of supermarket trolleys, Oxford academics have teamed up with supermarket chiefs to persuade consumers to buy less meat. (The Guardian)
Greggs is tipped as a share to buy in the Daily Mail, citing Peel Hunt which said fourth-quarter figures showed strong growth with 'exceptional' trading in the two weeks to Christmas with breakfast and coffee sales leading the way. (The Daily Mail)
An app that designs nail art, a personalised natural skincare range and sophisticated location technology to help retailers target offline customers are three of the "beauty tech" start-ups selected by French cosmetics company L'Oréal for its first accelerator programme. (The Financial Times £)
A British bioscience company will help France produce more wine after winning approval to sell an environmentally friendly pesticide designed to prevent grape rot. Eden Research, based in Cirencester, Gloucestershire, has been granted permission to sell Mevalone, a product it has developed to combat botrytis, to vineyards across France. (The Times £)