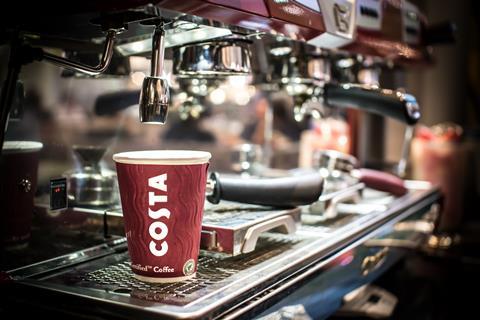 Whitbread (WTB) has this morning announced it has agreed to sell its Costa Coffee chain to The Coca-Cola Company (KO) for an enterprise value of £3.9bn.
The valuation represents a multiple of 16.4x Costa's 2018 full year EBITDA and Whitbread said "recognises strategic value of Costa's brand strength, multi-channel presence and international growth potential".
The deal will give Whitbread a "substantial" premium to the value that would have been created through the previously announced demerger given the Coca-Cola system's global product, distribution and vending platform
The net cash proceeds expected to be approximately £3.8bn at completion, after adjusting for estimated transaction costs and separation costs
Whitbread said a significant majority of net cash proceeds will be returned to shareholders, while it will also reduce financial indebtedness and make a contribution to the pension fund.
The deal has been unanimously approved by the Whitbread board, but is conditional upon agreement by Whitbread's shareholders as well as various other regulatory approvals and is expected to complete in the first half of 2019
Alison Brittain, Whitbread chief executive, commented: "This transaction is great news for shareholders as it recognises the strategic value we have developed in the Costa brand and its international growth potential and accelerates the realisation of value for shareholders in cash.
"The announcement today represents a substantial premium to the value that would have been created through the demerger of the business and we expect to return a significant majority of net proceeds to shareholders. Whitbread will also reduce debt and make a contribution to its pension fund, which will provide additional headroom for the expansion of Premier Inn."
Whitbread acquired Costa in 1995 for £19m when it had only 39 shops and grew the business to be the UK's largest coffee shop company. In more recent years, the group has focused on building Costa into a leading multi-channel, international coffee brand.
Whitbread said the combination with Coca-Cola will ensure new product development, continued growth in the UK and more rapid expansion overseas.
James Quincey, Coca-Cola CEO, commented: "Costa gives Coca-Cola new capabilities and expertise in coffee, and our system can create opportunities to grow the Costa brand worldwide.
"Hot beverages is one of the few remaining segments of the total beverage landscape where Coca-Cola does not have a global brand. Costa gives us access to this market through a strong coffee platform. I'd like to welcome the team to Coca-Cola and look forward to working with them."
Morning update
Consumer confidence improved in August according to GfK's Consumer Confidence Index as in the face of well publicised concerns over a 'no deal' Brexit.
The index increased by three points to -7 in August 2018, with four measures increasing, and one measure stayed the same.
The measure of changes in personal finances during the last 12 months has increased three points this month to +4; this is two points higher than this time last year.
The forecast for personal finances over the next 12 months has increased one point to +8 this month, which is three points higher than August 2017.
The measure for the general economic situation of the country during the last 12 months is notably lower, but increased two points to -26 and is four points higher than August 2017.
Expectations for the General Economic Situation over the next 12 months have stayed the same at -26, which is one point higher than August 2017.
Joe Staton, client strategy director at GfK, commented: "Consumers are no doubt aware of the incessant Brexit noise, the core debate about whether 'no deal is better than a bad deal', the accompanying threats, warnings and uncertainties, the wild hopes and dark fears, and the daily ups and downs.
"But are consumers putting their hands over their ears and quietly saying: let's just wait-and-see? We are just months away from the Brexit crunch but there is no sign (yet) of any crash in consumer confidence. Yes, the core index continues to muddle along in negative territory, but Armageddon seems a distant prospect.
"With this month's jump to -7, we have four of the constituent scores up and one unchanged. And we are well above the worrying -39 we saw in July 2008. Are consumers being more sensible than the pundits? Have they developed an immunity to the Brexit babble?"
On the markets this morning, the FTSE 100 is down 0.3% to 7,495.1p.
Whitbread shares have surged 17.4% to 4,720p so far this morning after the Costa Coffee sale news.
Other risers include Stock Spirits Group (STCK), up 1.1% to 190p, WH Smith (SMWH), up 0.7% to 2,084p and Majestic Wine (WINE), up 0.6% to 407p.
Fallers so far include Premier Foods (PFD), down 1.5% to 41.6p, DS Smith (SMDS), down 1.1% to 497.9p and Associated British Foods (ABF), down 0.7% to 2,294p.
Yesterday in the City
The FTSE 100 fell back another 0.6% to 7,516pts yesterday as a number of economic concerns, including US/China trade relations and a fall in emerging market currencies, continued to weigh on the index.
Tesco (TSCO) was once again one of the FTSE 100's major fallers, dropping a further 2.1% to 244.7p on the back of yesterday's falls after cautionary comments from broker Barclays.
Other grocery retailers also struggled yesterday, with Sainsbury's (SBRY) down 0.8% to 330.5p and Marks & Spencer (MKS) down 0.8% to 310.5p.
Ocado (OCDO) had a much better day, with the online retailer rising 1.7% to 1080.5p.
Total Produce rose 2.9% to 195p after issuing strong first half results yesterday, while WH Smith (SMWH) rose 0.9% to 2,070p following its pre-close updates detailing strong travel sales and profit performance on the high street.
Other risers yesterday included English wine group Gusbourne, up 10.5% to 84.5p, Greene King (GNK), up 2.1% to 482.7p, Hilton Food Group (HFG), up 2% to 938p and McBride (MCB), up 1.9% to 132.2p.
Fallers included Pets at Home, down 3.1% to 118.1p, British American Tobacco (BATS), down 1.5% to 3,778.5p, Majestic Wine (WINE), down 1.1% to 404.5p, Reckitt Benckiser (RB), down 1.1% to 6625p, AG Barr (BAG), down 1% to 695p.