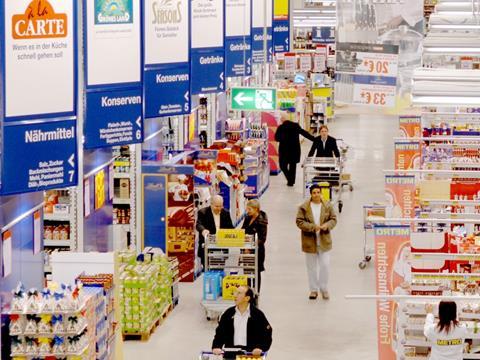 German supermarket Metro Group has reported growing sales in its second quarter, but the negative impact of currency movement helped its losses expand to €394m during the period.
Like-for-like sales of across the group were 2.5% up in the second quarter, taking its first half like-for-like sales growth to 2.2%.
However, the group recorded a net loss of €394m during the three months to 31 March, up from a loss of €269m recorded last year.
The loss was largely attributable to a goodwill impairment charge of €450m related to its disposal of Real in Eastern Europe. Also Metro was hit by negative currency effects of "about €30m" as Metro experienced "significant negative currency effects in large parts of Eastern Europe, particularly Russia and Ukraine.
EBIT (earnings before interest and tax) before special items came in at negative €40m during the quarter, which was in line with the figure recorded last year.
"The rigorous realignment of our sales lines and our successful efforts to tap new retail channels and formats are increasingly paying off, particularly at METRO Cash & Carry and Media-Saturn. Both sales divisions are now experiencing sustained positive like-for-like sales growth," said chairman Olaf Koch. "Real Germany also enjoyed a positive like-for-like sales trend. This shows that we are on the right track with our investments in the modernisation of the company and new concepts".
In its home German market, sales increased by 0.9% in the first half to €13.6bn and by 1.8% in the second quarter.
International sales fell by 2.5% to €19.1bn in the first half, largely due to currency volatility. Western Europe was up 1% in the first half to €10bn, while Eastern Europe declined by 11.9% to €6.9bn during the half year period. Sales in Asia and Africa were up by 18% to €2.2bn.
Metro said it expects this rise in overall sales to continue for the full year period "despite the persistently challenging economic environment".
It forecast that like-for-like sales would improve on the 0.1% gain recorded last year and EBIT before special items (and adjusted for currency) will be slightly above the €1.73bn seen in 2013/14.