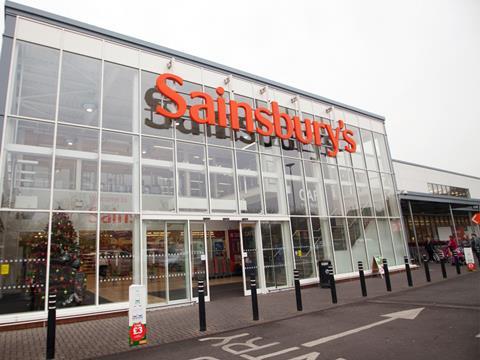 Top story
Sales at Sainsbury's (SBRY) jumped 17% to £16.3bn in the first half thanks to the acquisition of Argos, but losses at the catalogue retailer, keeping prices down and the national living wage all dragged down the supermarket's profits.
Like-for-like sales at the group, excluding fuel, increased 1.6% in the 28 weeks to 23 September, as food transactions grew ahead of the market, according to Sainsbury's.
It added that more customers than ever chose to shop at the grocer in the first half, responding to its focus on quality, price and innovation.
However, like-for-like growth slowed considerably in the second quarter to just 0.6%, compared to 2.3% in the first three months of the financial year.
Underlying pre-tax profits tumbled 9% to £251m during the period as Sainsbury's invested in price to remain competitive, was hit by wage cost inflation and consolidated losses from Argos, which were partly offset by synergies from the deal.
First-half EBITDA synergies totalled £25m and the retailer is on track to hit its £160m savings target from the Argos acquisition six months ahead of schedule.
Sainsbury's added it had also exceeded group cost-saving targets and now expected to deliver £540m over the three years ended 2017/18.
Pre-tax profits for the half were £220m, down from £372m a year ago when the supermarket benefitted from a £111m one-off property gain from Nine Elms and £98m profit from the sale of the pharmacy business.
"We have delivered a good performance across the group in the last six months, with more customers choosing to shop at Sainsbury's in the first half than ever before," CEO Mike Coupe said.
"We are now three years into delivering our differentiated strategy and are seeing clear results. We are adapting to meet customers' changing shopping habits and, as a result, we are seeing positive momentum across the business.
"This half we have updated and improved 70 of our food ranges, covering around 40% of our food sales; improved our offer across 15% of our supermarket space and opened a further 73 Argos stores in Sainsbury's, giving customers more reasons to shop at Sainsbury's."
He added: "We continue to focus on offering our customers great value, supported by our removal of multi-buys. Customers can shop at Sainsbury's knowing they get good value every day without having to wait for products to be on promotion. We are also collaborating with suppliers and working hard within our own business to reduce our costs and limit the impact of price inflation on our customers."
Online and convenience sales grew strongly in the half, he added, up 7.2% and 8.2% respectively.
"While the market remains competitive, we are well placed to navigate the external environment and we remain focused on delivering our strategy," the group said. "The outlook for the full year underlying profit expectation remains in line with current market consensus."
Shares in Sainsbury's opened 0.5% down at 232.4p.
Morning update
"Exceptional" growth of Cathedral City cheese has helped Dairy Crest (DCG ) boost sales by 16% to £220.1m in the first half.
Growth at the branded cheese, butter and oil business also lifted adjusted pre-tax profits 8% to £20.6m in the six months ended 30 September, despite the soaring cost of cream hitting the group.
In aggregate, volumes of the four main brands – Cathedral City, Clover, Country Life and Frylight – grew by 4% in the first half versus a year ago, with overall value growth of 6%. Dairy Crest said it expected value growth to exceed volume again in the second half.
Cathedral City outperformed the cheese category and increased volumes by 10% and value by 7% in the half. The market leader accounts for 56% of all branded cheddar sold by retailers in the UK. Dairy Crest updated packaging for the slice range in the summer and plans further seasonal updates to the packaging in the second half. It said there was "plenty" of potential for further growth of the brand.
Oil brand Frylight increased volumes by 10% and value by 9%, Clover spreads recorded more modest rises of 2% for volume and value, but the hike in butter prices affected Country Life. The butter brand saw volumes slide 14% as prices went up, but it still increased value 5%.
"We have had an encouraging first half, with Cathedral City, Clover and Frylight delivering good growth in both volumes and value," CEO Mark Allen said.
"Cathedral City, the nation's favourite cheese, continues to go from strength to strength and has produced exceptional growth over the period.
"We have delivered good profit growth despite a record high cream price, which has a temporary but significant impact on input costs in our butter and spreads business.
"We expect to accelerate sales of demineralised whey and GOS in the second half of this year. In conjunction with our partner Fonterra we are making good progress in developing sales channels for our products.
"Our strong brands and the quality and efficiency of our operating facilities mean that we are well positioned to grow. While we expect butter input costs to continue to be challenging for the remainder of the year, we are confident in delivering our full year expectations."
Dairy Crest shares slipped 0.9% to 585p as markets opened this morning.
Revenues at Northern Irish poultry producer Moy Park rose 11.3% to £392.6m in the third quarter on strong volume growth, favourable exchange rate movements and recovery of cost inflation.
The group, which was sold by JBS to Pilgrim's Pride in a £1bn deal in September, increased EBITDA before exceptional items by 22% to £32.8m in the three months ended 30 September. Strong operational performance and volume growth was partially offset by the timing of cost inflation recovery, Moy Park said.
Like-for-like EBITDA increased 4.5% to £32.8m and like-for-like pre-tax profits were up 8.1% to £16.6m.
"We are pleased to announce a strong third quarter performance, delivering 11% volume and revenue growth across all product categories and an increase in underlying profit before tax," CEO Janet McCollum said.
"This growth is underpinned by our strategy of unrelenting focus on cost control, strong customer relationships and a culture of constant innovation, in what is a changing competitive landscape and a market still facing significant commodity cost inflation."
She added: "Our business is built on the highest standards of food safety and quality, and we are focused on meeting and exceeding the ever-evolving expectations of our customers and consumers.
"We remain confident that we can maintain the momentum and adaptability necessary to build on our position as one of Europe's leading food companies." 2
Volumes increased 13% in the UK & Ireland, driven mainly by fresh poultry sales, pushing up revenues by 11.2% to £288.4m.
Continental Europe delivered volume growth of 8%, with revenues of €116m, 5.7% ahead of the prior year.
European Coke bottler Coca-Cola HBC (CCH ) increased revenues by 5% to €1.8bn in the third quarter as volumes rose 3.4% to 591 million cases.
The group said it was a strong quarter for volume growth across its established, developing and emerging markets, which include southern European countries, Hungary, Poland and Czech Republic, and Romania, Serbia and Ukraine.
Michalis Imellos, acting CEO and group CFO, said: "We are very pleased with the strong revenue delivery in the quarter, well balanced between broad-based volume growth and substantial price/mix improvement. We go into the final quarter encouraged by our progress and confident in delivering on our expectations for the full year."
Coca-Cola HBC also paid tribute to its recently deceased CEO Dimitris Lois.
"It was with great sadness that we announced the sudden death of our CEO, Dimitris Lois, on the 2nd of October this year," the group said.
"Dimitris enjoyed an outstanding career at Coca-Cola HBC and his contribution over 10 years leaves a lasting legacy on the company and its people. Appointed chief executive officer in 2011, he led Coca-Cola HBC with distinction and utmost dedication through a defining period in the company's history and touched the lives of thousands of colleagues across our territory. We are united in our gratitude and committed to continuing to build our business on the values he stood for."
Shares in the company rose 0.6% to 2,577p this morning.
Yesterday in the City
Shares in Marks & Spencer (MKS) were volatile yesterday as the retailer revealed profits had fallen as its food business ran in problems as it absorbed rising prices to stay competitive. The stock fell first thing in the morning but ended the day 1.6% higher at 333.1p and the City reacted positively to the turnaround strategy of CEO Steve Rowe and chairman Archie Norman.
However, the problems in the food business did not favours for sandwich maker Greencore (GNC), one of the retailer's biggest customers. Its shares slid 1.3% to 189.8p on the results.
Kerry Group (KYGA) rose 1.6% to €86.26 as it said in a third quarter trading update that sales growth was fuelled by higher volumes and that it had managed to pass on rising input costs.
Hilton Food Group (HFG) also nudged up 0.6% to 869.5p as it said in an update that it was on track for the full year.
Fever-Tree dropped off 6.5% to 2,107.5p as investors engaged in some profit taking after a 13% jump on Tuesday on another profits upgrade.
Associated British Foods (ABF) also took further hits after falls on Tuesday, down another 3.5% to 3,105p.
Imperial Brands (IMB) continued Tuesday's gains and rose another 2% to 3,162.5p.
Sainsbury's climbed 1.1% to 233.5p ahead of this morning's half-year results, with Morrisons (MRW) and Tesco (TSCO) also up by 1.1% to 217.3p and 0.5% to 176.9p.