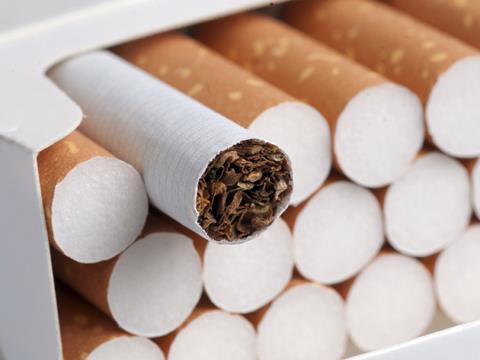 Revenues and margins both fell for the globe's biggest tobacco firms last year according to the OC&C Global 50, but an industry struggling with declining cigarette volumes is still looking to new markets to underpin future growth.
Analysis of the financial performance of the world's 50 largest fmcg players has found tobacco was one of the hardest hit sectors in the struggle for these giants to maintain global growth.
Average revenue growth across the five tobacco giants in the table fell to -0.8% in 2014 from growth of 0.8% during the previous year. The 0.8% revenue fall is 2.5 percentage points lower than the average Global 50 growth figure of 1.7% - which itself was down from 2.9% last year.
Only companies categorised as "dominant pharma" (-1.4%) and "diversified companies" (-2.4%) performed worse than tobacco.
The fall in revenues perhaps isn't surprising given the consistent fall in western cigarette volumes in recent years.
However, concerning for the industry which has been more focussed on trimming costs and growing margins than growing sales volumes, average profit margin also fell during the year.
Profit margins were down 0.7 percentage points against a wider fall of 0.3 percentage points across the wider table. Tobacco profit margins remained comfortably the highest in the industry at 35.3%, ahead of pharma at 28.3% and the wider Global 50 at 16.8%.
Currency movements have had tobacco particularly hard as emerging markets have helped soften the falling cigarette volumes in western markets, but the translational effect of revenues from these markets hit overall sales last year.
For example, currency impacts wiped out almost 9% of revenues for Philip Morris last year as it was hit by currency devaluations in important cigarette markets such as Russia and Latin America.
Therefore Philip Morris reported a 4.6% fall in revenues and a 3.6 percentage point margin decline during the year. That performance was mirrored by an 8.4% revenue decline at UK-listed British American Tobacco and a 6.6% decline at Imperial Tobacco.
Philip Morris' overall volumes fell by another 2.5% during the year even though volumes had already slumped by 5.1% in 2013.
Despite the weak growth numbers, the tobacco industry does not appear to be retrenching. Instead, two of the five tobacco firms have been involved in two of the year's key M&A deals.
Notably Imperial Tobacco's $7.1bn acquisition of a raft of brands from Reynolds American was the year's largest fmcg deal. Also, Japan Tobacco bought Malaysia's JT International Berhad for $264m during the year, while Archer Daniels bought US-based Specialty Commodities for $170m.
The larger two of these deals illustrate the key wider trend for the global giant's M&A, which was still overwhelmingly to penetrate and strengthen in new territories.
Imperial's deal not only revolutionises its US business (which will now make up around a quarter of total revenues), but part of the deal is to acquire e-cigarette brand Blu – another acquisition strategy to tap growth (in this case growing western demand for e-cigarettes) and diversify away from traditional products in western markets.
While Imperial's acquisition was not finalised in time to boost its 2014 numbers, Japan Tobacco's acquisition of JT International helped it boost revenues 13.1% and EBIT margin by 1.9 percentage points to 35%.
Average margin growth was also boosted by Altria Group's 2.6 percentage point margin expansion, partly thanks to last year's absence of losses from non-recurring items.