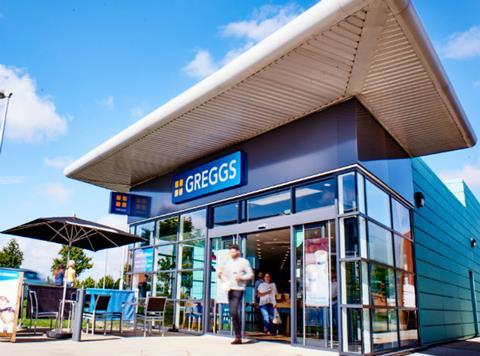 There were positive signs for the retail sector in the first Christmas trading updates of the season on Thursday, after both Greggs and B&M European Value Retail hiked profits expectations after strong festive showings.
Greggs' own trading update was overshadowed by the announcement that long-standing CEO Roger Whiteside will retire, to be succeeded by current retail and property director Roisin Currie. But Whiteside is signing off on the front foot as the food-to-go stalwart continues to defy the "challenging" trading conditions.
Sales for the financial year to 1 January 2022 were £1.23bn, a two-year increase of 5.3%. In the fourth quarter of 2021, two-year like-for-like sales in company-managed shops grew by 0.8%, with a strong performance in October being followed by "more challenging" conditions as consumers responded to precautionary messages relating to the new coronavirus variant.
Inflationary pressures increased towards the end of 2021 and are likely to remain elevated in 2022. However, operational cost control in the final quarter of 2021 was "good" and the group expects to report a full-year outcome slightly ahead of previous expectations.
"Greggs has been on a phenomenal journey in the last few years, with sales and the share price soaring," said Sophie Lund-Yates, equity analyst at Hargreaves Lansdown. "Currie is being handed a business where sales are up 5.3% compared to pre-pandemic times, despite the reduced commuter footfall on the UK's high streets. That's not something many businesses can say, but with a great deal of excitement baked into the stock's valuation, the pressure's on."
AJ Bell's Russ Mould added: "The market may be reassured by the consistency implied by an internal replacement as stepping too far away from the successful blueprint established by Whiteside would seem to be a mistake."
Greggs shares fell 5.2% to 3,179p in morning trading on the news of Whiteside's departure, but remain 65% up year on year.
Meanwhile, B&M European Value Retail has also hiked its full-year earnings forecast after a "strong" performance over the festive period.
Bringing forward its seasonal trading update, B&M said it saw group revenue growth of 0.1% on a year-on-year constant currency basis in its third quarter to 25 December, representing strong growth on a two-year basis.
Total B&M UK fascia revenue was down 2.5% year on year, with one-year like-for-like revenue down 6.2% but up 14.0% on a two-year basis versus pre-pandemic levels.
As a result of the strong trading, full-year group adjusted EBITDA is now expected to be in the range of £605m to £625m, ahead of the current analysts' consensus estimate of £578m.
Moody's senior credit officer David Beadle commented: "the company's value-for-money focus will serve it well as disposable incomes are squeezed by rising inflation driven by higher energy costs and the broad-based supply chain disruptions."
B&M shares were 2.6% down on Thursday, but have more than doubled their value since the early weeks of the pandemic in March 2020.