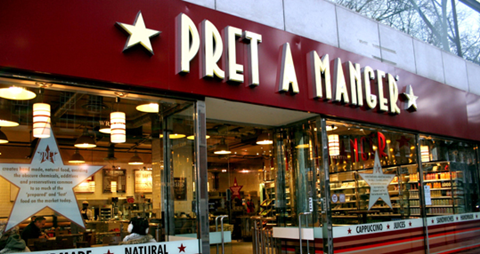 Pret a Manger has announced it will close stores, axe staff and sell its central London head office after sales nosedived by 74% year on year.
The move comes after footfall and sales across the high street sandwich giant's 339 reopened stores "severely declined" as recovery in the UK proved slower compared with other countries in which it trades.
The food to go chain will permanently close 30 of its 410 UK shops while a consultation process has begun to reduce headcount across its remaining outlets and support centres.
In a further bid to reduce costs, Pret's main support office in Victoria, central London, will be put up for sale before the end of the year.
A major review of the chain's estate is also underway, which could lead to more stores closing.
Pret has engaged with external consultants Alvarez & Marsal and CWM to carry out the review and complete a "resizing programme".
Meanwhile, discussions are underway with landlords in an attempt to negotiate a "more sustainable leasehold model".
In a bid to stabalise the business, Pret plans to focus on reaching customers through various digital channels rather than its traditional model of serving office workers.
The shift comes after sales from Pret's retail partnerships with Amazon, Deliveroo, Just Eat, Uber Eats, and its click & collect trial at five London stores rose 408% year on year to represent 8% of total UK sales.
A new hub kitchen will open in North London to support the trial of an evening delivery menu, which will operate from seven shops.
"When the coronavirus crisis hit, we said that our priority was to protect our people, our customers, and of course Pret," said Pret a Manger CEO Pano Christou. "We confirmed it was our intention to do everything we could to save jobs. Although we were able to do that through the lockdown, thanks in particular to the government's vital support, we cannot defy gravity and continue with the business model we had before the pandemic.
"That is why we have adapted our business and found new ways to reach our customers. It's a sad day for the whole Pret family, and I'm devastated that we will be losing so many employees.
"These decisions are not a reflection on anyone's work or commitment. But we must make these changes to succeed in the new retail environment. We will be supporting our leavers to find new positions through a number of initiatives. Our goal now is to bring Pret to more people, through different channels and in new ways so that we can continue to provide great jobs and opportunities to our remaining employees.
"While Pret may look and feel different in the short term, one thing I know is that we will come through this crisis and have a bright future if we take the right steps today."
Reduced sales have also had an impact on Pret's main charity, the Pret Foundation. A major fundraising campaign is to be launched during the second half of the year, beginning with a digital raffle aimed at enabling the foundation to continue to help the homeless.