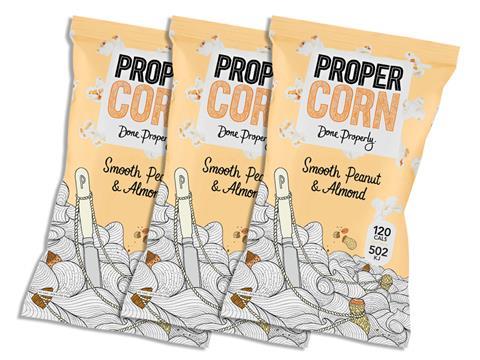 Fast-growing popcorn brand Propercorn is close to securing its first injection of external cash since launching four years ago.

Founders Cassandra Stavrou and Ryan Kohn are in talks with five or six private equity firms and other private funds, with final offers for a minority stake expected in the next two weeks.

Propercorn has been self-funded since launch, with £30,000 in start-up cash coming from Kohn's mother. It is raising money to continue its rapid growth in the UK and target new markets overseas, where it is currently in eight European countries.

Consumer demand for popcorn has boomed as the trend for healthier snacking has grown. Supermarket sales passed the £100m mark in 2015 to hit £114.3m - a 30.8% increase [IRI 52 w/e 5 December].

Butterkist is the market leader at £45.5m, but Propercorn recorded an 88% jump in value sales to £10.1m on volumes up 101% last year [Nielsen 52 w/e 10 October 2015], ahead of 63% and 35% value growth for Metcalfe's Skinny and Tyrrells Poshcorn.

Propercorn, which sells 20 million packs a year, including at Tesco, Waitrose and Boots, also almost doubled turnover in 2015 to £10m, up from £5.4m in 2014.A City source said: "Propercorn is not just looking for cash but to bring added value and new skills to help the next stage of growth."

The booming popcorn category has caught the attention of investors, with the US owner of Kettle Chips snapping up a 26% stake in Metcalfe's Skinny in January and funds backed by private equity house Permira investing a multimillion-pound package in own-label business Sweet & Savoury in December.