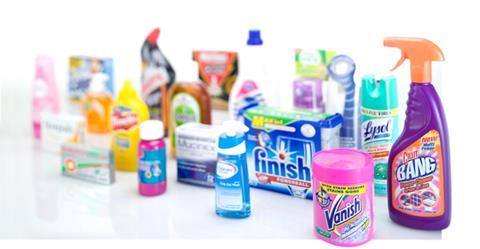 Top story
Reckitt Benckiser (RB) first-half profits plunged 29% to £528m after it put aside £319m to pay compensation to victims in South Korea affected by fatal disinfectants sold by the consumer goods maker.
Revenues in the six months to 30 June grew 5% on a like-for-like basis to £4.6bn and by 4% to £2.3bn in the second quarter. However, second quarter growth came in well below analyst expectations of 4.9% as a result of a 1% hit in South Korea where it has faced boycotts by an angry public and some supermarket chains have stopped stocking its products.
Reckitt, along with other domestic manufacturers, sold humidifier sterilisers linked to the illness or deaths of more than 500 people in the country five years ago.
The group reiterated guidance for 4% to 5% like-for-like sales growth in 2016, but said it would be at the lower end of the range because of the South Korea issues.
Shares in Reckitt have opened 2.2% at 7,272p this morning.
CEO Rakesh Kapoor said: "We have delivered a strong, HY performance with balanced and broad based growth across both markets, and categories, and delivered further margin expansion. These results reflect our continued focus on our power markets, power brands and our virtuous earnings model. Growth was underpinned by a combination of innovations, such as Dettol Gold and Durex Invisible, and penetration building initiatives, particularly in emerging markets."
He added that Reckitt's global footprint meant the group expected "no tangible impact" from uncertainty over Brexit.
The health division, which accounts for 33% of revenues, recorded like-for-like growth of 8% in the half, driven by the Durex/KY franchise in China and innovations such as Durex Invisible.
Hygiene, which accounts for 42% of revenues, saw growth of 5% with Dettol continuing to be a key driver of its performance.
The smaller home and food divisions had slower growth of 1% and -3% respectively, with both affected by the issues in South Korea.
Morning update
Revenues at global brewer AB InBev (ABI) grew 3.6% in the first half to $20.2bn despite volumes falling 1.7%. Growth accelerated as the half went on with a 4% rise in the second quarter to $10.8bn. Falling volumes in Brazil and Argentina were partly offset by good results in Mexico and the US. Total revenues in the half were down more than £1bn after currency fluctuations were accounted for.
ABI said combined revenues of its three global brands, Corona, Stella Artois and Budweiser, grew by 8.4% in the second quarter. Corona led the way with growth of 13%, driven primarily by Mexico, the UK and China. Stella Artois revenues grew by more than 9%, driven by the US and Canada. Budweiser revenues grew by almost 6% with growth coming primarily from China, Brazil and the UK.
EBITDA grew by 4.3% in the second quarter to $4bn, with top-line growth being partly offset by investments behind brands which was weighted towards the first half of the year. Reported profits in the half were down massively from $5.4bn to $829m as a result of $2bn of finance costs and another $2bn of non-recurring costs related to the ongoing takeover of SABMiller.
Jason Warner, BU president of North Europe said: "We are pleased with our UK performance for the first half of the year, with sales volumes growing by mid-single digits and Corona, Stella Artois and Budweiser the three biggest contributors to beer and cider growth in the UK off-trade.
"Budweiser also drove strong growth in Wales this quarter with an agile and highly responsive campaign that delivered 'Free Bud For Wales' in four days – honouring the dedication and passion of Welsh football fans."
Brexit has led to a dramatic 11-point drop in UK consumer confidence, its sharpest monthly fall for more than 26 years, according to the latest GfK monthly Consumer Confidence Index. It has dropped 11 points in July from -1 to -12. This is also a further 3-point drop from the -9 recorded by the Brexit Special in early July. All five measures used to calculate the index saw decreases this month.
Joe Staton, head of market dynamics at GfK, said: "Consumers in post-Brexit Britain are reporting higher levels of concern this month. We've seen a very significant drop in confidence, as is clear from the fall in each of our key measures, with the biggest decrease occurring in the outlook for the general economic situation in the next 12 months (-19 points).
"Although the rate of decline is slower than reported in the aftermath of the vote to leave the EU, consumers in the UK were also less optimistic about the state of their personal financial situation going forward (-9 points). However, the index continues to remain at a relatively elevated level by historic standards. Its future trajectory depends on whether we enter a new period of damaging economic uncertainty or restore confidence by embracing a positive stance on negotiating a new deal for the UK."
The deals watchdog has given Celesio the green light in its takeover of Sainsbury's pharmacies but has ruled the Lloyds Pharmacy owner has to sell pharmacies in 12 areas of England and Wales.
Celesio operates around 1,540 pharmacies across the UK and intends to acquire Sainsbury's 277 pharmacies, which are mostly located inside its supermarkets. The Competition and Markets Authority (CMA) identified 12 areas where the two companies' pharmacies were in such close competitors that the merger could have lead to a substantial lessening of competition.
Simon Polito of the CMA said: "Although the price of prescription medicines is fixed and some features of quality, range and service are specified by regulation, pharmacies still compete on various aspects of their offer which are important to customers. Since pharmacies' total revenue is largely dependent on the number of prescriptions issued, they have an incentive to attract additional customers - who we've found are prepared to switch between the two companies' pharmacies, particularly when they are near to each other in a local area.
"In those areas where a Sainsbury's pharmacy is currently a strong competitor, under common ownership Lloyds might be able to reduce service quality to increase profits without being concerned about losing customers to a rival.
"By selling the Lloyds pharmacy in those areas to a new owner with the relevant expertise and the incentive to attract customers through its service quality, we can ensure that customers do not lose out from this deal."
Yesterday in the City
Danone (BN) shares rose 3.4% to €67.93 on the back of the positive results as profits were boosted in the first half thanks to improvements in its core dairy business and price increases. Like-for-like sales jumped 4.1% in the second quarter – above analyst expectations of 3.7% - as overall volumes grew 1% and prices rose 3.1%.
Investors had a delayed response to Wednesday's first-half results from McColl's Retail Group (MCLS) as the stock shot up 10% to 160p. Shares fell on Wednesday after the group posted a 2.2% fall in like-for-like sales in the first half, despite reported sales growing by 2.2% driven by new store openings.
Diageo (DGE) was also one of yesterday's risers, climbing 2.5% to 332.4p after it announced improvements in profits and organic growth in its first-half.
There was no stopping Fever-Tree (FEVR) as it rose another 4.8% to close at another record high of 891.9p.
The FTSE 100 slipped slightly by 0.4% to 6,721.06 points as Brexit shockwaves contributed to thousands of jobs being shed at banking group Lloyds.
Fallers yesterday included Compass Group (CPG), Morrisons (MRW), Greggs (GRG), SABMiller (SAB), Associated British Foods (ABF)