Tesco results: what the analysts say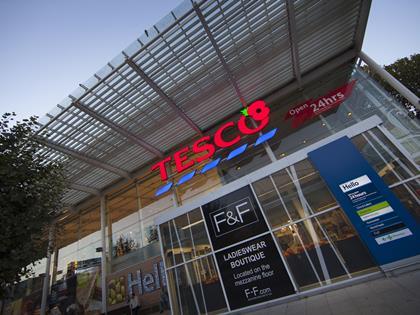 Tesco marginally beat expectations in Q1, as UK like-for-like sales fell by 1.3% during the 13 weeks to 30 May, marking an improvement on the decline of 1.7% in the fourth quarter and beating analysts' expectations of a 1.6%-3% decline. The industry reactions are coming in, and we'll add more as we get them.
Bryan Roberts, Director Retail Insights, Kantar Retail
"Overall, this morning's update from Tesco is a reassuring one with momentum very much in place in the UK, a resurgent performance in Central & Eastern Europe and the trends in Asia moving in the right direction despite severe headwinds. Action on staffing, pricing and ranging is having the desired effect in the core UK market, with volumes, transaction numbers and shopper numbers all responding favourably.
"The lack of news on Dunnhumby and South Korea is presumably reflects a question of when rather than if, as Dave Lewis seeks to maximise the returns from these two imminent disposals. It's too early to call a full-on recovery, but tentative plaudits are deserved for the direction of travel."
John Ibbotson, Retail Vision
"Turning the Tesco tanker around was never going to be easy, but Dave Lewis is definitely making inroads.
"It's encouraging that Lewis has improved the key UK market despite the headwinds of deflation, discounters and an antiquated business model. This can only bode well for the future. 
"Shareholders will be looking to the increased volumes and transactions and asking for more of the same.
"Lewis has grasped the nettle and is doing what needs to be done by streamlining the business, focusing on the core UK market and facing up to the pension deficit and property write-down.
"Structural issues still remain, specifically its portfolio of superstores weighing down on online and convenience, but Lewis is well aware of this.
"What we should also remember is that Tesco is still in the best position of the Big Four, with even now a market share of over 28%.
"The journey won't be easy but if anyone is capable of re-establishing Tesco as the leading force within grocery, and the consumer champion, it is Lewis.
"By all means go after the golden goodbyes awarded to Clarke and McIlwee, but any investor complaints about Dave Lewis' Golden Hello are likely to fade after these numbers.
"Slowly we're seeing a smaller and leaner Tesco emerge, which is a sharp contrast to the arrogant behemoth of old."
Brenda Kelly, head analyst at London Capital Group
"Better than expected results from Tesco this morning see the shares up 3% and adding 2 points to the FTSE in early trade. A -1.3% like-for-like sales 'improvement' vs Q1 2014 and also exceeding the -2%-3% analyst consensus.
"The outlook remains cautious but the cost cutting appears to be working. Tesco's strategy is to be 'volume driven' as a result. There has also been some chatter regarding Tesco being a potential takeover target which has yet to be borne out. Morrisons and Sainsbury's are also in demand this morning once again."
Jon Copestake, retail analyst at the Economist Intelligence Unit
"It seems unusual to hail a further decline in like- for- like sales as a success for a firm as big as Tesco, but these figures indicate the beginnings of a turnaround in fortunes implemented by new CEO Dave Lewis.
"With sales shrinking at a slower rate than in the previous four quarters and transaction volumes growing, there is an indication that lower prices and margins are clawing back customers in the UK. Added to this are favourable currency headwinds in Asia and like-for-like sales growth in Europe.
"Given the backdrop of discounting across the UK retail sector and economic uncertainty in other international markets, Tesco's relative performance is certainly encouraging.
However, none of this means that a full recovery in Tesco's fortunes is underway. The UK remains extremely challenging for all mainstream retailers and it seems that sales will continue to shrink until an equilibrium profit margin is reached. In the meantime, the best judge of Tesco's performance will be against those of other mainstream retailers".
Neil Saunders, Managing Director of Conlumino
"While it may seem paradoxical that sales declines can be lauded as an indication of positive progress, against the backdrop of an exceptionally tough grocery market this is exactly what Tesco's latest numbers demonstrate.
"The actual value of the figures is less important than the directional course that they plot and, in this case, they give a clear signal that the declines at Tesco – while still in evidence – are beginning to moderate. Significantly, the drops in LFL sales are also more modest than those seen at rivals.
Although the current direction of travel appears to be clear, it is reasonable to ask whether the latest performance is a temporary fillip – helped by a dismal comparative outcome during the same period last year – or whether it is the start of a more substantive recovery in Tesco's fortunes. In our view, it is the latter. "