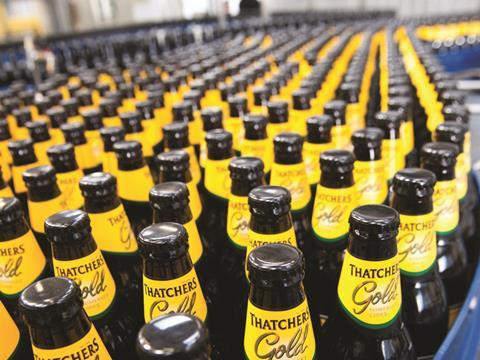 Cider maker Thatchers has increased sales by 16% to £60.3m as it won a major three-year contract to supply its flagship Gold brand to every bar at Glastonbury Festival.

The Somerset business said cider volumes for the year to 31 August 2014 had continued to surge, driven by the increasing distribution and popularity of its range.

Despite the rise in top-line sales, pre-tax profits slipped slightly, from £5.6m to £5.57m, as the company invested a further £4.9m in its production facility.

Since the year end, it has opened a packaging warehouse to keep up with the growing demand for its ciders, and is making inroads into the US with a three-year partnership secured with the stateside subsidiary of Scottish beer maker Innis & Gunn.

Thatchers added it had outperformed the market for a fifth year running, with the underlying cider industry only reporting modest growth. Early this month, Magners brewer C&C Group's shares fell over 10% after it slashed profit expectations and warned of under-par third-quarter trading as its UK cider volumes took a beating.

Thatchers said in its accounts it was well positioned for further growth.