On 19 November 1994, Noel Edmonds welcomed the nation to the first-ever National Lottery draw. Live on BBC1 and watched by 22 million viewers, 49 members of the public competed to go down in history as the person to hit the button to launch the first draw.
The winner was 18-year-old Deborah Walsh, who set the machine whirring and the numbers 30, 3, 5, 44, 14 and 22 rolled out. Seven jackpot winners shared a prize of £5,874,778, each winning £839,254, and the National Lottery was born.
A lot has changed in the 20 years and 1,973 draws since that first game - with new and relaunched games, ticket price increases and new ways to play all introduced. And during those 20 years the National Lottery's operator Camelot Group has had a huge impact, not just on the lucky jackpot winners and the good causes it has supported, but also on retailers and the wider grocery sector.
According to sales director Duncan Malyon, who joined Camelot in 2009 from Molson Coors, the numbers speak for themselves. The lottery is played by 70% of adults. It has created more than 3,700 millionaires and provided £32bn in funding (that's about £33m a week) to more than 450,000 projects for good causes across the UK.
"Some people simply don't realise the sheer scale of our product," Malyon points out. "We've got three brands - Lotto, Euromillions and scratchcards - which all have sales of more than £1.5bn. On your annual ranking of Britain's Biggest Grocery Brands, total National Lottery sales each year are bigger than the Top 10 - Coca-Cola, Warburtons, Walkers, Birds Eye, Cadbury Dairy Milk, Kingsmill, Nescafé, Lucozade, Pepsi and Andrex - put together."
Jackpots and rollovers
Though it's difficult to compare sales performance at Camelot because of the fluctuation of rollover draws and big jackpots, Malyon claims the business is "in a really good place this year".
Camelot reported a £158m increase in total UK National Lottery ticket sales to £3.5bn for the six months to 27 September 2014 - the second-highest half-year sales since the lottery launched in 1994. Total sales of instant play scratchcard games increased £189.4m to £1.2bn, though total sales of draw-based games fell £31.4m to £2.2bn.
"We are 4.3% up in the retail trade specifically, and in a world where retail is tough, that is a pretty good performance," says Malyon.
"If you look at the longer term, we have grown at 45% over the last 10 years and retail sales are up 27% over the last five years. We are never complacent, but we feel we are in a very good place."
On the fall in draw-based tickets, he adds: "We were lapping a very strong first-half performance from the year before by Euromillions. So we had a very big ­millionaire event that we didn't repeat this year and double the number of £70m jackpots. On the flipside, Lotto is in double-digit growth and scratchcards have performed fantastically at nearly 10% growth."
Double the money
Sales growth has been driven by innovation, Malyon says. By far the biggest recent innovation was Camelot's decision to double the price of a Lotto ticket to £2 in October 2013, together with increasing prize money.
That price increase was the first since 1994 and Malyon says was because "players were telling us they wanted something more from the game. Clearly, it's a big change, but we did a huge amount of market research before we did it."
Despite initial anger from players over the price hike, the strategy has clearly worked. The Grocer revealed in March that in the 50 draws since the change, jackpots have got bigger.
"It's been really positive because we've turned round sales," adds Malyon. "We turned round the long-term decline to year-on-year growth. In terms of added ­product, it is a brand worth between £2bn and £2.5bn in its own right, so it is really important to our retailers that it is in growth. We've done the right thing."
It hasn't been the only change at Camelot over the years, though, and Malyon claims evolution is hugely important for the business.
"We basically started out with one game and that was Lotto on a Saturday. We have kept growing because we have consistently brought in new games, innovated and worked well with retail customers. We introduced scratchcards in 1995 and Euromillions in 2004. We're always looking at how we can improve and add to our games."
Scratch and win
He points to scratchcards as a real success story. Since their launch in 1995 there have been 650 different games and there are always 16 in circulation at any one time. Three years ago, Camelot spent £1m in introducing an auto-replenishment system to help retailers improve availability and sales. In January, it also pledged to roll out 10,000 new scratchcard-only terminals following a successful 18-month pilot in 500 stores.
The consistency of Camelot operating the lottery since the start has also been a crucial part of its success, believes Malyon. Camelot secured a second licence to operate the lottery in 2000. It was awarded a third licence in 2007, and in 2012 that licence was extended by another four years, to 2023.
"We're never guaranteed another licence and we are not arrogant to think that is the case," Malyon says. "But it has really helped because we have been able to keep the same people in place and to build good relationships with retailers and build a longer-term brand."
He also points to the success of former CEO Dianne Thompson, who ran Camelot for 14 years and stepped down on 31 October. She has been replaced by Andy Duncan, who joined Camelot in 2011 but is best known as CEO of Channel 4, from 2004 to 2009.
"Di is a phenomenal force of nature," he says. "She did a fantastic job. I know she'll miss the business, and the business will miss Di, but Andy has done a fantastic job in the last couple of years as MD and he'll really take it on."
BBC1 has also televised draws for the main Lotto since 1994. Though viewing figures have inevitably dwindled from the dizzy heights of its first draw in 1994, the draw still pulls in between three to four ­million viewers. All other draws aren't televised, but are ­available on Camelot's YouTube channel.
"It is still really important to have the draw on TV because a huge number of players still check their ­numbers that way," Malyon says. "Certainly in the foreseeable future, we wouldn't expect that to change."
Transparency has also been key for Camelot. Malyon says the business has always been "totally upfront" about how it spends its money.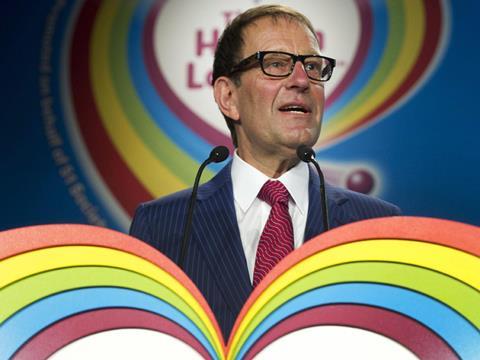 Camelot's competition
The health Lottery: masterminded by Daily Express boss (and then owner of Channel 5) Richard Desmond, The Health Lottery was launched in September 2011. Although the 'Health' part of the name refers to the fact it donates money to local health causes, it quickly attracted criticism for donating 20.8% of the money raised from selling its £1 tickets to charity compared with the 28% donated by the National Lottery.
While tickets are still available from busy retailers including Lidl and Poundland, and draws were held live on Channel 5, Desmond revealed in June that participating retailers had dropped by 20% and admitted to losses of £15.2m for the six months to July 2013. In response, it launched a three-for-£2 ticket promotion that ran until 31 July and delivered an additional 50% margin to retailers. The three-for-£2 promotion returned in September and ran until 16 November.
BingoLotto: was a gameshow presented by Joe Pasquale, Suzanne Shaw and Ulrika Jonsson which centred on a cross between lottery and bingo. Launching in February 2008, ­viewers played along at home with a £2 gamecard to win prizes ­including more game cards, digital cameras and cars, and cash prizes of up to £100,000. At least 20% of each card was donated to charity. It was axed after six weeks but came back for another shot in 2009, when it was scrapped after just four weeks.
The People's Postcode Lottery: has been operating Postcode Lotteries across the world since 1989, but made its UK debut in 2005. It hands out daily prizes based on entrants' postcodes, from cash prizes, cars and holidays. Tickets cost £2, of which 50p goes to charity. So far the organisation has raised £53.8m for charity.
He explains that for every £1 spent, roughly 50p will go towards the prize money, about 40p will go towards good causes and lottery duty, 5p will go to retailers, and 5p will go to Camelot to cover running costs. "Broadly, we make 1p in every pound in terms of profit," he adds. Camelot says it runs the most cost-efficient major ­lottery in Europe, with about 4% of total revenue spent on operating costs.
Retail commission
With 5% commission on lottery tickets, and 6% commission on scratchcards, the lottery is big business for retailers. Camelot started off with just 10,000 terminals in 1994, but now has more than 47,000. The average retailer will sell £3,000 worth of lottery tickets a week, broadly a third of which are scratchcards. The average retailer will make £8,000 a year on lottery tickets alone. In total, Camelot has paid out £5.1bn in commission to retailers since 1994.
The lottery is also a big, and therefore valuable, footfall driver. According to Him!, the total trip spend of a lottery shopper is 42% higher than the average ­convenience shopper. Lottery shoppers will also visit convenience stores 3.8 times a week and more than a third will buy at least one additional item while in the convenience store.
Despite strong sales growth online for Camelot, Malyon insists that retail is still its major focus: retail accounts for more than 80% of lottery sales, and Camelot has invested more than £50m in capital expenditure in the retail channel in the past five years, he says.
He also denies accusations from indies that Camelot favours . There is "always demand" from retailers for a lottery terminal, says Malyon.
"We follow a really detailed geo-demographic mapping process," he explains. "We look at geography, population, space, footfall, other products. Anybody can request to have a ­terminal. When they make a request we put it into our modelling process. We want terminals that will generate the most sales and therefore the most returns for good causes."
There's scope for more, he adds: "Our job is to make sure terminals are in the best place they can be, so there's always demand. I think there is an opportunity for a few more, but it won't be many."
Retailers are supported by a programme called 'Site, Stock, Sell', which Malyon says helps them make sure the lottery is in a visible place in the store, that the store is selling the right products, has no out of stocks, and that point of sale material is displayed.
Retailers selling less than £800 a week through the lottery are also supported via Camelot's sales improvement plan, though Malyon admits: "If we can't generate sales over and above £800 a week and there is demand elsewhere, we will take the terminal out. It's not something we do lightly or often, but it's a very small number of retailers that are affected."
Mega Friday
With 20 years behind it, Camelot is looking ­forward. It has a large amount of activity surrounding its 20th anniversary planned, including a '£250,000 Celebration' scratchcard, a Lotto draw tonight (22 November) that will create 20 guaranteed £1m ­winners in addition to the normal 50 guaranteed winners of £20,000 through the Lotto raffle, and a Euromillions draw on 28 November that will create 10 guaranteed £1m winners, with each also winning a trip-of-a-lifetime of their choice.
It also has big plans for Christmas. Four Christmas scratchcards have already been launched - one of which uses augmented reality and has been downloaded 70,000 times since going on sale last month - and it will hold a "really exciting" Lotto draw on Christmas Eve and a "Mega Friday" Euromillions event on Boxing Day.
"To continue to grow we need to innovate games and work with retailers," Malyon says. "If we do that, we will grow sales and in turn generate more for good causes. We view ourselves very much as an fmcg brand. And we need to focus on customers in light of that.
"There has been a number of defining moments for Camelot in our 20 years - like the first draw, launching Euromillions, launching scratchcards, rolling out more terminals, and we'll keep having those moments and keep on growing."
So what would Malyon buy if he won the lottery? As a Camelot employee, he is banned from buying a lottery ticket, but that hasn't stopped him thinking about what he'd spend the jackpot on if he could.
"I would buy a fancy sports car. And I would probably take my friends on a spectacular holiday - like the private island for our new Millionaire Maker draw on Euromillions."
But for those who can enter, has he got any tips on picking numbers? "Most people choose birthdays and significant dates for their numbers so because of that, if you pick numbers above 31 and you win the jackpot, you're less likely to share it. But then again, it's a lottery. So just go with your gut!"
timeline
1994: Camelot is awarded the contract to run the National Lottery. The first set of balls are drawn on 19 November in an hour-long special on BBC1.
1995: The first scratchcards appear. The biggest prize on offer to date has been the £4 Million Purple card, which cost £10. The odds of scooping the big prize were 4,313,355 to one.
1996: Lucky Dip tickets are launched, so people who can't make up their minds on what numbers to pick can let Camelot choose for them. Lucky Dips are randomly generated by the computer. Some 53% of lottery millionaires opted for a Lucky Dip.
1997: Wednesday draws are introduced for the first time allowing the UK to gamble twice a week. Jackpots for midweek draws are typically lower than Saturdays.
2000: Camelot fights off Richard Branson's bid to run the lottery and renews its licence. After a series of legal complications and dramas on both sides, Branson threatens to sue, before backing down.
2002: Michael Carroll, a 19-year-old part-time binman, wins £10m and splashes his millions on drink, drugs and partying before ending up broke and in prison in 2006. He now works in a Walkers factory and says he has "no regrets".
2004: Euromillions is launched. Draws take place on Fridays and quickly generate gargantuan jackpots of up to £150m. A Tuesday draw is added later.
2007: Camelot is awarded the licence to run the lottery for a third time. It increases retailer commission from 5% to 6% and bumps up charitable donations.
2013: The price of a ticket doubles to £2, the first rise since the game began. A £10 win for three balls also more than doubles to £25.
2014: Camelot celebrates 20 years, during which time the UK has generated £32bn in funding over 450,000 projects, and signed up 47,000 retailers, paying over £5.1bn in commission.