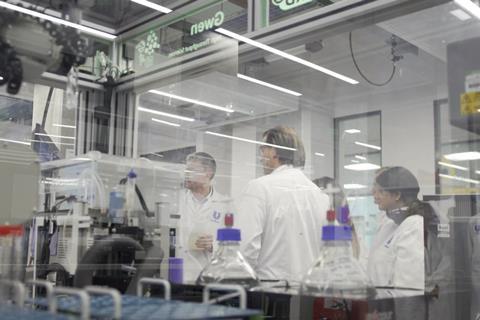 Unilever has announced it is to invest €1bn in a drive to remove ingredients derived from fossil fuels from its cleaning and laundry products.
It said it will source 100% of the carbon derived from fossil fuels from renewable or recycled carbon to transform the sustainability of its global household plans including Omo (Persil), Sunlight, Cif and Domestos.
Unilever is ring-fencing €1bn for this 'Clean Future' programme to finance biotechnology research, CO2 and waste utilisation, and low carbon chemistry - which will drive the transition away from fossil fuel derived chemicals.
This investment will also be used to create biodegradable and water-efficient product formulations, to halve the use of virgin plastic by 2025, and support the development of brand communications that make these technologies appealing to consumers.
The Clean Future investment is in addition to Unilever's previously announced €1bn 'Climate and Nature fund' and is solely focused on creating cleaning and laundry products that "deliver superior cleaning results with a significantly lower environmental impact".
Unilever said that most cleaning and laundry products available today contain chemicals made from fossil fuel feedstocks, a non-renewable source of carbon.
The chemicals used in its cleaning and laundry products make up the greatest proportion of their carbon footprint (46%) across their lifecycle.
Therefore, it said, by transitioning away from fossil fuel-derived chemicals in product formulations, it hopes to reduce the carbon footprint of these products by up to 20%.
Peter ter Kulve, Unilever's president of home care, commented: "Clean Future is our vision to radically overhaul our business. As an industry, we must break our dependence on fossil fuels, including as a raw material for our products. We must stop pumping carbon from under the ground when there is ample carbon on and above the ground if we can learn to utilise it at scale.
"We've seen unprecedented demand for our cleaning products in recent months and we are incredibly proud to play our part, helping to keep people safe in the fight against Covid-19. But that should not be a reason for complacency. We cannot let ourselves become distracted from the environmental crises that our world – our home – is facing. Pollution. Destruction of natural habitats. The climate emergency. This is the home we share, and we have a responsibility to protect it."
Tanya Steele, chief executive of WWF UK added: "The world must shift away from fossil fuels towards renewable resources that reduce pressure on our fragile ecosystems and that help to restore nature. These significant commitments from Unilever, combined with strong sustainable sourcing, have real potential to make an important contribution as we transition to an economy that works with nature, not against it."
Unilever shares are up 1.7% to 4,501p on the news.
Morning update
Shop prices fell by 1.6% in August compared to a decrease of 1.3% in July as a lessening in food inflation exacerbating a price plunge in non-food prices.
The BRC-Nielsen Shop Price Index for August found that non-Food prices fell by 3.4% in August compared to a decline of 2.9% in July.
Meanwhile food inflation eased to 1.3% in August, down from 1.5% in July. This is below the 12- and six-month average price increases, both of 1.4%.
Fresh Food inflation slowed to 0.2% in August, down from 0.9% in July, though ambient Food inflation accelerated to 2.8% in August, up from 2.3% in July.
BRC CEO Helen Dickinson commented: "Consumers will welcome another month of falling prices in shops. The faster rate of decline was driven by cheaper Non-Food goods, as many retailers have continued to run promotions and sales in order to entice customers to spend and make up for lost ground during lockdown. Meanwhile, the availability of fresh, seasonal produce has allowed food inflation to ease.
"However, these lower prices are already under threat from increased costs associated with implementing coronavirus safety measures and are certain to rise if the UK ends the transition period without a trade deal with the EU.
"The absence of a tariff-free deal will lead to higher prices for consumers as thin retail margins force retailers to raise prices in response to higher import costs. Furthermore, without a deal that reduces checks and red-tape, the UK supply chain faces severe disruption, reducing the availability of goods and further raising prices for consumers.
"It is essential that the Government ensures the British public are front of mind in their negotiations, otherwise it will be consumers, retailers and the UK economy that will suffer."
Mike Watkins, head of retailer and business insight at Nielsen added: "With millions of families choosing to holiday in the UK this summer, supermarket sales remain buoyant with sales of fresh foods showing an uptick, helped by hot weather earlier in the month and slowing inflation as seasonal produce becomes available. This has offset some of the increases in ambient food and drink. However, deflation continues in much of non-food with retailers still unsure about the levels of demand for next seasons' ranges."
Elsewhere, Domino's Pizza Group has announced the appointment of two non-exec directors and the permanent appointment of interim CFO Neil Smith.
Natalia Barsegiyan and Lynn Fordham will join the board as non-exec directors from 16 September 2020.
Barsegiyan retired as CFO of Taco Bell in April and prior to this role she was chief commercial officer for Taco Bell owner Yum! Brands in and general manager of Pizza Hut Europe.
Fordham is currently managing partner of private equity firm Larchpoint Capital and was previously CEO of SVG Capital, having joined SVG as CFO in 2008. She has also held senior finance roles at Barratt Developments, BAA and Boots.
Meanwhile, Neil Smith will become permanent CFO having joined as Interim CFO on 15 April. He most recently served as CFO of Ei Group from 2011 until its recent takeover by Stonegate Pub Company.
Chairman Matt Shattock said: "Since joining in March, I have thoroughly enjoyed getting to know the business. Building a world class Board who can help us reach our potential is an important priority, and… these appointments mark an important milestone in the evolution of the board."
"When I joined the business, I said that Domino's had the potential to be an outstanding business, and my conviction in this belief has only strengthened. I have been very impressed with the resilience of our performance through the Covid-19 lockdown period. Since their appointment, [CEO] Dominic [Paul] and Neil have made a significant positive impact, bringing leadership and energy to the group. I firmly believe that we have an opportunity to drive sustainable profitable growth and create an exciting future for the benefit of our people, our franchisees and our shareholders, as well as the customers and communities we are privileged to serve."
On the markets this morning, the FTSE 100 is back up 1.4% to 5,944.7pts.
Early risers include Bakkavor, up 3.2% to 57.6p, FeverTree, up 3.2% to 2,106p, Ocado, up 2.5% to 2,569p and Compass Group, up 2.5% to 1,205p.
Fallers so far include Naked Wines, down 2.4% to 449.1p, McColl's Retail Group, down 2.2% to 26.5p and Coca-Cola European Partners, down 1.9% to €34.35.
Yesterday in the City
The FTSE 100 sank 1.7% to 5,862pts to start the week, hitting its lowest point since May as the pound's increasing strength against the dollar hurt the index's globally focussed constituents.
FTSE 100 firms on the slide included Compass Group, down 3.7% to 1,176p and Diageo, down 2.8% to 2,440p, while supermarkets Sainsbury's and Tesco fell 2.5% to 179.2p and 1.9% to 214.6p respectively.
Other fallers were focussed on eating out and the hospitality trade, including Bakkavor, down 6.1% back to 55.8p, C&C Group, down 5.4% to 202.5p, Greggs, down 5.2% to 1,343p, SSP Group, down 5.1% to 233p, Applegreen, down 3.6% to 318p and Greencore, down 2.9% to 122p.
Marks & Spencer fell 4.3% to 106.4p on the first day of the operation of its joint venture with Ocado.
The day's few risers included Devro, up 2% to 176.8p, Pets at Home, up 1.2% to 298p, Premier Foods, up 1.2% to 86p and Naked Wines, up 1.1% to 460p.