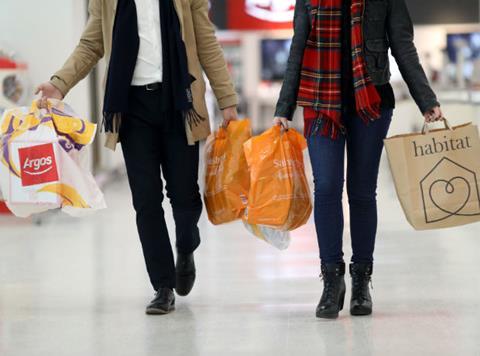 Top story
Warm weather and the start of the World Cup have helped overall supermarket sales rise 2.1% in the 12 weeks to 17 June, marking 25 consecutive periods of industry growth, according to Kantar Worldpanel.
Of the big four, Sainsbury's (SBRY) was the weakest performer aftering seeing its market share slump 0.4% in the 12 week period. Ahead of the company's planned merger with Asda, the retailer saw sales drop 0.2% while the rest of the big four saw growth above 1%.
Potential partner Asda had a more positive period as a more than a quarter of a million new customers helped it to sales growth of 1.8%.
Morrisons (MRW) was the fastest growing amongst the four supermarkets, as sales rose 1.9%, narrowly behind overall growth, which now stands at 2.1%.
Tesco (TSCO) saw sales grow by 1.4% with its strongest sales in its express convenience stores.
The Kantar Worldpanel figures show that UK supermarkets last saw a collective sales decline in April 2016.
Each of the big four dropped market share, with Sainsbury's the biggest loser as its share fell from 16% to 15.6% following the 12 week period. Tesco fell 0.2% to 27.7%, while Morrisons and Asda each recorded 0.1% decline, to 10.6% and 15.1% respectively.
The Co-op recorded its strongest growth in over a year, as sales jumped 2.4% to boost market share by 0.1%.
The fastest growing company in the sector, beating the discounters, was Ocado, which saw sales jump 10.1%.
discounter Lidl was not far behind however, with growth at 10% for the period, with Kantar suggesting its major sponsorship of the England national team could boost its performance in line with any successes on the pitch in Russia.
Growth of 8.2% saw Aldi also move to a record high market share, up to 7.4%, while Lidl moved its market share up to 5.4%.
The report from the data provider said that these figures were "welcome news" for industry, with high temperatures and the world cup still set to improve figures further.
"The latest figures largely pre-date the soaring temperatures and new-found optimism for England's World Cup chances but with the nation spending over half a billion more in supermarkets this period compared with last year, it suggests that summer has already arrived for many," it said.
"Shoppers have already splashed out 6% more on spirits, and gin sales alone have increased by £38 million and 1.7 million litres, while soft drinks are up 7%. Consumers are also feeling some seasonal downsides – sales of hay fever remedies are up by 19% year-on-year and have been bought by 5.7 million households, reflecting Met Office predictions of record pollen levels."
Supermarket sales over the past four week rose 1.5%, buoyed by warm weather, the World Cup and Father's Day, according Nielsen data released today.
Despite figures measuring up against a heatwave in the same period last year which saw 4% year-on-year sales growth, high numbers of promotions helped to boost performance at the tills.
Nielsen data shows that Asda had the greatest sales growth of the big four over the 12 weeks to 16 June, as sales jumped 2.7%.
Sainsbury's was again the weakest performer, recording a 0.4% sales decline over the period, while Morrisons sales grew 1.8% according to Nielsen.
The data shows that Tesco sales moved up 1.5%, and Mike Watkins, Nielsen's UK head of retailer insight, said he believes the company's recent decision to move away from its brand guarantee and re-investing in everyday low pricing will benefit shoppers.
"Shoppers are benefiting from simpler pricing strategies, easier to understand promotions and overall everyday low prices," he commented.
"Tesco's commitment to replace their Brand Guarantee in a few weeks' time follows this trend we see across the industry and similar decisions taken by Sainsbury's and Morrisons some time ago."
Morning update
UK pork supplier Karro Food Group has purchased Leicestershire ham supplier TS Bloor and Sons.
The acquisition, for an undisclosed sum, will boost Karro's added value production capabilities in the pork sector, the company said.
TS Bloor and Sons, which has been established for more than 100 years, cooks up to 13,000 hams a week, and in the year ending 31 January 2017 recorded sales of £14.3m.
Karro was acquired by private equity firm CapVest from Endless in 2017 in order to turn around the previously loss-making business.
"TS Bloor & Sons has an outstanding reputation in the market, led by managing director Charles Bloor," said Di Walker, executive chair of Karro.
The acquisition is a highly strategic move for Karro Food Group as we look to bring TS Bloor's skills & artisan knowledge together with the supply of our own pigs from high welfare, RSPCA assured farms."
Charles Bloor, managing director of TS Bloor, commented: "It is exciting to join forces with a market leader for the next step in the growth story at TS Bloor.
"As well as our existing range we are looking forward to offering new products to our customers through the combination of Karro's high welfare pork supply and 130 year old Wiltshire brine with our newly invested facilities. This will only serve to strengthen our position in the market place."
Packaging giant Smurfitt-Kappa Group has installed eight digital printing presses across its European sites, for an undisclosed sum.
The company said the presses will be capable of short production runs to allow for increasing demand for reduced turnaround times for brands.
It has installed Scitex HDR technology corrugated presses – the HP Scitex 11000, HP Scitex 15500, and HP Scitex 17000 – in sites in Belgium, Denmark, France, Portugal, Poland and the UK with more. installations scheduled for sites in the UK and the Netherlands.
"There is an industry-wide consensus that corrugated is ready for digital. We are using HP digital solutions in many of our plants to provide pioneering, market-leading solutions for our customers," said Edwin Goffard, COO of corrugated and converting at Smurfit Kappa Group Europe.
The FTSE 100 rebounded slightly in early trading after yesterday's mammoth drop, rising 0.2%.
Early risers this morning included Tate & Lyle (TATE), up 0.8% to 634.6p and Stock Spirits Group (STCK), up 0.6% to 232p.
The fallers in early trading included, Ocado (OCDO), down 2% to 1,014p, Sainsbury's (SBRY), down 1.3% to 308.8p and Wetherspoons, down 1.2% to 1,244p.
Yesterday in the City
Global stocks sunk as trade concerns exacerbated on the back of reports that the US will unveil investment curbs against China this week.
This led to the FTSE 100's second worst day of the year, dropping 2.2% to 7,509pts.
The downward trend was obvious across the sector, with numerous global brands affected, including Reckitt Benckiser (RB), which tumbled 3.8% to 6,078p.
Other fallers over the day included logistics giant Wincanton, down 3% to 261.5p, BAT (BATS), down 2.8% to 3,803p, Ocado Group (OCDO), down 2.7% to 1,035p, and Whitbread, down 2.4% to 3,960p.
One of the biggest risers of the day was Premier Foods (PFD), which jumped 3.8% to 38.5p, after major shareholder Oasis management urged others to stop the reappointment of current CEO Gavin Darby at the Mr Kipling manufacturer's AGM next month.
Other risers included, Carr's Group (CARR), which rose 2% to 150p, convenience store group McColl's (MCLS), which rose 1.4% to 214p and Majestic Wine (WINE) which rose 0.9% to 465p.