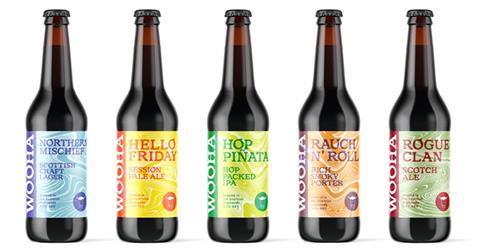 WooHa Brewing Company has announced a full rebrand, including new beer lines, as part of an overall £1.5m investment plan.
The Scottish craft brewery will add five new beers to its core range and aims to expand production by 17 times over the next three years, growing in-house capacity from 5,000 hectolitres to 88,000 by June 2023.
As part of an overall investment plan, a successful £600k crowdfunding campaign concluded in January. This would enable the company to execute its planned rebrand, it said.
The latest additions to the range include Hello Friday, a 3.8% abv Session Pale Ale described as "fruity and herbaceous". The other four include craft lager Northern Mischief, IPA Hop Piñata, porter Rauch N' Roll and scotch ale Rogue Clan.
The rebrand would help internationalise the brand, the company said. It now exports to the US, Europe and south east Asia, including China.
WooHa has also secured a listing with fine food distributor Cress Co to expand its reach into the trade sector.
"Our bold new look brings a completely fresh perspective to the brand," said founder and CEO Heather McDonald. "It represents the brewery's fun and energetic persona and our ambitious plans for expansion.
"This is one of the first steps on our journey of continued growth. Our vision remains strongly focused on the expansion of WooHa and we are continuing to work on bringing high-quality craft beers to our customers across the globe."