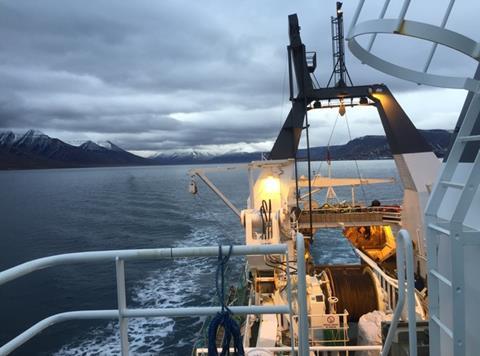 Falling demand could force prices of white fish down as inflation-hit consumers opt for less expensive proteins, with data showing the price of Norwegian cod exported to the UK and EU falling in recent weeks.
Ibi Idoniboye, senior market analyst at commodities data provider Mintec, said there had been "a pullback by consumers on spending on white fish" as the cost of living crisis forced shoppers to reduce spending on more expensive food items.
Mintec price data showed Norwegian cod falling in price by 9%, from £2,298 per tonne at the end of March to £2,108 a month later.
"Consumers have experienced a disposable income drop and are recently cutting back on foodservice and the more expensive protein choices," added Gorjan Nikolik, senior global seafood specialist at Rabobank. "The main impact of this on trade will be that value of trade will at least normalise in the near term and maybe contract further."
The prospect of a fall in prices came after months of rising inflation, which hit a three decade high of 5.4% in the UK in December and kept climbing to a 40-year record 9% in April as the knock-on impact of the Russia-Ukraine war was felt.
"Prices for seafood are already declining from the recently achieved record levels, and this may continue, depending on the macro-economic situation", said Nikolik.
What Idoniboye labelled "demand destruction" for more expensive white fish, particularly imports of Norwegian cod and haddock, could be likely exacerbated in the UK, where "seafood is not seen as a staple by most people".
Norway's seafood trade with the EU and UK was worth $8.7bn in 2021, according to estimates by Rabobank, which said worldwide demand for seafood climbed last year after a severe downturn in 2020 as coronavirus restrictions hampered port work and forced restaurants to close.
Prices went back up last year, according to Mintec data covering Atlantic and Norwegian cod, as well as Russian-caught Alaskan pollock, when pandemic restrictions were eased in many countries and as rising costs, such as fuel and transport, made fishing more expensive.
Idoniboye said many price rises had been "driven by supply chain issues we've seen over the past year and more", with rising oil prices meaning more expensive fuel and transport costs for fishing fleets.
His warning came after the UK's National Federation of Fishermen's Organisations this month told the government that "fuel costs are currently at a level that jeopardises the viability of parts of the fleet", despite high fish prices.
Prices had climbed further in the wake of the Russian invasion of Ukraine. Alaskan pollock – widely used in fish fingers and sushi, of which Russian boats catch around 55% of world supply – rose from €1.02 a kilo on 1 March to €1.92 by 10 May.
With Russia "an extremely important producer and supplier of white fish in particular", according to Idoniboye, the war pushed prices up further as the US imposed a ban on Russian seafood imports and as the EU and UK, which gets an estimated 40% of its white fish from Russia, weighed up imposing restrictions.
Some of Russia's catch is processed in China, a workaround that meant there would likely "still be Russian fish coming in" regardless of any curbs, according to Idoniboye.
"Most key Russian seafood products can still reach their markets, such as cod, pollock and wild salmon, either via China or directly to Europe," said Nikolik.
But draconian coronavirus restrictions in Chinese port cities, through which some of Russia's catch passes before being exported, have likely hampered processing and contributed to some price rises, Idoniboye explained. "China too is having its own supply chain issues with lockdowns," he said.
Alaskan pollock sent from Russia to China climbed from $1,175 per tonne in early 2020 to $1,425 by the end of last year, according to data provided by Mintec, before a further jump to $1,500 by early May.