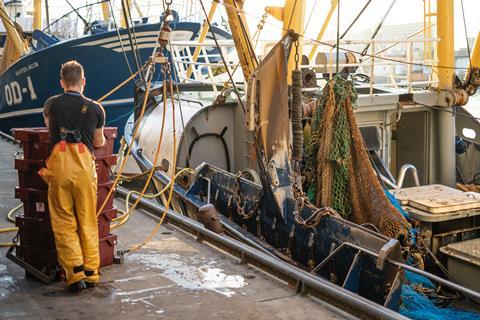 A new apprenticeship programme for the fishing industry has been unveiled by the Cornish fish Producers' Organisation, with the catching sector seeking to lower the age profile of its workforce.
The 18-month level 2 Fisher Apprenticeship, which will run from 2022, is billed by CFPO as a bid to offer a "clear professional pathway" into the industry.
Designed in conjunction with a "trailblazer group" of experienced fishermen, catching businesses, the Institute for Apprenticeship and Technical Education as well as members of CFPO's Youth Board, the scheme will offer recruits the chance to learn and obtain a raft of qualifications and build knowledge and skills.
Areas of focus would include catching methods, the role of science, data collection and sustainability in fishing, as well as practical skills involved in engineering, navigation and safety, said the CFPO.
It will be run from South Devon College's purpose-built Marine Academy on the outskirts of Dartmouth.
CFPO CEO Chris Ranford, who officially took over the reins of the organisation from Paul Trebilcock in August, said the new qualification was focused on addressing the issue of an "ageing workforce".
"The CFPO recognised the need for a long-term, strategic intervention to not only recruit new entrants into the catching sector, but to also develop a system that would enable better retention and encourage career development from the deck through to the wheelhouse," said Ranford. "The apprenticeship was a missing link to this.
"Securing crew for some parts of the fleet is certainly a challenge to the fishing industry at present, as well as developing crew members that want to progress through the ranks and obtain further qualifications. The apprenticeship will no doubt take some time before it meets the current crewing challenges. But with this standard now in place and a growing number of vessel owners and fishing businesses supporting it, there is certainly positive momentum."
Ranford added that he hoped the apprenticeship could also entice school leavers, who may not have previously considered fishing as a career choice, to enter the industry.
The news follows a similar push by the meat industry to secure more education routes in a bid to encourage more young people into the food sector.
It also comes at a time when the seafood sector has ramped up efforts to get UK consumers to eat more domestically caught fish.
In February, seafood quango Seafish announced a tranche of marketing activity as part of its long-term Love Seafood push to get British consumers to eat more GB-landed species.
Earlier in 2021, a survey of consumers, buyers and restaurant owners by the CFPO found rebranding commonly caught UK species – for example, renaming megrim as Cornish sole – would make them more enticing to the public.
The mults have also started to set up supply chains for UK-landed catches. In March, Morrisons snapped up Cornish seafood supplier Falfish – a move understood to have made the retailer the first ever British supermarket to own a fishing boat – while Aldi has also extended its UK seafood offering.