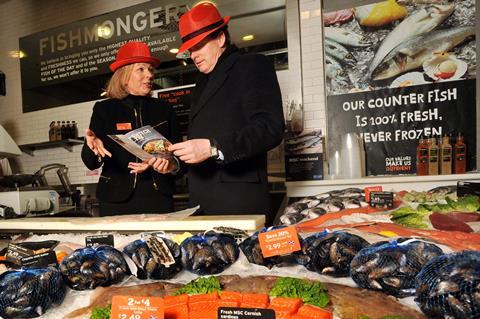 Sainsbury's is now the best supermarket in the world for sustainable seafood, according to the Marine Stewardship Council.

With 225 MSC-certified seafood SKUs, Sainsbury's not only claimed the top spot in the MSC's latest British Supermarket League, published today, but also had more MSC-labelled products than any other supermarket in a single country.

MSC-certified products accounted for 72% of Sainsbury's total wild seafood range, the MSC said, putting it ahead of Waitrose, which had 112 MSC-labelled products accounting for 67% of its wild range.

Tesco was the fastest mover in this year's MSC league table, rocketing from seventh to third place after adding nearly 80 MSC-certified products to its range over the past 12 months.

The retailer pledged to boost its MSC-certified seafood range back last April as part of a wider sustainability review, which also saw it introduce strict new standards on branded tuna and de-list a number of core John West lines.

Aldi and Lidl had fewer MSC-certified SKUs than the top three, but rivalled Waitrose in terms of the percentage of their total wild seafood range that was MSC-certified - which was two thirds for both discounters.

With just three MSC-labelled seafood products, Morrisons was the worst ranked supermarket in this year's league table.

"Sainsbury's, Waitrose, Tesco, Lidl and Aldi are offering their customers clear labelling and the chance to make a difference, helping to protect fish stocks for our children and our grandchildren," said MSC programme director Toby Middleton.

"In contrast, at the bottom of the league, there simply isn't the independent information you need to help you choose, and those shoppers are missing out."
Sainsbury's was "delighted" to have been recognised "yet again for our commitment to sustainable sourcing", said aquaculture and fisheries manager Ally Dingwall.
"Because of the sheer quantity of MSC certified products we have at Sainsbury's, our customers have the widest choice of quality fish and seafood products that are fished in a responsible way ensuring fish populations remain healthy and where fishing methods minimise environmental impact," she added.