British fishermen hate the CFP for giving away the wealth in our waters. But given the multilateral trading complexities in fish, can an alternative keep skippers, consumers and green warriors happy?
When the British public went to the polls in last June's referendum, the result revealed a nation divided on the UK's membership of the EU. Fishermen, on the other hand, were in no such doubt. A poll, conducted by researchers at the University of Aberdeen a fortnight prior to the vote, found 92% of UK fishermen, skippers and boat owners intended to vote for Brexit.

At the root of this anti-EU sentiment was a feeling that UK fishermen had been disadvantaged for too long by a Common Fisheries Policy (CFP) that has been dogged by near constant criticism during its 34-year history.

In March, the Fishing for Leave campaign fired the starting gun on the debate over the UK's future fisheries policy by publishing a document that called for a complete break with the CFP and for the UK to reclaim full control of its waters.

Others argue that a future EU relationship will, by necessity, be far more nuanced. Fisheries policy is notorious for its complexity, entrenched positions and potential for discord, and the reality is that negotiations are likely to involve trade-offs both within aspects of fishing policy itself and with fishing used as a bargaining chip in wider negotiations.

The likelihood of any stakeholder being entirely happy with the final deal seems slim. Even within the seafood industry, desired outcomes are dramatically different, as Mike Mitchell, Young's Seafood's former technical advisor and founder of consultancy Fair Seas explains. "I prefer to think of it as a 'seafood economy' rather than an industry, and different sectors within that economy will have different priorities for and expectations of the Brexit process."
Timeline of the Common Fisheries Policy
1983
The CFP is formally established with the system of Total Allowable Catches (TACs) and quotas.
2009
Negotiations over reform of the CFP begin amid much criticism of the policy. A Green Paper sets out the European Commission's vision for 'European Fisheries in 2020'.
2010
A row breaks out between the EU and Iceland and the Faroe Islands who argue they should receive higher shares of the TAC for mackerel, due to the increased abundance of the stock in their EEZs. The EU and Norway are unwilling to reduce their quotas and as a result, Iceland and the Faroe Islands set unilateral quotas for the shared stock.
2013
After two years of fierce internal debate a deal is reached to ban the much-criticised practice of discards.
2014
A reformed CFP takes effect from 1 January. Key reforms include a phased in ban on discarding fish; a legally binding commitment to fishing at sustainable levels; and increasingly decentralised decision making taking place at regional rather than pan-European level.
2015
A landing obligation becomes effective as of 1 January, which prohibits the discarding of fish for all pelagic fisheries.
So what might the UK government seek in a Brexit fisheries deal and what are the likely implications for UK industry?

The CFP was originally designed to manage a common resource by giving all European fishing fleets equal access to EU waters and fishing grounds, thus allowing fishermen to compete fairly whilst supporting sustainable stocks. Rather than have full control of their Exclusive Economic Zone (EEZ), which stretches 200 miles from a country's coastline as defined in the United Nations Convention on the Law of the Sea (UNCLOS), the CFP stipulates that member states may only control an area of sea that extends 12 miles from their own coastline and must share the remainder of the EEZ with other member states. This effectively means fishermen from any EU country can fish freely within the UK's waters so long as they hold the appropriate licence.

The CFP also sets a quota for the amount of fish that can be caught in a given area, known as the Total Allowable Catch (TAC). The TAC is based on the principle of 'relative stability', which allocates quotas based on historical fishing data from the 1970s. Many UK fishermen believe the system of relative stability to be unfair, since in the 1970s the UK fleet was focused on fishing waters around Iceland and consequently they argue that allocations for other fishing areas are low compared with fellow member states.

Although quotas are a particularly emotive issue in the UK, criticisms of the CFP are not confined to TACs. Indeed, the European Commission in its own 2012 Green Paper on reform of the CFP acknowledged it had not worked well enough to prevent the reality of overfishing, fleet overcapacity, heavy subsidies, low economic resilience and decline in the volume of fish caught by European fishermen.

The 2014 reform of the CFP went some way to addressing these issues, notably by outlawing the much-criticised practice of discards, but it has done little to assuage the concerns of UK fishermen, many of whom would like the UK to divorce from the CFP entirely.

Those hoping for clarity from the government's Brexit White Paper were left disappointed. "It is in both our interests to reach a mutually beneficial deal that works for the UK and the EU's fishing communities," read a woolly paragraph on fisheries policy, adding that the government wanted to ensure "a sustainable and profitable seafood sector and deliver a cleaner, healthier and more productive marine environment".

With the government keeping its cards close to its chest, Fishing for Leave attempted to fill the void by publishing proposals to exclude the EU fleet from UK waters and negotiate future access on an equal exchange barter basis. The group detailed what it described as "a bold new approach to manage UK fisheries sustainably" by eliminating EU quotas and replacing them with a new 'Days-at-Sea' regime.

Fishermen who believe the UK has had a rough deal from the CFP were given further ammunition last October when research published by the NAFC Marine Centre at the University of the Highlands and Islands estimated that between 2012 to 2014 more than half (58%) of the fish and shellfish landed from the United Kingdom's Exclusive Economic Zone (EEZ) by European Union fishing boats was caught by non-UK boats.
"Other nations benefit considerably more from the access they have to UK waters than we benefit from access to their waters"
Bertie Armstrong, chief executive of the Scottish Fishermen's Federation, says the results reveal "the truly shocking extent of how our rich fishing grounds have been given away in recent decades". And while Defra minister George Eustice struck a more measured tone in giving evidence to the recent House of Lords European Union Committee inquiry on Brexit and fisheries, he acknowledged that "EU countries and other European countries benefit considerably more from the access they have to UK waters than we benefit from access to their waters".

The final report from the Committee, published in December, concluded that many in the industry view Brexit as a "sea of opportunities" for UK fishing. However, it also cautioned that "untangling UK fisheries from the EU will be challenging" and "delivering a policy that is tailored to the United Kingdom [….] will be an immense task".
Competitive UK seafood industry
Experts believe the government will be best served by beginning with matters on which there is already accord. The House of Lords report, for instance, found broad agreement that sustainability should continue to be a guiding principle after Brexit, and that fisheries management should be science-led.

Once the UK has exited the EU, any new UK fisheries policy must ensure not only continued but, if possible, improved responsible and sustainable fisheries management, says Andrew Kuyk, head of policy formation at the newly established UK Seafood Industry Alliance.

Kuyk's other key priority is for a policy that facilitates "an efficient and competitive UK seafood industry able to supply not just our own consumers but consumers elsewhere with nutritious, affordable, quality, sustainable seafood". He concedes, however, that there are some "big picture questions" around how this will be achieved in practice.

Some stakeholders believe the UK should look to Iceland and Norway for a model of a future fisheries policy. Neither country is signed up to the CFP and has full control of commercial fishing in its own waters, but both allow some EU vessels into their waters to fish, with the level of stocks, the total allowable catch and quota allocations negotiated with the EU every year.

The decision by both countries not to fully exploit their own EEZ is due not only to their desire to have reciprocal access to EU waters, but also to the economic importance of trade in seafood - an issue with equal pertinence to the UK.

Approximately 70% of the seafood value that enters the UK supply chain is imported from abroad or landed by foreign ships, according to industry association Seafish. Conversely, most of what UK vessels catch is exported to the EU and third countries.

Trade is seen as vital to the seafood sector since there is so little alignment between what the UK fleet catches and what the UK public wants to consume. Take cod as an example. In 2015, UK vessels landed just 15,000 tonnes of cod into the UK, nowhere near enough to meet high demand among British consumers. The shortfall had to be filled by imports totalling 115,000 tonnes, most of which came from Iceland, China and Norway.

For mackerel, the reverse is true. UK vessels landed 126,000 tonnes in UK ports in 2015, 80,000 tonnes of which were exported primarily to the EU, where demand for pelagic fish is much higher and species such as mackerel and herring can command a premium.

If the UK is to become more self-sufficient in seafood, one of two things will need to happen: either the UK consumer must develop a taste for fish such as mackerel and herring, or the UK fleet will need to significantly increase its supply of popular fish such as cod and haddock.
"Our priority is to have access to the raw materials we need at competitive prices regardless of whether they are EU, non-EU or domestic"
There is little sign of either happening any time soon. "The overwhelming majority of UK consumers want white fish," says Peter Hajipieris, a UK food industry expert who has previously held senior roles with Tesco, Sainsbury's and Birds Eye. "It's a cultural thing and I just don't see that changing in the short to medium term. It would require significant marketing efforts by agencies that no longer exist."

Even if a new fisheries policy was to give UK vessels the opportunity to catch more white fish, Kuyk argues the processing sector is no longer set up to fulfil the primary processing needed to meet demand for high-volume convenience products such as fish fingers. "Years ago, that first stage processing simply became uncompetitive, and all became offshored," he explains. "UK-caught fish now tends to get processed in China and imported as a frozen block."

Although Kuyk says in theory it would be possible for UK businesses to set up and develop end-to-end processing facilities, there are significant barriers to doing so, notably the high investment required and the lack of skills among the UK workforce. "From the processors' side our priority is to have access to the raw materials we need at competitive prices regardless of whether they are EU, non-EU or domestic," he adds.

Hajipieris believes there are two principles that should guide a future fisheries policy: for seafood consumed in the UK to be fully traceable and sourced from responsibly managed fisheries, and for supply to meet demand for nutritious food. "Those two dynamics then drive what you're going to try and negotiate at a trading level," he adds.

Given the UK's current balance of trade in seafood, it's hard to see how such an outcome could be achieved without high levels of cooperation with the EU and third countries. Indeed, the House of Lords Committee recognised the importance of trade to the sector when it concluded that "in approaching the wider Brexit negotiations, the government must seek to preserve the UK's access to low-tariff exports and imports in fish".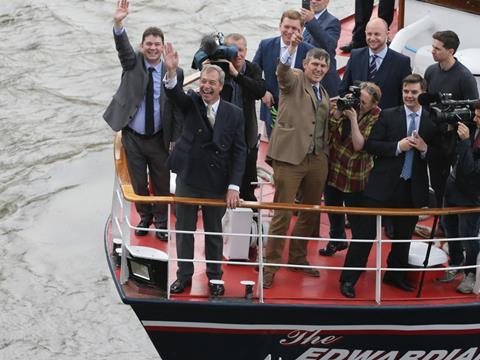 The extent to which the government is prepared to sacrifice trade for access to UK waters remains to be seen. Kuyk stresses that part of the reason negotiations will be so complicated is because "you are trying to negotiate around two or three different things that are technically unrelated", citing access to waters, stock management and multilateral trade as examples. "They are separate things that will get mixed together in the negotiations so there will be scope for lots of different trade-offs."

Fishermen worry that the sector, with its relatively small employment and GDP figures, will be low down the list of government priorities as it negotiates the terms of the UK's exit.

The EU, meanwhile, is already on the offensive with The Guardian reporting that MEPs have drafted seven provisions to be included in Britain's exit agreement, including the stipulation that there will be "no increase to the UK's share of fishing opportunities for jointly fished stocks".

Such declarations are only likely to add fire to the bellies of the majority of UK fishermen who voted to leave along with those fighting their cause. "Brexit doesn't mean Brexit if we don't get back full control of our fisheries waters," says former UKIP leader Nigel Farage.

The Brexit battle may have been won, but the fight for fishing's future is only just beginning.
This feature is part of The Grocer's 2017 Meat, Fish & Poultry special. Read more from the special below:
Will Frankenfoods flood the market in post-Brexit US trade deal?