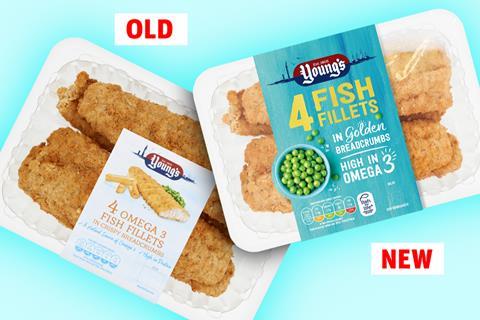 Young's Seafood has poured further investment into its chilled offering with a pack redesign aimed at attracting younger, health-conscious consumers.
Featuring a new colour scheme, fresh photography and on-pack serving suggestions, the new packaging has begun to roll out on fresh products such as breaded fish and salmon fillets.
The brand said it had settled on the update after undertaking consumer research that emphasised the importance of trust, taste and expertise to shoppers. It claimed a follow-up survey on the new look found it was appealing to 92% of consumers.
Young's said it hoped the move would lead to improved on-shelf visibility and help consumers to incorporate its chilled products into their mealtimes.
"The branding is designed to appeal to the desires of existing customers whilst also inspiring a new audience that loves to cook healthily at home," said Marina Richardson, marketing controller at Young's.
"We believe this new packaging is a positive step in bringing these family favourites to the tables of many more consumers as we continue to invest in our growing chilled product ranges."
Young's has boosted its presence in fresh fish since 2019 when former Saucy Fish Co boss Simon Smith was appointed CEO of the Grimsby-based company.
Since then, it has expanded its presence in chilled aisles through added-value sea bass lines, its Chip Shop range and its relaunched Hooked brand.
Earlier this year, it posted financial results showing a significant increase in turnover in its first year under the umbrella of 'surf and turf' food group Eight Fifty.