Retailers need to move with the times. So we regularly challenge design agencies to come up with solutions to the problems retailers face. From customisable ice creams and frozen delicatessens to interactive c-stores and Tinder for food & drink, here's our pick of five retail concepts we'd like to see become reality.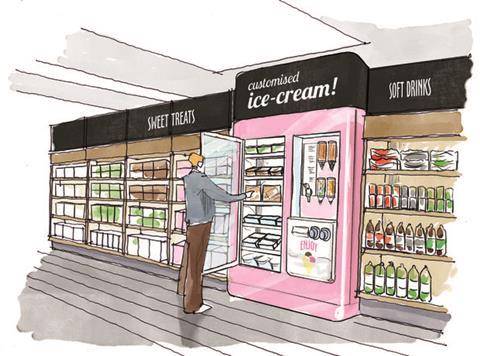 Aimed at families planning a 'big night in', M Worldwide has created an interactive self-serve station, injecting a much-needed dose of fun into supermarket ice cream departments.
The Big Night In provides consumers with an ice cream parlour experience within their local store, with options of sauces, sprinkles and flavour mixes to create their personalised tub.
The prospects for ice cream in supermarkets are vast, says David Martin, joint MD of retail design agency M Worldwide, but he's yet to see retailers capitalise on them. "There's so much more mileage in ice cream and this is about realising that."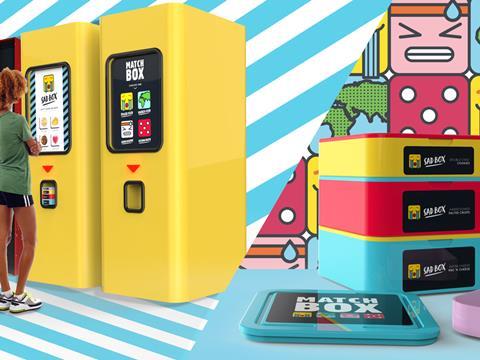 They're vending machines, but not as we know them. Webb deVlam's lunch-on-the-go concept takes convenience to a new level with Match Boxes, serving up hot, cold, savoury and sweet food in a matter of moments. Located in train stations, convenience stores and supermarkets across the UK, each Match Box vending machine features a 'wild card' meal, delivering a random surprise for the more daring or indecisive customer. Any excuse to have ice cream for lunch is fine by us.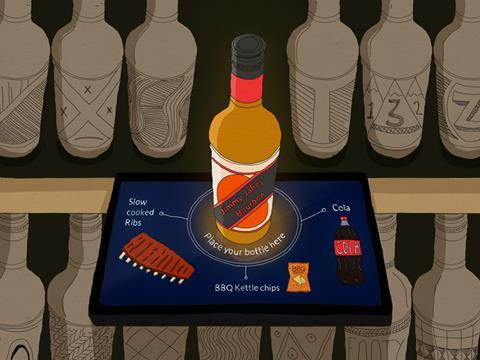 Labelled 'Tinder for food and drink' the Perfect Match Tray pairs your spirit of choice with a range of mixers, snacks and accompaniments to suit any occasion. Customers place their spirit of choice on the tray and can immediately view an array of suggestions, swiping left for more options and right if they like the recommendation. The tray even shows shoppers the aisle in which they can find their selected accompaniments. "It's like a dating app for your palate" says Jon Cleave, creative director at Tribal Worldwide.
Could this be the facelift frozen needs? The Arctic Deli Company is a far cry from the rows of freezers that currently constitute supermarket frozen food departments, and instead places products directly in front of the customer. Offering a range of premium exotic frozen foods, the deli allows customers to view and select the precise quantities they want of each product, which is served from a rustic display counter. "This challenges perceptions of frozen food by putting the ingredients on display, leaving them visible for the first time, available for all to devour with their eyes," explains Tim Bousfield, Path group creative director.
The challenge facing convenience stores today is not one to be taken lightly. As customer demands continue to increase and diversify, we challenged M Worldwide to find a way for c-stores to keep up. We weren't expecting its answer.
Based on high street retailer Argos, M Worldwide has pitched a 'less packaging, more interaction' model, removing the vast majority of stock from the shop floor and into a connected storeroom. Customers are able to order their shopping via a self-serve screen, collecting it moments later from a service counter in store.
Using this model, space previously taken up by stock in convenience stores is freed up, allowing for the creation of a more tailored retail environment for customers. From baked goods and craft beer stations to coffee counters and snack bars, the opportunities brought by stores' newly available space are endless. "It's much more interactive and engaging than a load of dead ice creams in a freezer," states joint MD David Martin. "Rather than a big pile of Coke bottles, or something else, this is a new way to look at featured space that meshes with wider food trends rather than looking like you're shifting a commodity product."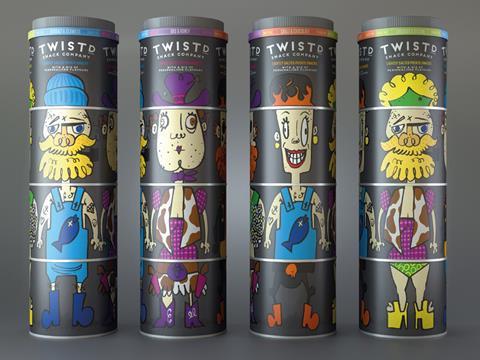 Read more
In every problem lies an opportunity. At least that's what we think here at The Grocer. So in recent months we've been asking branding agencies to come up with hypothetical solutions to real problems.
They've made frozen food sexy; brought Tinie Tempah to bakers' kitchens; made booze out of food waste and more. Here's our pick of concepts we'd like to see become reality. What's your favourite?