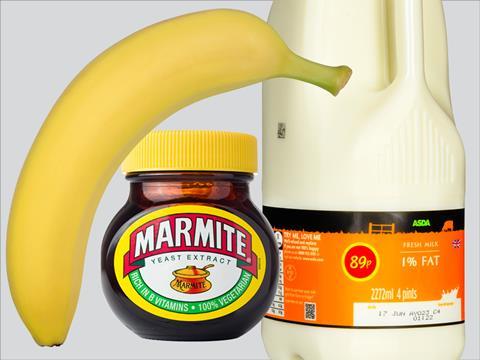 Last week, Asda and Sainsbury's increased their price for a kilo of bananas from 68p to 72p. It follows similar moves by Aldi and Lidl, and is the first price hike from the mults on bananas - which have become a symbol of the supermarket price war - for two years. It also comes just weeks after Asda, Iceland, Aldi and Lidl increased the price of four pints of milk - another key SKU in the price wars - to 99p. And, of course, there was Marmitegate.

So have these price hikes been isolated incidents or bellwethers of wider post-Brexit vote inflation? And what other foods are ripe for price hikes?

Fruit & veg

Bananas are traded in dollars, and although there have been supply pressures on the fruit - including Panama disease and recent bad weather in Costa Rica - the main inflationary pressure has been the weakness in the pound, sources say.

So it's unsurprising other exotic fruits are also staring down the inflationary gun. "Pineapple prices are under pressure due to the stronger dollar and increased cost of shipping. In addition, volumes are also rather tight in Costa Rica," says Andy Weir, head of marketing for wholesaler Reynolds.

The weakness of sterling is also making imports from Europe more expensive - adding to weather-driven supply woes for some fresh produce. "The double-digit fall in value of the pound against the euro already makes hard and leafy salads more expensive to import," adds Weir. "Southern Spain has also seen a considerable amount of rain over the last week or so, which has impacted growers and packers."

For now, most fresh produce remains largely deflationary, with veg prices down 4% on average and fruit flat since June [BrandView].

Retailers are being "very tough" on overseas suppliers, which is keeping shelf prices on fresh down, says one industry source, but they can't hold off price rises forever. "The question is how long those suppliers are willing to supply the UK at those prices, or whether they can find better markets in other parts of Europe." But as the weakness in sterling is making inputs like fuel and fertiliser more expensive, and with Brexit concerns pushing up the cost of labour, even home-grown fruit and veg is likely to see inflation over coming months, he adds.

Dairy

Recent milk price increases are the result of tightening supplies, rather than currency fluctuations. But the weakness in the pound has boosted Cheddar and butter exports, adding pressure to supplies that were already dwindling in the face of milk and fat shortages.

With milk fats now "extremely short", butter shortages are already being felt, suppliers say, and wholesale butter prices have hit record levels in recent months, and block butter prices are up 5% across 204 SKUs in the big five since the Brexit vote, and 1% higher than last year [Brandview].

Prices for Cheddar haven't moved in the mults yet, but sources say supplies of British produce will be tight throughout the first half of 2017. With exports becoming an increasingly attractive option, UK supermarkets will have to pay more or risk losing supplies to foreign markets.

Beef, lamb and pork

The weakness in sterling has boosted British beef, lamb and pork exports, as well as making imported meat more expensive. "Raw material prices are rising and inflation will have to come through unless retailers want to take a big loss," says Matthew Southam, AHDB Beef & Lamb senior multiple retail manager.

Though beef mince prices are still falling to compete with the discounters, higher value fresh meat SKUs in the big five have risen, with beef joints up 3% on average, pork chops up 15% and lamb chops up 6% since June [Brandview]. Even prices for chilled sausages - which have experienced strong deflation - are up 2%. "We are about 50% self-sufficient on pork so anything with a euro tag on it has inflated overnight," says Cranswick commercial director Jim Brisby, resulting in a "drastic rise" in UK pig prices since mid-year.

Fish & poultry

With less influence from imports and exports than red meat, poultry has not yet experienced the same inflationary pressures, sources say. But rising costs for labour and feed could push up prices for British poultry, and imported frozen chicken prices are up by as much as 60%, warns one supplier - before sterling depreciation is even factored in.

Rising commodity prices for fish - a category heavily reliant on imports - are also of concern. Approximately 70% of the seafood value which enters the UK supply chain is imported from abroad or landed by foreign ships, according to Seafish, making the category highly vulnerable to Brexit-driven currency fluctuations. "The long-term consequences on prices for consumers remain unclear, but importers are already feeling the effects of rising prices," says Seafish analyst Julia Brooks.What's more, frozen cod - one of the key global commodities - has risen from $3300/t to in excess of $4000, the supplier adds.

Spreads and snacks

Although Marmite has become a symbol of post-Brexit food price fears, only Morrisons has increased the shelf price. And it has dropped the 250g jar back to £2.28 although average prices across the retailer's four Marmite SKUs are up 8% since June [Brandview: 23 June 2016 - 30 November 2016]. Brits should perhaps be more concerned about nut butters, under severe inflationary pressure as sterling adds to supply woes for imported nuts.

Prices for snacking nuts are already up 7% across 338 SKUs in the big five since June, and 1% higher than this time last year. [Brandview]. And peanut butter prices have increased 2% on average across 97 SKUs in the mults, but further shelf price increases are very likely, according to sources.

Olive oil

Less publicised than bananas, milk and Marmite, but equally as significant, are the recent moves on olive oil by Aldi and Lid, which have increased the price of 750ml of extra virgin olive oil by 9% to £2.39.

Bottlers are facing a big surge in olive oil prices following poor crops in Italy and Greece and delayed harvests, and warn that this surge in costs along with weaker sterling will result in wider shelf price rises next year.

Bread

Even manufacturers who rely on British ingredients are facing big cost pressures as the pound weakens. Replacement costs for UK wheat are about 20% higher since the referendum, says Alex Waugh, director general of the National Association of British and Irish Flour Millers - a result of the devaluation of sterling, as well as higher exports of UK wheat and disruptions to European supplies following a poor harvest in France.

Bread prices haven't risen in the supermarkets yet, but with hedging running out, manufacturers might soon be forced to pass on extra costs, sources warn.Chocolate

Inflationary pressures aren't just threatening to push up shelf prices. Mondelez triggered nationwide hysteria in November when it announced it had reduced the weight of two Toblerone bars in the UK to maintain retail prices, adding extra space between the chunks to cut the 400g SKU to 360g, and the 170g to 150g. Just a few weeks later, it emerged Mars had also embraced the 'shrinkflation' trend, with pouches of Maltesers falling from 135g to 121g and Galaxy Counters from 126g to 112g.

Nestlé has insisted it will do all it can to avoid shrinking its chocolate bars or raising prices, but all three major processors are set to come under further cost pressures in 2017. The weak pound has already made cocoa and sugar more expensive, and global commodity prices for both these raw materials are expected to remain bullish next year, according to Rabobank.