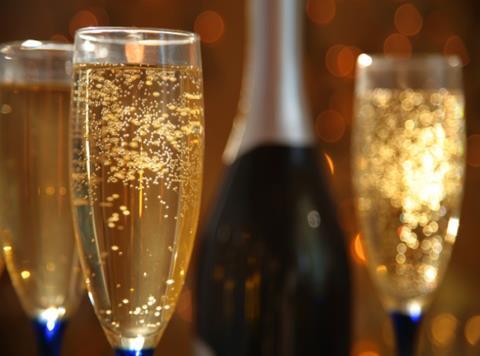 Supermarket prices for British sparkling wines are on the up as shoppers increasingly clamour for home-grown fizz.

As Tesco this month rolls out a new Finest range of English sparkling wines, latest data shows average prices for UK sparkling white are up 19% year on year [Brand View 52 w/e 16 September 2016].

Price increases on British fizz over the past 12 months include Asda adding £2 to a 750ml bottle of Denbies Whitedowns Sparkling, now £25, and Waitrose hiking Ridgeview Cuvée Merret Bloomsbury 750ml by £2 to £26.99.

Price hikes on UK fizz have contributed to a 5% increase in the overall price of sparkling white wine across 142 SKUs in the top five supermarkets. The average price for a bottle of sparkling white is now £8.17, up from £7.80 a year ago.

In contrast, prices for Australian sparkling white wine have fallen 7% year on year on average, with prices for French (-8%), Italian (-3%) and Spanish (-5%) sparkling white also lower year on year.

The UK has now overtaken France as the second-most expensive region for sparkling white wines, with an average bottle setting shoppers back £11.62, second only to NZ's £14.67 average. France is now the third most expensive sparkling white region at £10.90 a bottle on average, followed by Australia (£8.03), Italy (£7.63) and Spain (£6.67).

Supermarket prices for sparkling rosé are also up year on year, but only by 1% on average. Australian sparkling rosé saw the biggest increase, with average prices up 7% to £7.19 a bottle, while Spanish sparkling rose is 11% cheaper and UK sparkling rosé costs roughly the same as a year ago.

Champagne, meanwhile, is 1% cheaper across the 147 SKUs in the top five at £33.30 a bottle. And there have been some big deals of late - with Waitrose slashing the price of a bottle of Krug Rosé 750ml by £30 to £165, and Tesco taking £14.99 off a Bollinger Special Cuvée Champagne 750ml, now £30.

Supermarkets have been building their British sparkling wine offer to meet booming demand in recent years. In 2015, Brits splashed out £365.7m on Prosecco from the supermarkets, with the Italian tipple's volume sales up 37.1% to 39 million litres [IRI 52 w/e 30 January 2016]. Other sparkling wine varieties, including Cava (+11%) and Asti (+11.6%), have also enjoyed good volume growth.

British winemakers have positioned their bubbles as more premium than Prosecco but cheaper than Champagne, and are winning more shelf space every month.

And it's not just British fizz that is gaining ground. In July, The Grocer reported that 11% of consumers now favour English wine over Spanish, South African and New Zealand varieties when it comes to quality perception, according to exclusive consumer research by Harris Interactive.