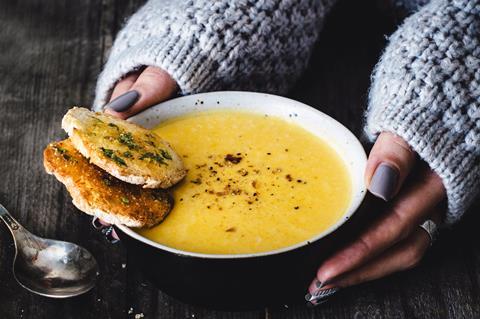 Brits are paying significantly more for soup than they were last winter, exclusive research by The Grocer shows.

On average, wet ambient soup is now 6% more expensive than last year in the major supermarkets, while fresh chilled soup is up by 3% [Edge by Ascential 52 w/e 19 November 2019].

In the ambient aisles, average prices have been bolstered by a swathe of supermarket price hikes on Baxters SKUs in recent months. Average prices for the brand have rocketed by 18% year on year after Waitrose, Tesco, Sainsbury's and Asda all increased their shelf prices on selected lines.

It means 400g tins of Baxters Favourites Cream of Tomato, Lentil & Bacon and Chicken Broth soup are now 8p more expensive at £1.17 on average in the mults, while 400g tins of Baxters Favourites Traditional Minestrone and Traditional Pea & Ham Soup are 7p pricier at £1.16 on average.

At the same time, most 400g tins of Baxters Vegetarian soups are 7p more expensive at £1.17 on average, while a trio of 400g Baxters Chef Selections soups - Beef Consommé, Cream of Asparagus and Lobster Bisque - is 15p dearer at £1.85.

"We review our prices regularly in line with all input costs. However, selling prices are at the discretion of the retailer," said a Baxters spokeswoman.

There have also been price increases on selected Heinz soup SKUs in the major supermarkets. Four-packs of 400g Heinz Cream of Tomato, Cream of Chicken, Classic Vegetable and Oxtail Soup are all up by 50p to £2.50 on average, for example.

"In-store prices are set independently by retailers and are also subject to each retailer's own promotional strategies and phasing year on year," said a spokeswoman for Kraft Heinz. "We remain committed to offering value for money for all our varieties."

Some own-label soups are getting pricier, too. Earlier this year, Sainsbury's added 5p to its range of own-label 400g soups, including Cream of Tomato, Cream of Chicken and Mushroom, Leek & Potato and Oxtail, all now 45p. Its own-label Chunky Beef & Dumplings, Chunky Beef & Vegetable and Chunky Chicken & Vegetable 400g soups are up by 15p to 75p.

"The cost of individual products is determined by a number of factors and prices can fluctuate, both up and down, as a consequence," said a Sainsbury's spokesman. "We remain committed to providing our customers with great quality and value every time they shop with us."

In the chillers, meanwhile, Tesco has added 25p to its range of Cully & Sully 400g soups, now £1.75. "Our aim is to provide customers with great value. Our prices are regularly reviewed and depend on a number of factors. All our prices are clearly marked for customers," said a Tesco spokeswoman.

Cully & Sully declined to comment.