Confectionery brands are shelling out for more promotional space as Easter approaches. Cadbury, Nestlé and Mars have all ramped up their confectionery-based activity in featured space locations such as gondola ends and pallets.
Nestlé has shown the greatest month-on-month hike in percentage terms, with deals up more than a third to 245 in the four weeks ending 23 March. This was an increase of 62 deals compared with last month, with Cadbury running 64 more. On a year-on-year basis, it's a different picture: of the big three confectioners only Nestlé is running more offers than in 2013.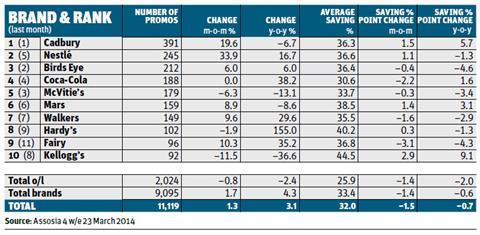 But while running fewer deals than last year, both Cadbury and Mars are increasing the average savings offered to shoppers – with the typical deal on a Cadbury product up from 30.6% a year ago to 36.3%, and on Mars lines up from 35.4% to 38.5%. In both cases, the confectioners are making much greater use of straight money-off deals, which accounted for about half of all Cadbury offers this March compared with a quarter in 2013, and three-quarters of Mars deals compared with less than half last year.
Nestlé, meanwhile, is running slightly fewer straight 'save' promotions than in 2013 while offering more x-for-y offers – a mechanic Cadbury and Mars have both shifted away from. Wine brand Hardys is also moving away from x-for-y while ramping up straight 'save' offers from half its deals a year ago to more than three quarters. In total, it is running 155% more deals than in March 2013, continuing the promotional activity that kicked off recently following a brand revamp. Despite the surge by Hardys, the overall wine category has accounted for a smaller proportion of all featured space promotions in the past four weeks than it did a year ago – at 9.5% versus 10.6%.
Fruit, veg and chilled dairy have also taken less featured space than a year ago, despite being the categories supposedly at the heart of the latest price war that has broken out in the nation's supermarkets. In contrast, confectionery, beer and spirits are taking more space.
As storms ease, so do prices of key seafood species
After the storms in January and February, which stopped many UK fishermen from going to sea, the prices of key species such as plaice are starting to ease again. Plaice has fallen by nearly 30% over the past month, although tight supplies mean prices continue to be up significantly on a year-on-year basis, currenly by 43.8%.

UK whiting prices are down, both year on year and month on month, thanks to good catches, while Spanish mackerel prices have dropped as the new fishing season has begun.

Farther afield, yellowfin tuna prices remain down year on year thanks to good catches earlier in the year, although prices have started to rise month on month because of a recent slowdown in fishing activity.

Skipjack tuna prices continue to fall because of low demand from processors and strong catches, particularly in the Western and Central Pacific ocean