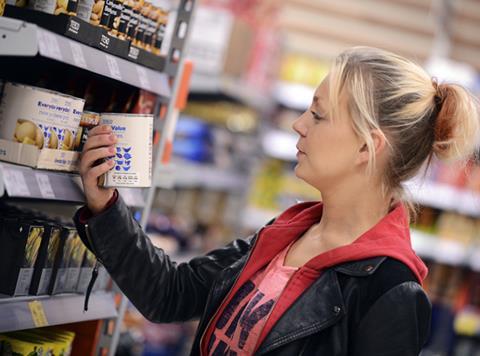 A slowdown in ambient food prices pushed food inflation to its lowest level since December 2006, according to the BRC-Nielsen Shop Price Index published today.
Food price inflation ran at 1.1% in February, down from 1.5% the month before. The rate is the lowest recorded since the index began.
Ambient food prices grew at 0.4%, down from 1.3% in January, led by falling prices in bread, cereal and non-alcoholic drinks.
Fresh food inflation was down marginally, at 1.5%, from 1.6% in January.
"In contrast to other household bills, the price of the weekly food shop is rising at a much slower pace," said BRC director general Helen Dickinson. "Many of the larger food retailers have been looking closely at their investment in promotions and price cuts, suggesting competition could intensify further."
Poor harvests in Brazil had resulted in the price of coffee jumping 60% since the start of the year, the report said, but the global outlook for rising commodity prices remained "modest".
Dickinson predicted consumer price inflation was likely to remain low in the coming months: "It is clear that retailers' hard work to keep prices low for UK consumers is having considerable success."
Overall shop prices fell 1.4% year-on-year in February, the lowest level of deflation since 2006. Non-food prices dropped 3%, with sharp deflation in the clothing and footwear sector.
Mike Watkins, head of retailer and business insight, Nielsen, said: "We have seen further falls in the Shop Price Index at the start of 2014, in particular in food. This is reflective of a challenging trading environment due to weather and weak demand, but also more favourable global supply conditions during the second part of 2013.
"Looking ahead, we still anticipate shop prices to remain below CPI for the immediate future."