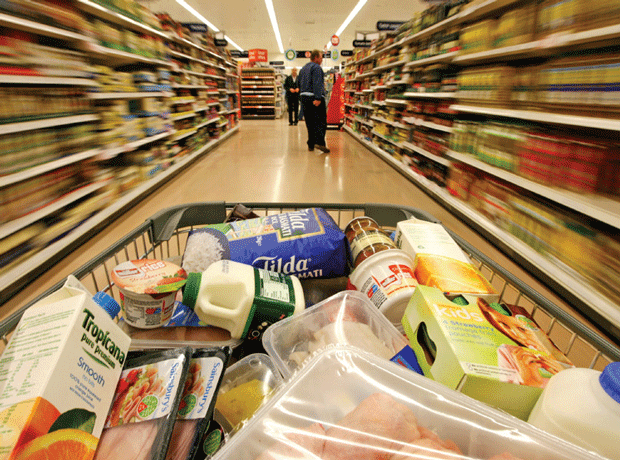 Food price inflation hit its lowest level in eight years in March, growing by just 0.8% year-on-year.
Cheaper fish and vegetables helped put the brakes on inflation, the BRC-Nielsen Shop Price Index reported today, with fresh food inflation dropping to 0.6% compared to 1.5% in February. Dairy, eggs and meat all rose in price – but at a slower rate.
Rising prices in breads, cereals and non-alcoholic drinks nudged ambient food prices up to 1% from 0.4% in February.
"Retailers have been responding to their customers with keen prices and promotions to maintain market share, and March saw the deepest deflation for eight years and the lowest inflation ever recorded for food," said Helen Dickinson, director general at the British Retail Consortium.
"With food and drink representing 15% of disposable income for the least affluent third of households, retail's significant contribution to maintaining standards of living is clear."
Despite inflation in coffee and cocoa, "the global outlook for rising commodity prices remains modest", the report said.
Overall food inflation has averaged just 2.1% over the last 12 months and 1.1% in the last three months, it added. March's inflation figure was the lowest since the Shop Price Index began in December 2006.
Non-food also recorded its lowest-ever deflation – down 3.2%, driven in part by tumbling prices in clothing and footwear. This helped push overall shop prices down 1.7% in March.
"These figures from the BRC show that UK retailers are still far too reliant on heavy discounting strategies, despite mounting evidence they don't achieve long-term results," said Gideon Lask, CEO of social commerce company Buyapowa.
"Once upon a time a decent discount paid for itself in exposure but, with so much discounting going on, any real cut-through now requires margin-obliterating cuts of 80% or more. Even then, it'll simply attract deal-hunters with no loyalty to your brand and no incentive to shop with you again. Unless you've got money to burn, discounting is dumb."