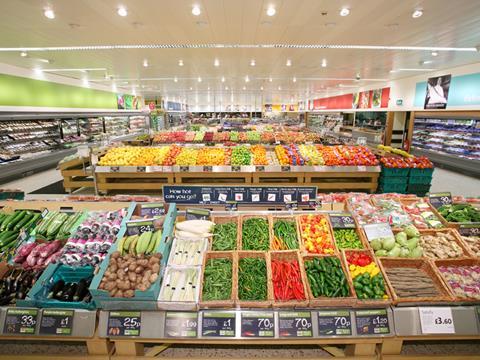 Supermarkets are offering more deals on fruit and veg as they look to tempt customers back from the discounters.

There were a total of 653 featured space promotions on fruit and veg in the major mults last month, up 65.7% on last year [Promo Dynamic Retailers 4 w/e 3 August 2019].

Almost all of the major mults significantly increased promotional activity on fresh produce compared to the same period in 2018, the data shows.

Asda has more than doubled its number of deals on both fruit and veg, while Waitrose has 293% more featured space promotions on fruit than last year.

Shoppers are also getting a better deal on fruit promotions, with average savings of 28% versus 26.2% last year. Savings on veg are down slightly at 25.4%. The Co-op is offering the best average savings on fruit (43.3%), but Tesco has the best savings on veg (34.9%).

It comes amid a wider increase in promotional activity in the major supermarkets, which have all increased the number of deals in store compared to last year.

Wine, fizzy drinks, meat and crisps, nuts and snacks are among the other categories to have seen double digit increases in promotional activity. However, fresh produce still increased its share of total featured space promotions by 1.8% to 6.2%.

Tesco fired the first shot in a new fresh produce price war in May 2019, when it launched its Fresh 5 promotion offering shoppers significant savings on five own-label fruit and veg products every two weeks.

At the time, Bryan Roberts, global insights director at TCC Global, suggested the likes of Asda, Sainsbury's and Morrisons may follow suit with similar price investments.

Tesco had clearly recognised that fresh produce was a "key battleground for a number of shoppers", Roberts told The Grocer.