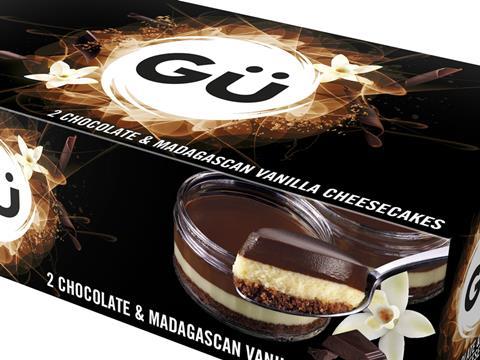 Gü Puds has become the latest fmcg brand to fall prey to shrinkflation amid soaring post-Brexit commodity prices.
Supplier Noble Foods has reduced the weights of Gü twin-packs of individual cheesecakes and pies, by almost 17% in one instance, while prices have remained unchanged.
The premium chilled desserts brand's strawberry & raspberry shortbread cheesecake duo has been reduced from 190g to 158g, while the chocolate & vanilla cheesecake variant is down from 180g to 156g, and lemon has lost 22g of its original 180g.
Gü's key lime pie twin-pack has also been reduced from 170g to 156g, and its Zillionaires' Cheesecake is 167g from 184g.
The smaller packs landed on shelf in supermarkets late last month, and are currently on promotion in mults including Tesco, Asda and Sainsbury's [Brand View w/e 5 July 2017], but the £3 rsp has remained unchanged.
The shrinkflation was down to "a sustained rise in the cost of core ingredients" as the result of a "changeable economy" in recent months, said a Gü spokeswoman.
"As opposed to passing these costs on to Gü customers, or compromising on quality, as of May, a few of our puds have seen a small change in the weight so we can maintain our current rrp," she added. "This decision has been a last-case scenario for us, as we pride ourselves on consistency."