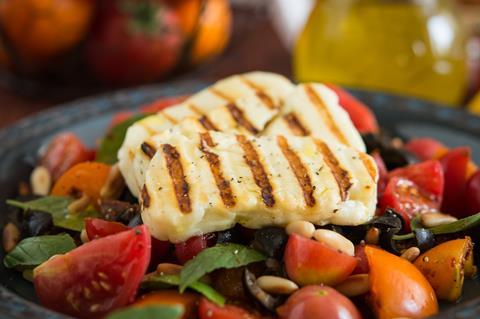 Supermarkets are hiking prices on halloumi following last year's warnings over possible shortages of the Cypriot cheese.

British shoppers are paying £2.20 on average for a 250g pack of own-label supermarket halloumi, compared with £2.10 a year ago, research by The Grocer suggests [Edge by Ascential 52 w/e 20 May 2019].

Tesco was the latest supermarket to hike prices on the Cypriot cheese this month, increasing its 225g block of own-label halloumi with chilli from £2 to £2.05. Asda did the same earlier this month, as well as increasing its 225g block of standard own-label halloumi from £1.66 to £1.75.

It comes after Essential Waitrose Halloumi increased in price from £2.25 to £2.28 in March, while Sainsbury's added 10p to a number of own-label halloumi SKUs in February, including its 225g Cypriot halloumi, now £2.30, and its 250g Taste the Difference Cypriot halloumi, now £3.10.

Prices for branded halloumi are also inching up in the mults. Morrisons hiked the price of a 200g pack of Ebru Hellim Grill Cheese from £1.75 to £1.90 in April, while Sainsbury's increased the price of a 225g pack of Yamas Chilli Halloumi from £2.50 to £2.60 in February.
It comes as Britain's obsession with halloumi rages on, with Aldi recently forced to limit sales of its frozen halloumi fries to two boxes per customer after relaunching them in April.

The discounter's Specially Selected Golden & Crispy Halloumi Fries are currently on sale for £2.29/190g, up from £1.99 last year.

The Co-op has also this week launched £1 bags of halloumi fries as part of a limited edition crisps range.

Brits consume over 12,000 tonnes of halloumi every year, according to the British High Commission in Nicosia, and the UK is currently the world's biggest importer of the cheese - accounting for 43% of all shipments from Cyprus.

However, demand for halloumi is also surging across the rest of Europe and in China, where consumers have recently developed an appetite for the cheese. Last year, producers in Cyprus warned they were already struggling to keep up with demand, and an export deal with China might lead to shortages in the UK.

The pending Protected Designation of Origin (PDO) application to regulate the production of halloumi cheese is threatening to further limit supplies, by imposing stricter rules on the percentage of sheep and goat's milk from Cyprus it should contain, experts warn.

Prices for the cheese have also been pushed up by the weakening of sterling since the 2016 Brexit vote, which has increased the cost of most imported foods.

"The cost of individual products is determined by a number of factors and prices can fluctuate, both up and down, as a consequence," said a Sainsbury's spokesman.