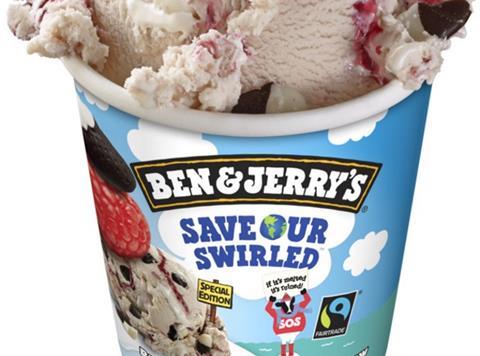 Brits are paying more for their favourite ice cream brands than last summer, latest data reveals, as surging dairy and vanilla prices pile pressure on suppliers (see left).

Average supermarket prices for ice cream are up 5% year on year across 462 SKUs in the major mults, with bestselling brands from the likes of Unilever, General Mills and Mondelez among those subject to price hikes over the past 12 months [Brand View 52 w/e 23 August 2017].

Unilever's Ben & Jerry's brand has seen prices surge by 7% year on year on average across 16 lines in the mults. A 500ml tub of Ben & Jerry's Phish Food or Chocolate Fudge Brownie is up 7% to £3.59, while 500ml tubs of Ben & Jerry's Karamel Sutra Core and Blondie Brownie Core is now £3.75 on average, up 11% year on year.

Stablemate Magnum is also 10% more expensive than last year across 15 SKUs in the mults. A four-pack of 110ml Magnum Classic, Almond and White ice cream sticks is up 9% to £2.66, while a six-pack of Magnum Almond, Classic and White Minis (360ml) is up 29% to £3.20 on average.

Prices for Unilever's Wall's ice cream range are up 8% year on year on average across 16 lines, with price increases on products including a four-pack of Wall's Cornetto Classico 90ml ice cream cones - up 14% year on year to £1.84 on average - and a three-pack of 88ml Wall's Solero Exotic - up 6% to £2.31.

Meanwhile, 500ml tubs of Häagen-Dazs Cookies & Cream, Pralines & Cream or Strawberry Cheesecake are now 2% more expensive than last year at an average of £3.80 across the mults. Tesco has hiked its 500ml Häagen-Dazs tubs by 5% year on year to £4.20, while Waitrose has increased its price for the range by 4% to £4.15.

Mondelez-owned Cadbury has also seen supermarket price increases on selected products, including its 480ml Cadbury Flake Tub, up 15% to £3.05, and a three-pack of 100ml Cadbury Dairy Milk Swirl chocolate sticks, up 19% to £2.08. However, supermarket prices for Cadbury Flake Cone 4x125ml are down 11% to £2.22 on average.

Across the mults, shelf price increases on these brands are the result of a mix of fewer promotions, lower savings on promoted products, and straightforward price rises, Brand View data suggests.

Supermarket prices for own label ice cream have remained flat across 161 SKUs, but there have been some price increases across the board on vanilla variants compared with last year. A big tub (two litres) of own label budget vanilla soft scoop is now 7% more expensive at an average 98p, while a standard 900ml tub of own label vanilla ice cream is 19% more expensive at £2.08.

It comes as latest Kantar 12-week data to 13 August 2017 shows value sales of ice cream are down 9% over the period compared to last year, despite a 34% surge in sales during June.